This is the horrifying moment a mother in Guangdong, China, was filmed cruelly kicking her baby daughter in the back as she lies screaming on the ground.
The six-second clip shows the woman, wearing a pink jacket, brutally kicking the one-year-old girl against a stone step. She can also be heard shouting at her baby for crying.
The woman then grabs the wailing girl - whom reports say has not learned to walk or crawl yet - by her arms before putting her down again on the hard floor.
According to Chinese news media, the hearbreaking clip was filmed by a bystander on Feb 24 at about 3pm.
It went viral after being shared on social media, with angry netizens berating the 'heartless' woman.
According to China News, the woman has been identified as a 27-year-old Hubei native, surnamed Chen, after local police picked up the case.
It reported that Chen had unleashed her fury on the child because she wouldn't stop crying.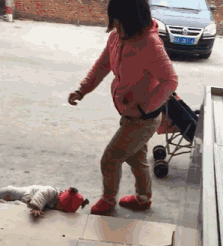 Read also: Father catches maid kicking 2-year-old daughter
According to police, the child was found to have escaped injury and Chen was given a verbal warning after she expressed "deep regret" for her actions.
Her family told police that the mother has not been in a good mental state, and the child is currently being cared for by her grandparents.
candicec@sph.com.sg
More about
news POST
Purchase this article for republication.