On an early day this summer, we headed to Đường Lâm, a famous village only 40km west of Hà Nội. If you go by car, just head for the Hòa Lạc Hi-Tech Park and get onto the Thăng Long Highway.
Đường Lâm is one of the few villages left intact from the Middle Ages in the Red River Delta. The old houses, built with laterite bricks, have remained virtually unchanged over the years.
The oldest house in the village has been said to be around 400 year old.
The residents are used to having strangers coming into their houses, asking questions about not only the village, but also its crafts and history, and later having lunch prepared by the family or even staying over night.
For our one-day trip, the main concern was to book a decent lunch the group and, most importantly, learn to make chè lam.
The ancient houses in Đường Lâm belong to big families and they are used to having big family get-togethers a few times a year.
But over time, as Đường Lâm became a popular attraction not only with international tourists, but also local school children and independent travellers, these families have geared themselves to host big parties more often.
But the most popular request is still providing lunch for tourists.
Đường Lâm boasts quite a few delicacies: charcoal roasted pork, mía chicken - small in size but quite plump and juicy, and homemade soy sauce for fish stew or vegetable dips.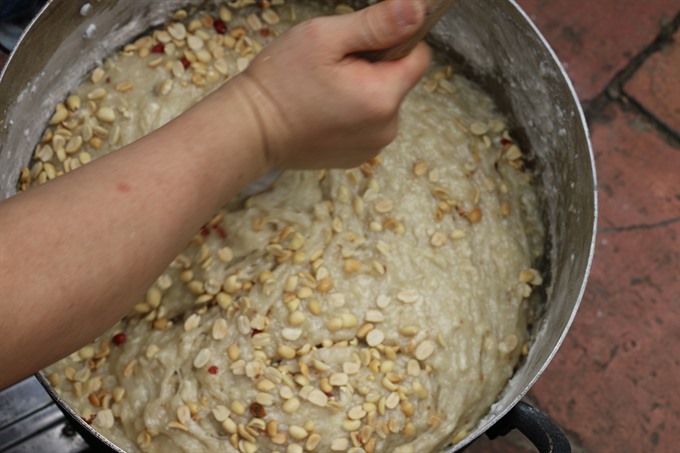 All we wanted was some boiled chicken chops, boiled vegetables, a well done and seasoned fried egg and some rice.
But since this would not be worth their while, we decided to order food by tray at VNĐ600,000 (S$36), which has a little bit of everything including roasted pork, fried nem, boiled tofu, boiled chicken, a stir-fried dish and last but not least, the fish stew.
Before we set out to go to the village, I'd already called Dương Lan, a descendant of Dương, a famed scholar.
Lan had agreed to prepare ingredients for us to learn how to make chè lam, a local treat that every housewife can make, but one for which each family has a secret recipe.
I'd had lunch at Dương Lan's place last year with my children and the chè lam served for dessert was so good I wanted to learn to make it, and she agreed to teach me.
"Yes, come here, I'll get the ingredients ready for you, but you need to take the whole thing when finished," she said on the phone. This would mean three kilos of finished chè lam bars.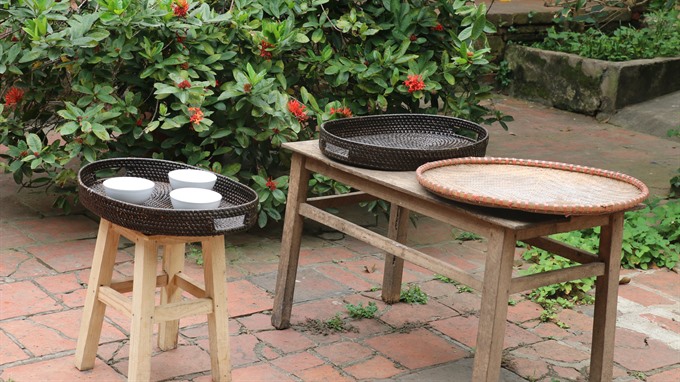 To make three kilos of chè lam, you need as many kilos of glutinous rice which is roasted until it pops (like popcorn) and ground a couple of times to get a fine flour. Two kilos of normal rice is also roasted and ground to get a soft powder.
200g of peanuts are roasted in a pan until golden brown, shelled and placed in a bowl.
200-300g of ginger (the older the better, according to Lan), unpeeled, is pounded. This is mixed well in six rice bowls of water, each bowl for half a kilo of sticky rice powder. In short, boil 1.5 litres of water with the pounded ginger and add 1.8-2 kilos of sugar, depending on your sweet tooth.
The most demanding technique in making chè lam is the stirring.
When the ginger sugar mix boils, the heat is turned off. The three kilos of glutinous rice powder is added, stirring slowly in the same direction. It seems simple at first, but using only one big bamboo stick to stir the 3 kilos of glutinous rice requires strong arms.
Next, the peanut is added and stirred well again. The heat is turned back on and the mixture is brought to boil. This is then taken off the stove and poured on to two big tray with the normal rice flour.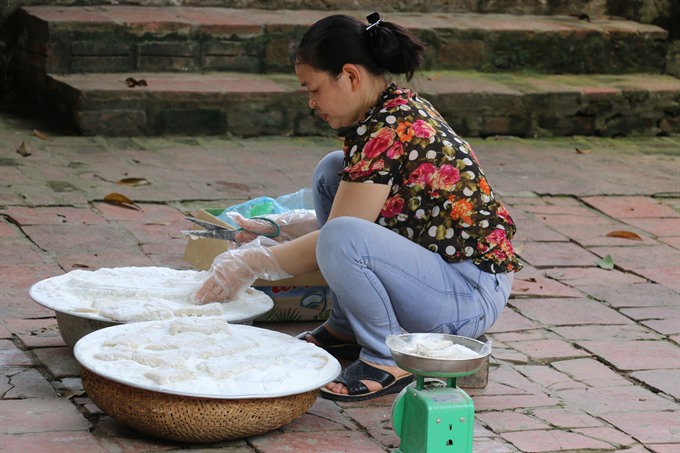 The next part is both fun and a bit dangerous. More flour is added on top and you should keep stirring so that it cools down and won't get too sticky. It looks fun, but be aware, it's burning hot and I suggest you don't let your children play near it until it cools down.
After a couple of hours, the trays cool down and you can start cutting it into free-size bits mixed well with rice powder, or into neat rectangles that can be sliced later into bars. Either way it looks good and tastes best when consumed with a cup of fresh green tea.
Visitors can go to Dương Lan's house and ask her to help get each ingredient for this desert. She doesn't have sticky rice powder ready at hand, but she said she's willing to walk people through each step of the way.
It was quite an experience for us, sitting in the big yard of her ancient house under the old fruit trees and very old coffee plants (belonging to the Rubiaceae family) in full bloom. It felt we'd travelled back in time.
Lan reminisced: "One of the most memorable times for me here was when I taught a group of Japanese high school students how to make chè lam on a full moon autumn night," she said.
"They were very courteous and keen to learn, they read and chatted, and it was very peaceful."
news POST
Purchase this article for republication.