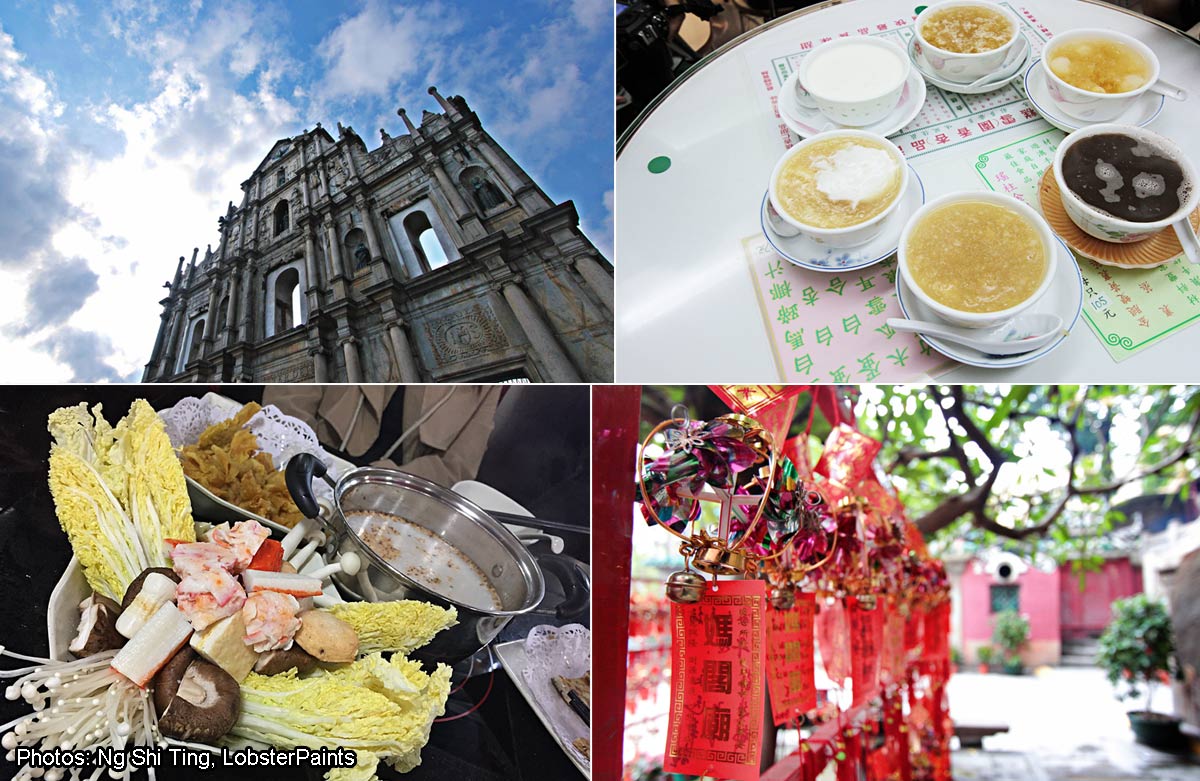 This article is written by Ng Shi Ting, a food and travel enthusiast, and originally published on lobsterpaints.com.
History Geek [his-tuh-ree geek]: Someone who has excessive enthusiasm for and some expertise about history.
Way before the Portuguese arrived and dominated Macau, which has a strategic geographical location, the peninsula and its ports served as a trading ground between the East and West. Some of the items traded back then included silk from China and spices from India and a handful of other produce from the Western countries.
Macau then became the crossroads for the East and West cultures and eventually, the city ended up adopting all these different cultures during its development and growth with a strong fusion of both Chinese and Western influence.
Today, Macau has so much to offer for a history geek with a foodie deep down inside!
Here's my itinerary of how your day as a history geek and foodie should go!
8:00 AM: Breakfast at Sheng Kee Porridge
I always feel that in order to truly experience and learn about a new country or city you are visiting for the first time, you have to go right down to the roots of everything and try to blend in with the locals.
And there is no better way than to join them at their favourite breakfast haunt and start your day right with a hearty breakfast!
The menu at Sheng Kee Porridge was pretty simple and straight forward, and it did not take us too long before we derived our choices.
Here is a quick look at some of my personal favorites during our breakfast at Sheng Kee Porridge.
The Chee Cheong Fun (rice noodle roll) at Sheng Kee Porridge is made up of thick and slightly chewy rice noodles with a rich rice fragrance. There are actually two variants of chee cheong fun available at this breakfast joint.
One is the regular chee cheong fun we all know jolly well and the other comes with a piece of dough fritters wrapped inside! Let me show you how you should enjoy your chee cheong fun.
Step 1: Coat your chee cheong fun with generous amount of peanut sauce.
Step 2: Drizzle some dark sweet sauce over.
Step 3: Roasted Sesame seed!
Chee cheong fun is pretty common in Singapore and we have a couple of places serving them like this as well, but I think the peanut sauce served at Sheng Kee Porridge is pretty incomparable. It was somewhere between sweet and savory, thick but not overwhelming and perfectly compliments the chee cheong fun together with the dark sweet sauce.
I am actually quite a fan of rice dumplings if we can forget about the carbo and calories in them!
What more can I ask for when these Cantonese Rice Dumplings came with a filling of ground green beans, salted egg yolks and a fatty piece of pork belly which is paired with a peanut and dark sweet sauce.
The additional of the peanut sauce and dark sweet sauce is optional - just like the chee cheong fun but pretty much recommended.
This might look no where close to being the most scrumptious item but never underestimate this unappealing-looking pile of carrot cake on the dish! Just imagine a fluffy and smooth cake that melts in your mouth and at the same time releasing a robust carrots and shrimp flavour.
Although the most authentic siew mai is usually served with minced pork, Sheng Kee Porridge serves theirs with a mix of homemade fish and squid paste.
In other words, you will have varying textures while chewing on bits of fish and squid! Love it!
P.S: Did the greedy in me make me mention everything on the table? Hehe!
9:30 AM: Heritage Trail (Penha Church, Lilau Square, Mandarin's House & A-Ma Temple)
After a satisfying breakfast, take a walk down south and embark on a heritage trail to help digest all the goodies you had!
First stop, perched and located high up on Penha Hill, Chapel of Our Lady of Penha or more commonly known as Penha Church.
Chapel of Our Lady of Penha (Penha Church)
Penha Church was first founded in year 1622 by the crew and passengers of a ship which had a narrow escape from being captured by the Dutch. Following that, it became a place of pilgrimage for sailors and travellers embarking on hazardous voyages.
Today, the vicinity has a small chapel that replaces the original church.
One of the many stairways you have to take to get to Penha Church
Imperial Guardian Lions spotted: A true sign of the fusion of both Eastern and Western cultures and beliefs.
The walk up Penha Hill might be 15 minutes worth of an uphill ascend and really quite steep and challenging at certain areas, but I always felt that it was all worth-while.
A scenic view of Macau, Praia Bay and Taipa Island
The tiring uphill walk is all worth-while because of this spectacular view you can get from the courtyard in front of the church. There are benches at the courtyard where you can sit, take a break from the walk and enjoy the view at the same time.
That is exactly what I did and I got quite mesmerised that I end up sitting there for a quite a while.
Lilau Square
Take a walk back down Penha Hill and swing by the corner over to the next stop at Lilau Square that is located at the foot of Penha Hill.
The area around Lilau Square was one of the first Portuguese residential quarters in Macau with a Mediterranean atmostphere and the ground water of Lilau used to be the main source of natural spring water.
The square is now punctuated with large trees providing a good coverage of shade that makes Lilau Square an ideal place to take a break after the exhausting climb to see Penha Church and quench your thirst with the water from the fountain there - just kidding - please do not take me seriously for what I just said!
You definitely can quench your thirst at Lilau Square at the booth there selling snacks and drinks though.
Knock knock 37 Largo do Lilau... Anybody home?
 I can't help but find this granny very familiar-looking. I guess I might have seen her around in Macau during one of my visits. Hmmm...
Mandarin's House
Cross the small street from Lilau Square into the alleyway perpendicular to the square and you will find yourself at the doorway of Mandarin's House.
Mandarin's House is a traditional Chinese residential compound home of prominent Chinese literary figure, Zheng Guanying. It consists of several courtyard houses with a mix of Chinese and Western detailing.
During my first two visits, I could not comprehend what is so special about the development or who exactly Zheng Guanying is that makes the compound worthy of almost nine years of research and restoration.
For the third and the best visit to Mandarin's House yet, we were so honored to be joined by Carla, the main lady behind the restoration project, who walked us around and showed us Mandarin's House in detail.
This photo of my family and of the re-erected moon gate at Mandarin's House was actually taken during my second visit with them.
In retrospect, the original moon gate was initially torn down to provide for a bigger entrance to the house when the Zheng family moved out of the compound and rented the development to some 300 tenants at one point of time.
The restoration team managed to determine the the location and shape of the original moon gate via the foundations of the original gate and the few pieces of stone (which lines the bottom half of the moon gate now) found just beside it.
Stone benches at the front courtyard of Mandarin's House
Thanks to Carla and her patience despite our relentless silly questions, we learnt that Zheng Guanying was a very noble man who advocated that a country must create wealth to become strong; and wealth comes from encouraging economic and industrial developments, putting emphasis in education, quicken legislation, respect ethics and political reformation.
Due to his influence, Macau managed to grow and prosper to what it is today.
Aside from that, I started to take note of details like the strong family values and philosophies the Zheng family carved on the pillars of Yu Qing Tang, one of the main halls in the house, or and even their signature on some of the furnitures recovered.
All in all, I can't help but to have so much respect for Zheng Guanying and his philosophies, and I secretly felt so honored to be able to stand on the grounds where the man had stood on before.
Mandarin's House is now more than just another conserved historical house to me.
Moorish Barracks
Following the traffic direction on the street between Lilau Square and Mandarin's House and just a stone throw away, you will arrive at Moorish Barracks, a very unique architectural masterpiece that stands out from the buildings commonly seen around the area.
The building located on a slope of Barra hill has a strong Arabian and Gothic architectural influence as it was originally constructed to accommodate an Indian regiment assigned from Goa to reinforced Macau's police force.
The building currently serves as the headquarters of the Maritime Administration in Macau.
A-Ma Temple
Following the traffic direction and walking down the street all the way down Barra Hill, you will find yourself at a very important place in the Macau history.
A visit to the A-Ma Temple is a must to sum up your heritage trail.
The temple, that is dedicated to the seafarer's goddess A-Ma, existed way before the city of Macau was founded.
When the Portuguese sailors first arrived at the coast just outside the temple and asked for the name of the peninsula. The locals, thinking that the Portuguese were referring to the temple, replied "Maa Gok" and the Portuguese derived at naming the peninsula "Macau" thereafter.
Now, the temple is both a famous and picturesque destination for tourists and locals alike to ask for blessings or just visiting the place that helped to give the city its name.
Every time I chance upon this shot of mine again, I will be asking myself the same question since I have yet to decide what I will like to wish for.
How about you? Given the blessing trinket at the temple and that restricted amount of space to write your wishes on, what will you wish for?
1:00 PM: Lunch at Ou Mun Cafe
You will probably be famished by the time you are done with the heritage trail on foot, so what better choice will it be than to settle down in a cosy cafe and fill that stomach with a good round of authentic Portuguese dishes.
We all know that Macau was dominated by Portuguese for a big part of their history and it is no surprise that you will be able to find a handful of restaurants or cafes serving up traditional and authentic Portuguese dishes, just like at Ou Mun Cafe that is located in the heart of Macau and just steps away from iconic Senado Square and Ruins of St. Paul's.
Some of the traditional Portuguese dishes include Cozido a Portuguesa (Portuguese Stew), Caldo Verde (Portuguese Kale soup) and Ameijoas a Bulhao Pato (Clams in White Wine) - just to name a few.
Besides that, there were other noteworthy dishes like this one we chanced upon during our visit to Ou Mun Cafe.
Francesinha, which translates as Little Frenchie, is a Portuguese sandwich that is basically made up of a burger steak and sliced chipolata sausages sandwiched between two thick toasts then topped with a thick blanket of melted cheese and a sunny side up on top and served in an awesome beer sauce and French fries on the sides! Ultra sinful but ultra yummy.
We were actually headed for coffee and desserts during this visit but you just have to trust the sharp eagle eyes of the foodies in the group to spot the other table digging into their order of the Francesinha! Hehe! Cheese, eggs, thick toasts, beer... All my favorite stuffs combined in one dish!
At Ou Mun Cafe, they offer their coffee the Portuguese way. I am not a coffee drinker so I am not able to tell the difference but I guess you should probably end off your gratifying lunch with your favorite choice of coffee and an egg tart or two if you like.
3:00 PM: Museum of Macau & Mount Fortress
After lunch at Ou Mun Cafe, you can spend the rest of your afternoon at the Mount Fortress to immerse in more of the history of Macau in the Museum of Macau located within the fortress that was built by the Jesuits in the 17th century and served as the city's principal military defence for almost three centuries.
One of my favourite exhibits in the museum is on the first floor within the Genesis of Macao region where there are cute scale models illustrating the scene of the Portuguese first arrival on the peninsula and the stories of other major events in the history of Macau.
Life size model that displays the different architectural styles Macau had adopted in the past
There were also exhibits displaying the arts and traditions in Macau like these traditional Chinese puppets. I have to say that it was pretty creepy standing there among the puppets that are about the size of a young kid!
The museum offers free admission on the 15th of every month! Time your trip to Macau if you will really like to visit the Museum of Macau or otherwise, simply pay an affordable fee of MOP 15 (approximately S$2.50) for an adult admission.
Mount Fortress
When you are done at the museum, don't forget to take a walk up to the roof deck of Mount Fortress where you will be able to see the canons lined up against the fortress wall and all ready to fire. These canons are no longer working anymore so no worries and go ahead and take your selfies with them.
View of Macau from Mount Fortress
You will be surprised to see how this tiny city can offer so much scenic and beautiful views from a handful of vantage points located all around the island.
5:00 PM: Ruins of St. Paul's & Museum
Perhaps you would have already spotted a stone wall standing tall and proud in close proximity among the other buildings in from Mount Fortress and I strongly urge you to head over and have a closer look.
The Ruins of St. Paul's used to be a church designed by an Italian Jesuit and also the Colleague of Jesuits in China back in the early 17th century and on the wall of the facade, the carvings illustrates the history of Christianity in Asia with an incorporation of Biblical quotations in Chinese and Japanese chrysanthemums, and also bronze statues of missionary saints.
It was a grand and impressive first Church in Macau until a fire broke out in 1835, and destroyed everything but the main facade and the grand staircase right behind it.
Extra efforts were put in to maintain the facade but surviving through all these years, it is pretty much just like an old folk needing a walking stick, it now requires additional structure for support.
I did not see the facade when it was first built but something tells me that the weathered look for the stone wall as well as the details etched on it makes the architecture looks even more remarkable now.
I actually prefer seeing Ruins of St. Paul's after the sun has gone down, which is also when the crowd will finally disperse.
Needless to say, there will still be a couple of tourists dropping by or some locals hanging out with their dogs.
But in my opinion, this is the best time when serenity and tranquility will return to the vicinity around the icon and you will be able to get up-close and personal with the ruins without having to look out for other excited tourists and their cameras.
No hustle at all trying to get that mandatory photo with the icon of Macau when you visit the city.
By the way, the Ruins of St. Paul's is not all just about a stone wall. There is actually a Museum of Sacred Art installed in the original crypt of the church that houses silver altar pieces, gilded statues and paintings from the 17th century.
The museum is open only during the day time so if you are dropping by late in the evening or at night, you are most likely going to miss it.
6:00 PM: Senado Square
Largo do Senado, or also known as Senado Square, is Macau's main square where it had been a civic hub for centuries.
It is now paved with a wave-patterned Portuguese mosaics and pedestrianized complete with a fountain, landscaping, cafes, shopping streets and space for public events.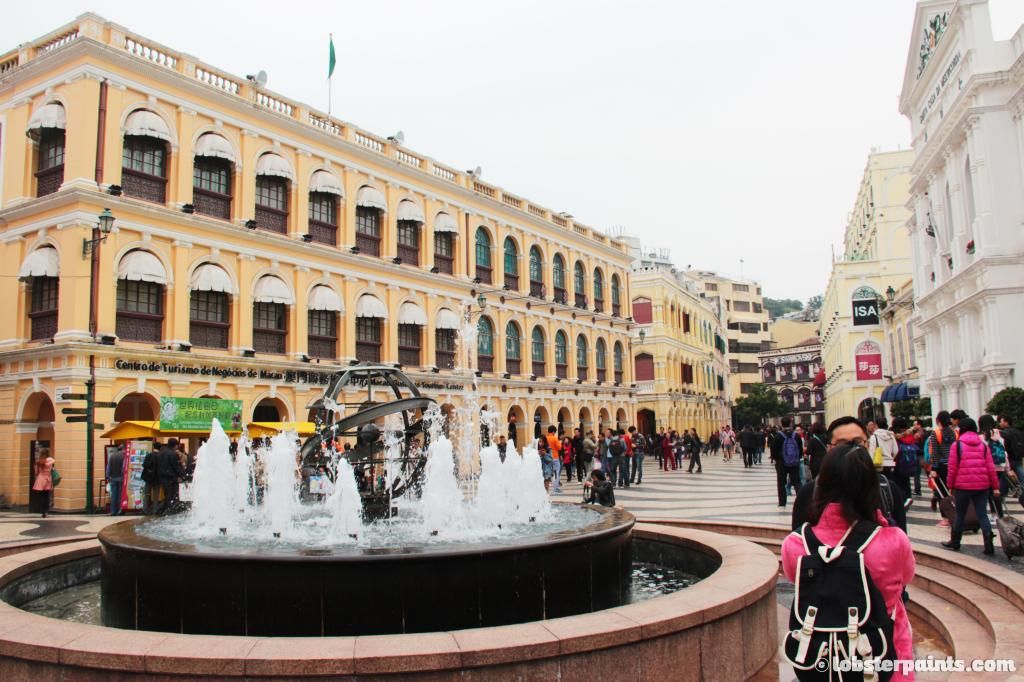 The best thing about Senado Square is its strategic location among numerous attractions of Macau.
From churches with rich history and cultures to UNESCO world heritage sites to great food, you name it all!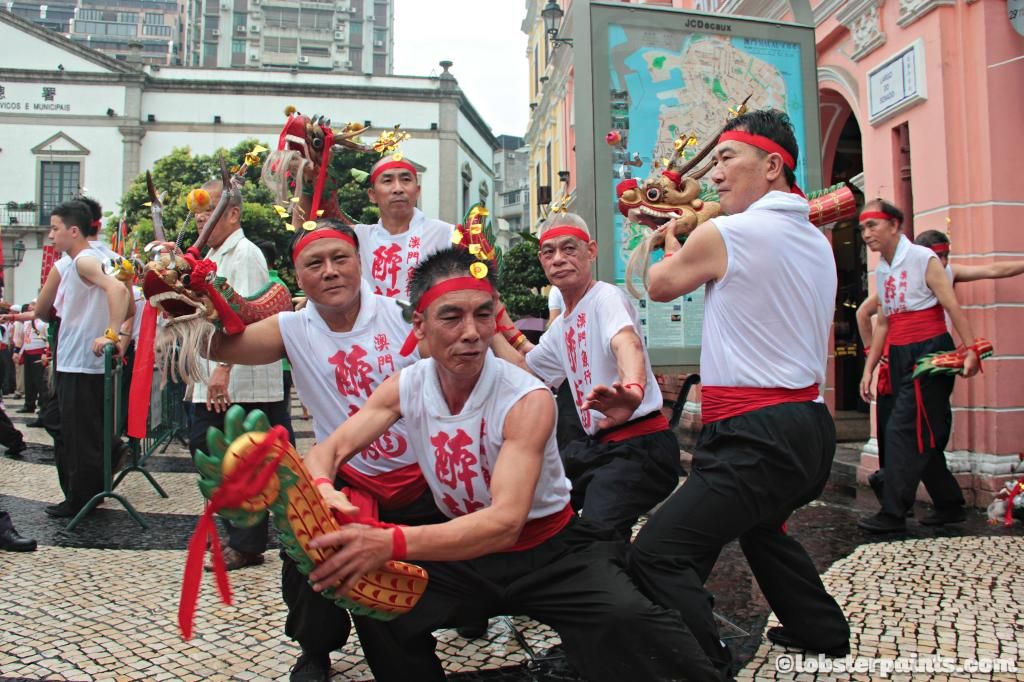 Feast of the Drunken Dragon 2013
Decorations for Christmas 2014
I've seen Senado Square in three different seasons now. Spring when it was left just as it is, summer when it was turned into an event ground for the Feast of the Drunken Dragon festival and now (early) winter with pretty Christmas decorations and lighting.
Paired with the cold weather that is absolutely just right for me, this is by far the most favorite transformation of Senado Square!
7:30 PM: Dinner at Brother Zheng Gourmet
With a blink of the eye, we are nearing the end of the day and it is dinner time already! Just like breakfast, you have got to head on down to the popular dinner and supper haunt in Macau that is about two blocks away from Senado Square.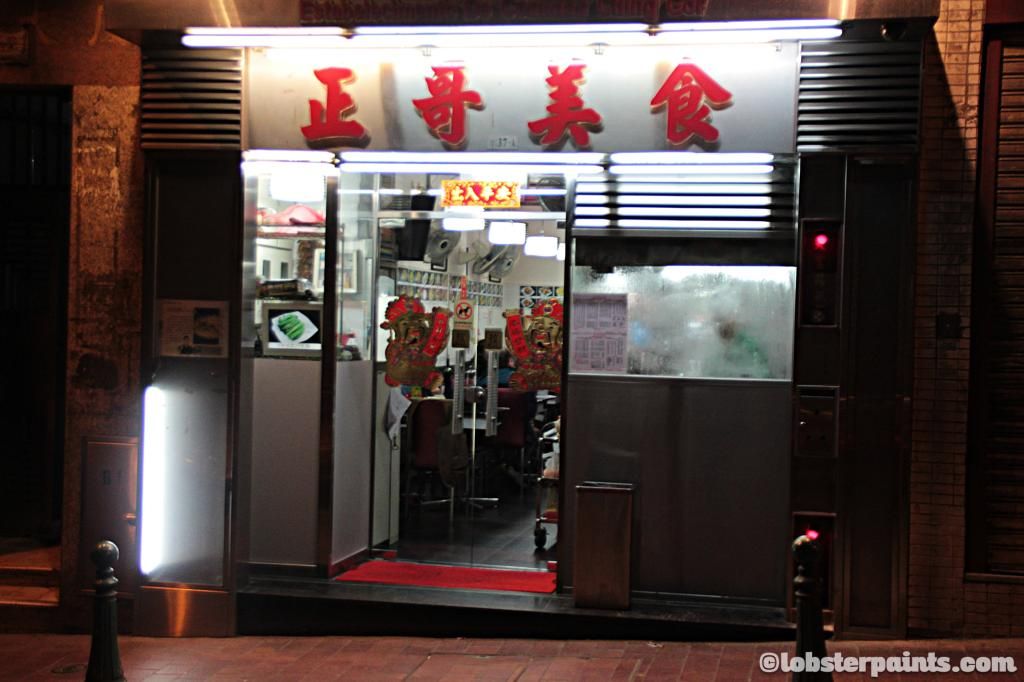 I have no idea how you define comfort food but for me, nothing beats ending a long day with a bowl of piping hot soup. Or perhaps, a personal sized hot pot boiling on an electric stove on the dining table in front of you at Brother Zheng Gourmet.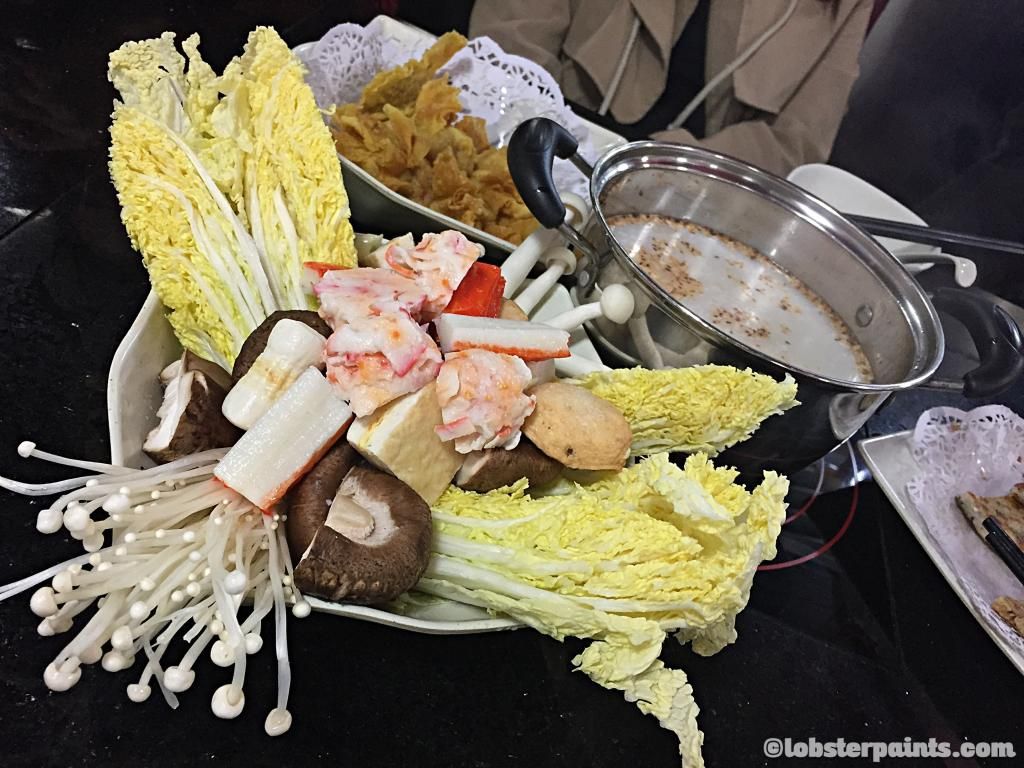 They serve up a good range of choices at Brother Zheng Gourmet such as hot pots, clay pots and other stir-fried dishes.
Stick with the hotpot and start off with a "pre-set" on the menu that will give you one choice of meat or innards paired with a suitable soup base.
In case you will like to anything else, the soup is refillable and you can always order an ala carte for whatever you want to be cooked in your personal pot.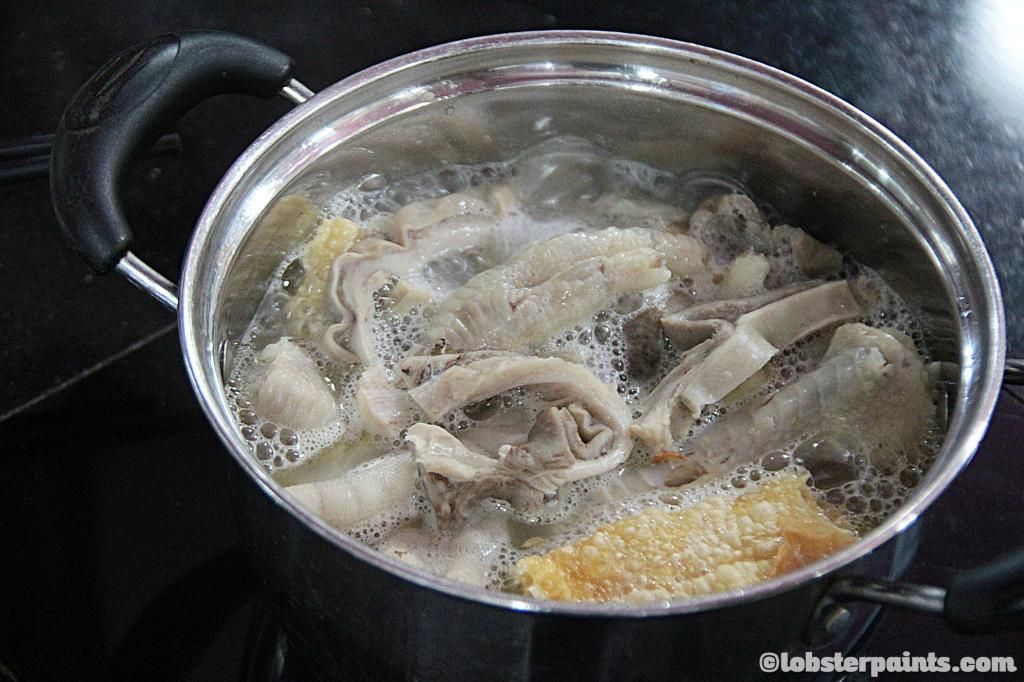 If you ask me, my choice will be the pig innards served in a peppery chicken broth (tastes like an extremely flavor-packed bak kut teh) then topped up with an additional order of vegetables and their homemade fish paste.
9:30 PM: Post-dinner dessert at Hang Heong Un
Chinese desserts are a Cantonese specialty and to conclude your day after going around and seeing Macau as History geek, I don't think you chould forgive yourself if you are going to pass on having a post-dinner dessert.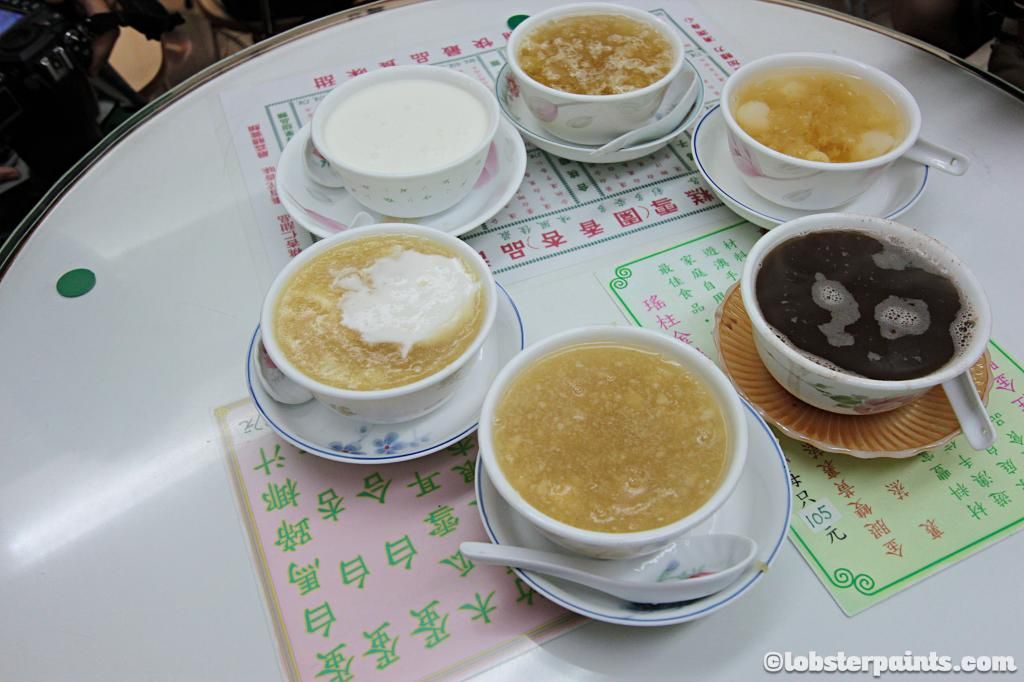 Hang Heong Un offers an extensive menu of approximately 60 different combinations of desserts based a large variety of Chinese desserts like almond paste, walnut paste, peanut paste, red bean soup, coconut soup, papaya soup and others.
They are actually famous for their almond paste as well as desserts that are supposed to enhance your health and beauty.
I am not much of an almond paste kind of person so on my first visit, I picked a hot bowl of water chestnut sweet soup with chunky bits of the fruit in it. It tasted really yummy and super comforting especially on a cold winter day.
With a satisfied tummy like that, I guess you are all ready to head back to have a good rest.
Alternatively, you can pop over to the ever famous Yee Shun Diary Company that is well within walking distance also to grab yourself a hot bowl of steamed milk!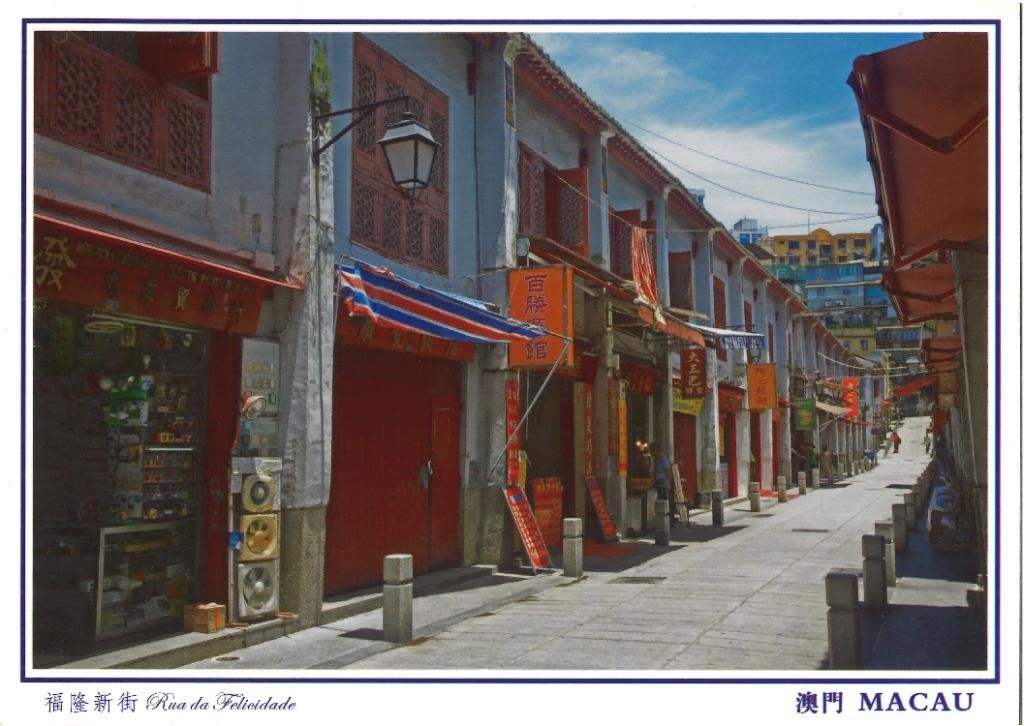 Just to add, Rua de Felicidade (Happiness Street) is just nearby to either places I had mentioned for post-dinner desserts.
So in case you need to take a walk to free up some stomach space for desserts, you can drop by and check out the street that used to be a place of prostitution, gambling, opium and drinking.
Really a one stop place to have some joy and fun! Hehe!
Addresses to the places of interest:
Sheng Kee Porridge
Address: 14 Rua dos Cules, Macau
Opening hours: 7:00am - 12:00mn daily
Ou Mun Cafe
Address: 12 Travessa de Sao Domingos, Macau
Opening hours: 10:00am to 9:00pm daily
Museu de Macau (Museum of Macau)
Address: 112 Praceta do Museu de Macau, Macau
Opening Hours: 10:00am to 6:00pm (Closed on Mondays)
Zheng Ge Mei Shi
Address: 37A Rua do Padre Antonio, Macau
Opening Hours: 5:00pm to 3:00am daily
Hang Heong Un
Address: 13 Travessa do Auto Novo, Macau
Opening Hours: 2:00pm - 1:00am daily
Yee Shun Diary Company
Address: 381 Av. de Almeida Ribeiro, Macau
Opening Hours: 9:30am to 11:00pm