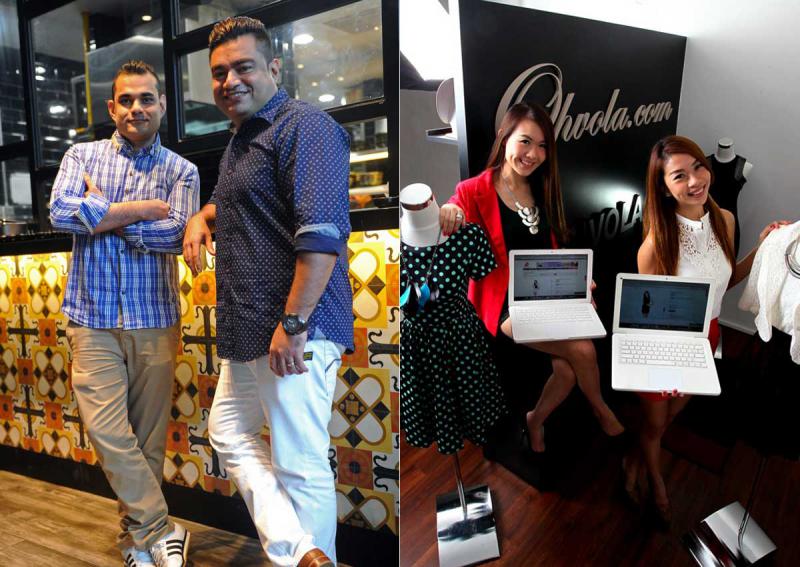 Siblings bicker and taunt each other regardless of their age. Sure, this may decrease as they get older, but it is just a sibling code to do so. It does not mean that love is not present, for at times this is the way that siblings show love to one another. Rest assured though, if something were to hurt their brother or sister, they would go out of their way to be the one to stand between the gap.
It is also an unspoken code between siblings to share a similar mindset. Though not all siblings go down the same occupational route in life, there are those who are so in sync with one another that they not only work in the same industry, but also choose to work with one another in the same company.
It takes a lot out of one to work with someone they have known their entire life, what more someone whom they know so well. It has been said time and time before that the ones who know each other the most would have the most things to bicker about.
However, these 10 Singaporean siblings managed to make it work for they chose to put indifferences aside, and to dominate their own businesses, be it separately or even starting something solid together.
1. Clare and Magdalene Chan - Her Velvet Vase
Founded by sisters Clare and Magdalene Chan in 2007 (then only 19 and 15 respectively), they specialise in designing and manufacturing their own products, mainly in apparel, jewellery, accessories, and footwear. Now, they are backed by a team of 20, who deal with business development, operations, marketing, creative, editorial, merchandising and more. Still not impressed? Well, they've recently also set up shop in famed fashion capital New York City.
2. Dylan Xavier Tan & Ryan Kieran Tan - Strangers' Reunion and Curious Palette
Strangers' Reunion is probably a cafe that most of us are familiar with. Perhaps more interestingly, the cafe is founded by brothers Dylan Xavier Tan and Ryan Kieran Tan. On top of running Strangers' Reunion, Ryan is also the current ASEAN Barista Champion (2013) and is a three-time Singapore National Barista Champion. So if you are looking for a place for really great coffee, you know where to go.
Following the popularity of Strangers Reunion, a sister branch Curious Palette was also opened in 2015.
3. Anil and Haresh Sabnani, Spize
Night owls in Singapore would be familiar with Spize, which has grown over the past few years into one of the most popular supper places in Singapore. While we may have enjoyed the food during one of our late night suppers, we may not know that Spize is actually started back in 1997, which was first opened at Shaw Towers in Beach Road. It only later moved onto the current iconic River Valley and Simpang Bedok.
4. Charles Wong and Keith Wong - Charles and Keith
If you're a Singaporean female and you're familiar with the process of shoe shopping, then you will be familiar with Charles & Keith. What often surprises Singaporeans is that the brand is locally-grown, a venture by true blue Singaporean brothers Charles and Keith Wong.
39-year-old Charles Wong, the Chief Executive Officer of Charles & Keith, first started the business back in 1996, in a small store at Amara Shopping Centre. Since then, the business has grown to hold its own against the big boys with more than 300 stores worldwide. It has also attracted the attention of French luxury giant Louis Vuitton Moet Hennessy (LVMH), who now owns 20 per cent of the company.
5. Brianna and Bertilla Wong - The Closet Lover
Co-owned and fully managed by sisters Brianna and Bertilla Wong, The Closet Lover turns 9 this year and is a brand that is familiar with a lot of Singaporean fashionistas. While the online shopping site has a pretty strong following these days, what you might not know is that it was launched back in 2007. This makes its founders one of the pioneers of the 'blogshop' concept, which started in the mid 2000s in Singapore.
6. Joyce Ng and Jolene Ng - The Tinsel Rack
Founded in 2010, The Tinsel Rack is managed by two passionate and talented sisters Joyce and Jolene. The Tinsel Rack gains its popularity over the past few years as it launches on a weekly basis, and most of their apparels are specially manufactured under the their in house label. Customers can be assured that whenever they shop at The Tinsel Rack, they are getting something exclusive.
7. Viola and Velda Tan - Love, Bonito
Love Bonito is another retail brand started by sisters Viola, Velda, and their childhood friend Rachel Lim back in 2005. As a pioneer in the fashion blogshop world, their revenues surged in no time. Today, Love Bonito has 40 employees and its annual revenue continues to grow by 25 per cent a year.
However, Velda Tan is currently no longer in charge of the company's day to day operations, and has went on to launch her own fashion line called Collate The Label, debuting its Pre-Fall 2015 collection at her first runway show during Singapore Fashion Week.
8. Charles Tan and Tan Ying Qi - Fat Cat Ice Cream Bar
Charles and Ying Qi are the coowners of 30-seat ice cream cafe, which offers 18 different ice cream flavours to customers, such as butter beer, smoked cheese, white peach sangria and toasted organic hay and honey. On top of that, the cafe also sells waffles for those that may want to get something to go with their ice cream.
Sister Ying Qi has always wanted to start a cafe, and a trip to Italy in 2013 catalysed that dream, according to an interview with Her World Plus.
"In Italy, I had the best lemon sorbet I'd ever eaten - it was fresh and had sweet, crispy bits of lemon in it, and I then challenged my brother Charles, to replicate it. After multiple tries, he finally managed to get it right," shared Ying Qi to Her World Plus. From then onwards, Fat Cat Ice Cream was born.
9. Shamantha and Shane Yan - Savior Asia
Twin sisters Shamantha and Shane Yan currently runs Savior Asia, a firm that provides coaching and training services to individuals to impart new skills, help them understand what makes them tick and to perform beyond their current capacity.
10. Lucinda Zhou & Jolene Zhou - Ohvola
Ohvola is another online fashion brand started in 2007 by Lucinda Zhou and Jolene Zhou. Ohvola features cloths ranging from dresses, tops, bottoms, one piece suit, accessories and even shoes. On top of running Ohvola, Jolene is currently the brand ambassador for IVEA Deo.
Of course, there are so many more other siblings out there who are sharing the entrepreneurship spirit, let us know who else deserves a mention!
Vulcan Post is all about living life with a digital edge, up and coming startups, and people who inspire conversations.
Visit Vulcan Post for more stories.