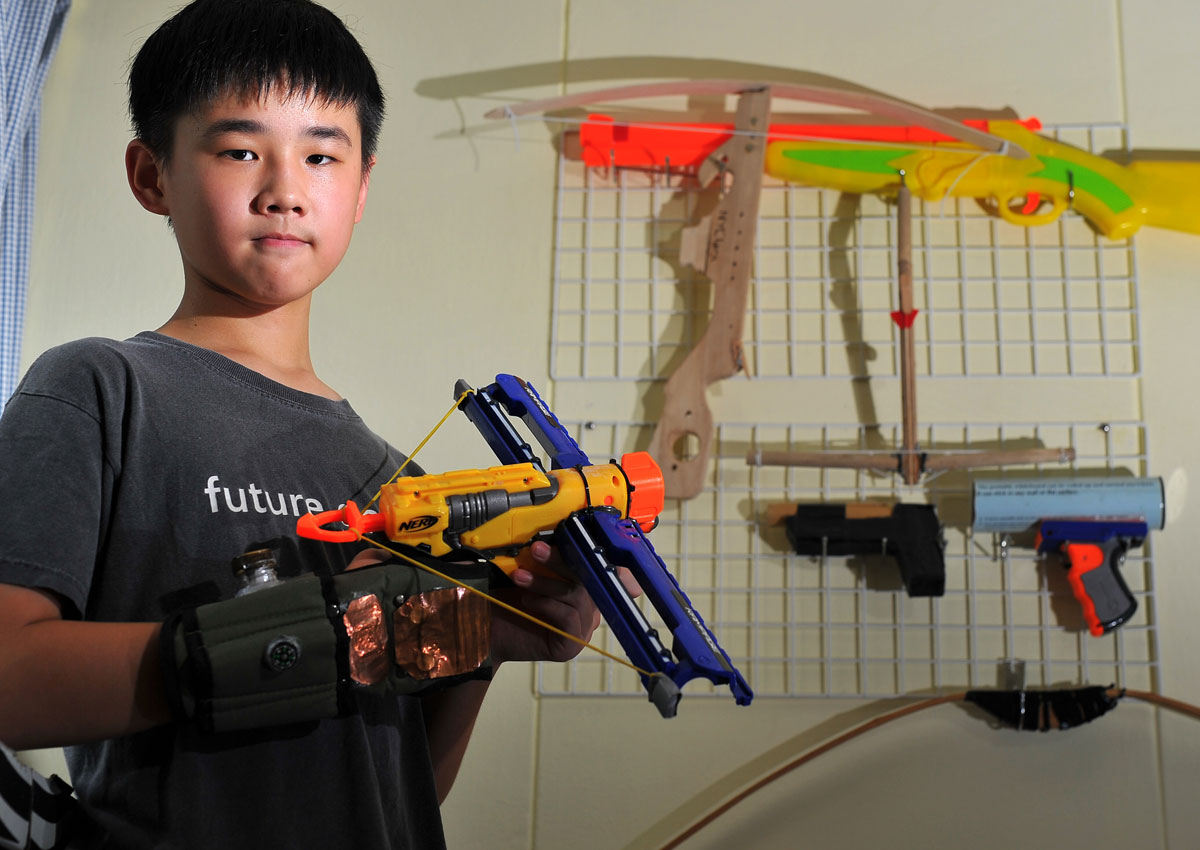 Twelve-year-old inventor Nah Yee Chern is making his own car, which will be cobbled together using wooden planks and powered by electric drills.
The Secondary 1 student is already a serial inventor who has created his own loudspeaker and modified toy gun which shoots foam pellets farther than other guns, among other things.
"Every time I make something, it gives me a sense of accomplishment," said Yee Chern, who wants to be an engineer or a game designer when he grows up.
He will be displaying his creations at the Singapore Science Festival (SSF), the national event celebrating science, engineering, technology and biomedicine, organised by Science Centre Singapore and the Agency for Science, Technology and Research (A*Star).
The theme of this year's festival is "Changemakers of Science".
The month-long festival, which starts today, aims to get young people interested in science by using a combination of performances, exhibits and games.
Said Associate Professor Lim Tit Meng, chief executive of the Science Centre: "We want to influence our young people to go deeper into their love for science, by letting them see for themselves the difference that they can make in science, technology, engineering and mathematics."
Professor Alfred Huan, executive director of the A*Star Graduate Academy and A*Star's Institute of High Performance Computing, is the festival's co-chair, together with Prof Lim.
The professor said: "By showcasing some of the latest developments in local research, A*Star encourages students to take their learning outside the classroom, by applying textbook knowledge in real situations and, in turn, discovering new insights and formulating new concepts."
Yee Chern is among the more than 400 participants of all ages who will be showing off their creations at the festival's Maker Faire Singapore in Tampines over the weekend. The St Joseph's Institution student has been making his own toys ever since he was eight.
On his latest effort, he explained that he had always wanted a go-kart (a simplified car), and he decided to try his hand at building a car after he came across a manual on the Internet.
His father, Mr Nah Wee Yang, said he has learnt a lot from him.
"I would say he is quite fearless," said the 47-year-old businessman.
"He is not afraid of failing and this is the first time he is thinking of building a car like this."
Those who want more information on the Singapore Science Festival can go to https://www.sciencefest.sg.
kcarolyn@sph.com.sg

This article was first published on July 10, 2015.
Get a copy of The Straits Times or go to straitstimes.com for more stories.