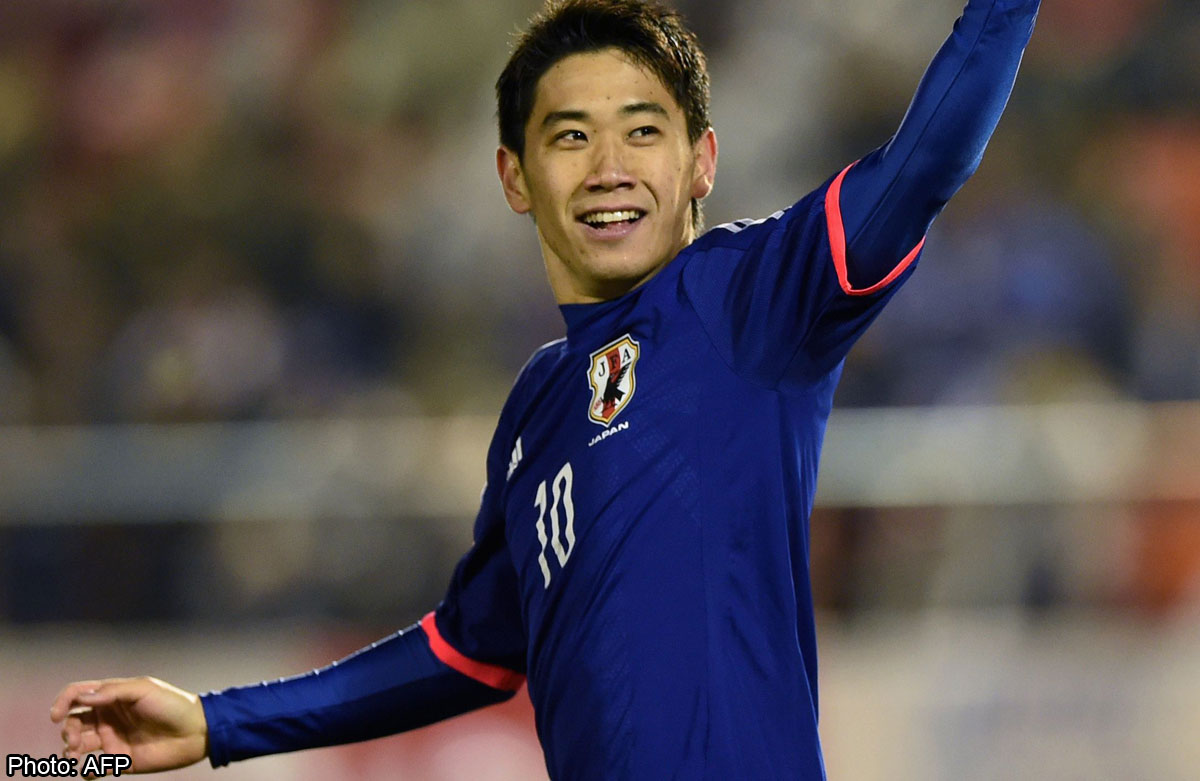 With Monday's announcement by Japan coach Alberto Zaccheroni of his 23-man squad for the upcoming World Cup finals in Brazil, the Samurai Blue can begin the process of preparing for the nation's fifth trip to the sport's ultimate competition.
Each player has his own story of the motivation and drive that earned him a spot on the team. Here we present how two of them overcame adversity, and their expectations for Brazil 2014.
Kagawa spurred on by bitter 2010 memory
In the early summer of 2010, Shinji Kagawa was in South Africa for the World Cup.
However, he was there not as a member of the Japan national team-his role was limited to being among a handful of young players brought over to support the team's practices.
He had to watch Japan proceed to the Round of 16 from the stands.
Kagawa used that blow to his pride as a springboard to improve himself, and now the 25-year-old will head to the upcoming World Cup in Brazil as the leader of Japan's offence.
The Manchester United midfielder aims to erase the bitter memory in South Africa by leading Japan to an even higher finish.
"My role as a football player is to produce tangible results on offence, and I know I'm expected to be even more dedicated to this role on the national team," Kagawa said Monday after the announcement of the 23-member squad.
"It has been my dream since childhood to play at a World Cup. I want to fully appreciate the joy of playing there, and work hard on achieving good results," Kagawa said at Haneda Airport upon arriving from England after the end of the Premier League season.
Kagawa's main position on the national team is left wing. His sharp, speedy dribbling enables him to break through the opponent's defence, especially in areas packed with defenders.
Whether Kagawa can dominate the left side along with left defender Yuto Nagatomo of Inter Milan will be a barometer of Japan's offence.
The combination of Kagawa with central attacker Keisuke Honda, an AC Milan player who became Japan's driving force in South Africa, will also be a key to Japan's success.
After the 2010 World Cup, Kagawa left Cerezo Osaka, where he made his pro debut in 2007, to join German club Borussia Dortmund.
He was a sensation there, contributing to the club's winning back-to-back Bundesliga titles.
In his second season, he set a record for most goals by a Japanese player in a major European league with 13 goals.
His profile rose so high that in June 2012, he joined prestigious English club Manchester United.
However, life in England has not been easy for Kagawa-the recently completed season, his second at United, saw his playing chances vastly decrease. He ended the season goalless for the first time in his career.
"There were times I was devastated, but I kept believing in myself to fight through [the hardships], and that's the reason why I'm here today. I want to show on the pitch [in Brazil] how I fought through," Kagawa said.
Kagawa revealed he received a phone call of encouragement from Hajime Hosogai, a Hertha Berlin midfielder who was not chosen for the 23-member squad.
"Those who got selected must bear appropriate responsibility," Kagawa said. "We must unite as one and make all-out efforts."