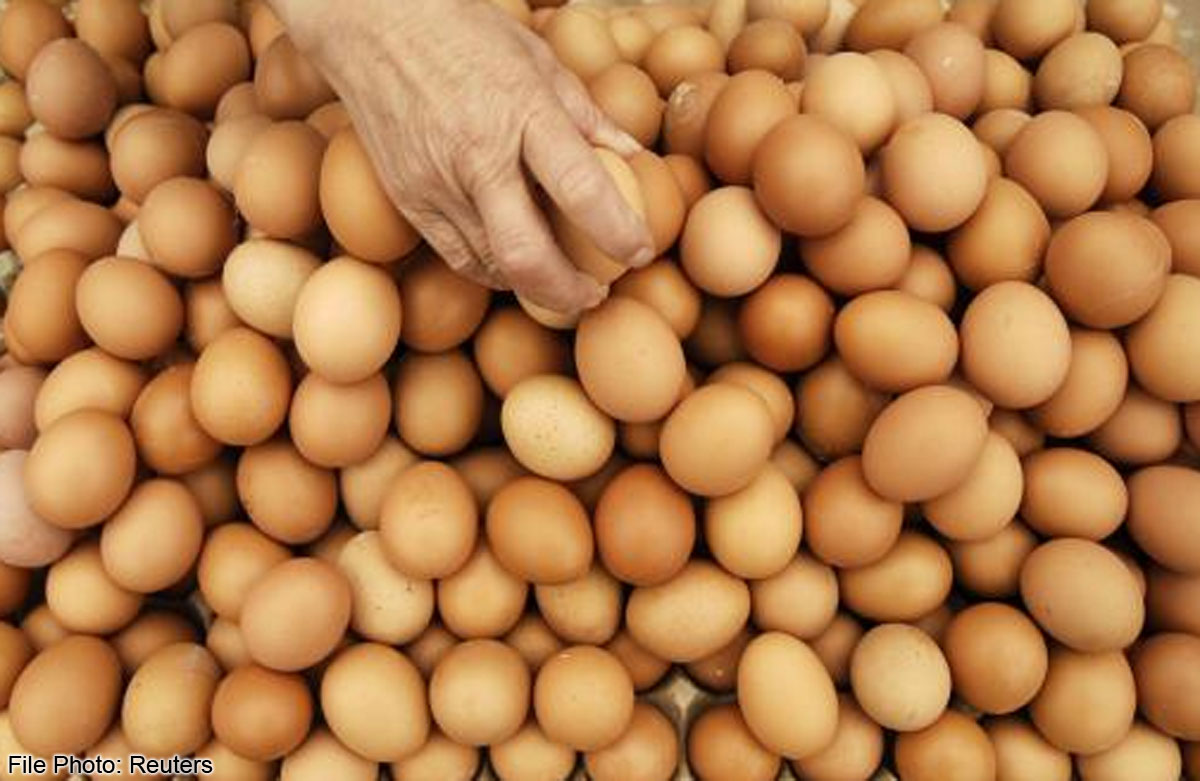 TAIPEI, Taiwan - Two farms that were fined for producing eggs that contain antibiotic residue might have already put more than 24,000 eggs on the market since this February, the Bureau of Animal and Plant Health Inspection and Quarantine (BAPHIQ) announced yesterday.
According to local reports, Wei Liang Ranch and Chun Tsung Ranch are egg suppliers for the military and for a convenience store chain.
The BAPHIQ and the Food and Drug Administration (FDA) formed an inspection team to conduct safety exams on eggs, and both Wei Liang Ranch and Chun Tsung Ranch were fined NT$30,000 (S$1247) and NT$60,000 respectively for failing the inspections.
However, local media reported that officials did not publish the inspection results, and Wei Liang Ranch could have already put those eggs with antibiotic residue on the market.
According to local reports, Wei Liang Ranch uses prescription medication recommended by veterinarians on their chickens, and it is possible that the scheduled withdrawal period was not long enough, resulting in residue in the eggs.
Chang Su-san, the director-general of the BAPHIQ, said that Chun Tsung Ranch was fined NT$60,000 for violating the Act Governing Food Sanitation.
"The bureau conducted a second inspection on the ranch's products and they all passed on March 14," said Chang. "Meanwhile, the bureau also guided the ranch through how to properly follow the regulations when carrying out a withdrawal period."
According to Chang, the inspection results were not published because the administrative process was too time consuming.
7-Eleven yesterday denied reports saying that it is the convenience store chain selling tea flavored boiled eggs that contain antibiotic residue.
According to 7-Eleven, Wei Liang Ranch is only one of the egg suppliers that the store uses, and the store has insisted on purchasing eggs from CAS-approved ranches.
Doctor Disapproved of Officials Hiding Information
Yen Tsung-hai, a toxicologist at Chang Gung Memorial Hospital in New Taipei City's Linkou District, said that officials should publish information that concerns the public's health.
According to Yen, eggs are common ingredients that are used often in many cuisines, so officials should apply high standards when inspecting such food. When officials discover issues during food inspections, Yen said, they should let the public know as soon as possible.