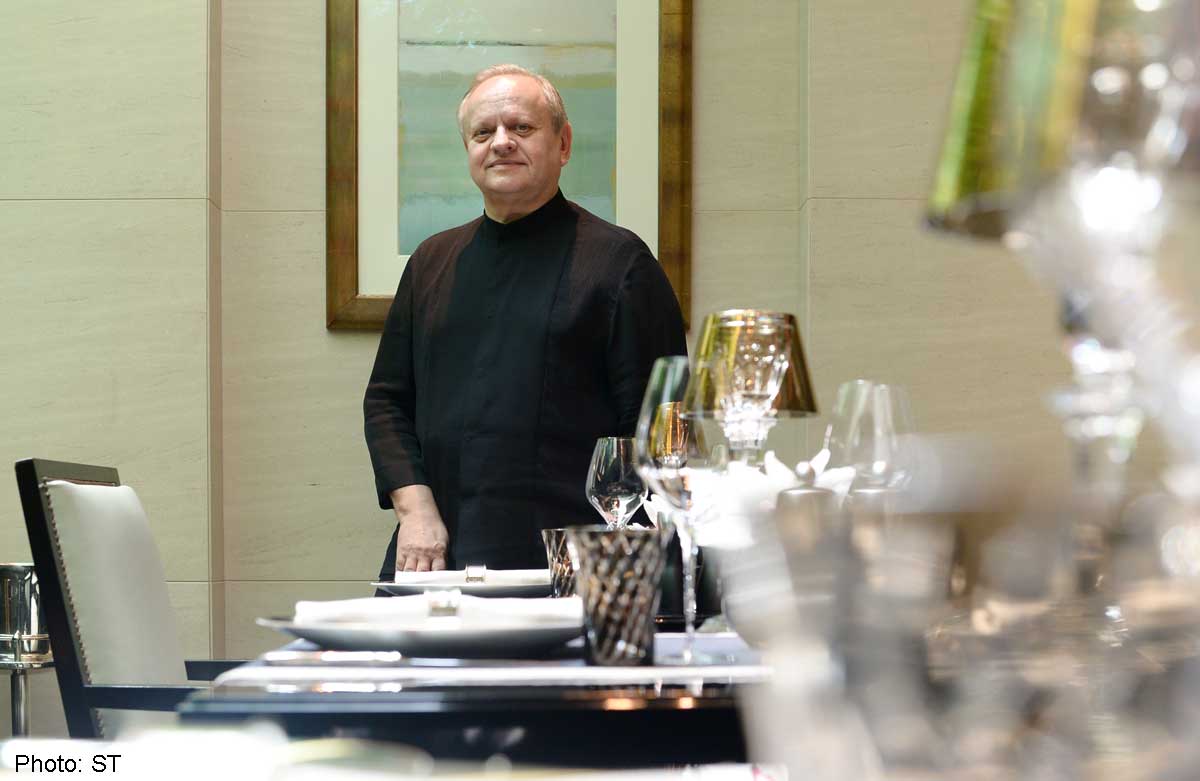 When it comes to food, it's very clear. Gourmet cuisine is gourmet cuisine, health food is health food and never the twain should meet. It's like in bookstores, where you find The Complete Joel Robuchon in the cookery section, not the health and fitness shelf with titles such as 1,001 Recipes for Kale or Lose Weight - Eat Only What You Hate.
All diet book authors swear you can make rabbit food taste like Michelin-starred cuisine, but most of them lie. Except Joel Robuchon.
The man with 28 Michelin stars and a stable of cookbooks dedicated to the art and technique of cuisine to his name has just released his latest title, Food & Life - which showcases his current cooking philosophy that just as food can give you pleasure, it can also heal you.
Mr Robuchon - who is in Singapore on one of his whirlwind visits to his restaurants in Resorts World Sentosa - credits the book to his good friend and co-author Nadia Volf, a Paris-based doctor who is a professor, neuropharmacologist and acupuncturist rolled into one impressive package.
Russian by birth, Dr Volf lived through the communist era where healthcare was minimal and people were compelled to treat themselves with folk remedies derived from local plants and foods.
Armed with this upbringing, her own medical training and that of her physician mother, Dr Volk now has a successful practice in Paris treating the city's Who's Who and mortals alike with her unique blend of holistic treatments backed by hard science.
Although Mr Robuchon has always favoured light cooking over cream and heavy sauces, a chance encounter with Dr Volf saw him looking at food with a different view.
Four years ago, on a trip to London, a badly bruised leg saw him in the office of Dr Volf, where a French journalist friend of his in Paris had insisted he go for acupuncture.
"But I did not believe in acupuncture - it's bull," recalls Mr Robuchon in French, translated by his right-hand man Philippe Braun. Still, as he tried to tell her his problem, she silenced him and looked at his ear instead before diagnosing him with a leg condition.
One session of acupuncture and "I was immediately relieved", and he was completely fine after a few days.
Mr Robuchon reels off countless examples of Dr Volf's magic touch. "Eric (his head chef for the entire Robuchon group of restaurants, Eric Bouchenoire) had a chronic shoulder pain but he was scared of injections so he went to see her (for non-acupuncture alternatives). Now he's fine. Someone in my family was worried about prostate cancer because he had high PSA (prostate-specific antigen) levels. As it was the early stage, she told him to drink pomegranate and tomato juice every day and the levels went down.
"One of our regular customers who suffered back pain and saw many specialists who could not cure him, asked to see my 'witch doctor', and she diagnosed him with a kidney stone. He is fine now. Another customer in Monaco had such severe flu he had trouble breathing. I texted Dr Volf and she sent him a recipe to boil an apple with lemon zest, cinnamon, basil and honey. She said to drink it and eat asparagus with onion, and steamed freshwater fish with ginger."
Mr Robuchon himself, who hardly has time to exercise but enjoys mountain climbing - "little mountains", he stresses - was in Spain doing just that when he had a sudden bout of breathlessness.
He called her and she gave him a recipe using cherries, lemon zest and juice and maple syrup.
Of course, having a doctor like that on speed-dial made it only natural that when Dr Volk suggested they do a cookbook together, he was all for it.
Armed with her knowledge of ingredients, she trawled through Mr Robuchon's colossal collection of recipes for suitable ones, adjusting amounts where called for.
Mr Robuchon also developed new recipes such as porcini mushroom, which is good to counter fear and also for the kidney, or a chicken broth remedy for jet lag with celery, garlic, shiitake mushroom, turmeric and black pepper.
She was the first to introduce kale to him before it became popular as a superfood, and Mr Robuchon even turned it into a cream of kale appetiser on top of tomato jelly at his restaurants.
Yet the book - which took a year to put together - is not targeted at restaurants or chefs but for the home cook, with its simple recipes such as Indian and Chinese soups, braised lamb with spices and scallops with argan oil.
There's also information about ingredients and what they're good for, and recipes that aren't just for ailments but which support emotional health.
It's been an eye-opening experience for Mr Robuchon, who writes in the book's foreword about how, just when you think your work holds no more surprises, there's still so much to learn. While he has no plans to "become a nutritionist", he's keen to work with Dr Volf on a sequel, focusing on broths.
In the meantime, he continues to be fascinated with the topic of healing foods, encouraged no doubt by Dr Volf's endorsement of foie gras and caviar as very healthy foods.
"Duck liver is a healthy fat, and caviar, well, it's fish roe." He's also learnt that sparkling water is very good for the health contrary to popular belief; rosemary is a good antioxidant and white tea is better than green tea if you don't heat it beyond a certain point.
He doesn't plan to become a nutritionist - rather he hopes to use his knowledge "to help people live better", especially in these times when, increasingly, people are questioning where their food comes from.
Lately, though, he's been fascinated by Dr Volf's use of minerals and stones for their healing properties.
"I don't know if they work but once I was at a special shop in Paris which sells such stones and the owner - without saying anything - put some stones on my body which made me shiver." He didn't quite know what to make of it, even if it did appeal to his interest in the metaphysical.
After all, he concedes to a level of superstition that dictates he times the opening of every new restaurant acccording to the moon. "If the moon is not right, I do not open," he says.
Folk remedies, shivering stones, lunar movements - is Joel Robuchon turning into a Harry Potter of cooking?
No, but when food is all about alchemy of ingredients and cooking methods becoming something totally delicious, Sorcerer of Food could well be the next label to put after Mr Robuchon's name - next to legendary chef and master of all.
Food & Life is available at major bookstores at S$80.85 (inclusive of GST). It is also available at L'Atelier de Joel Robuchon in Resorts World Sentosa.

This article was first published on November 29, 2014.
Get The Business Times for more stories.