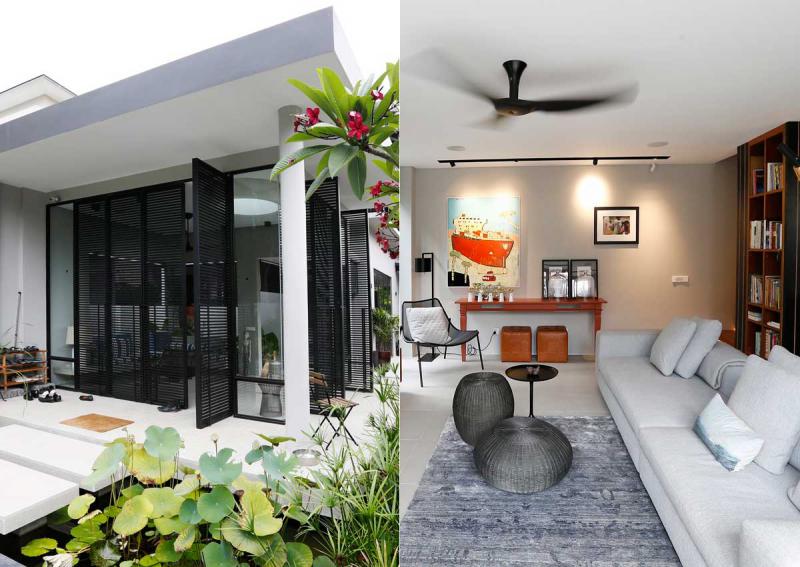 Richard Baker needs to be careful when he has visitors. Most of the time, they come over and then never want to leave.
His two-storey house at Tanjong Katong Road is beautifully designed and stylishly furnished - no wonder, because Mr Baker is the founder of scopeID, a hotel and resorts veteran consultant.
Mr Baker, who has lived in Singapore for six years, says the house is a reflection of how he lives - he's a firm believer in the less-is-more approach. "There's no clutter in my life, I live cleanly," he says.
He adds that he only has things that he loves. "I don't overly accessorise." But surely, it can be difficult to say no to a beautiful item?
"Of course, there have been impulse buys. But I give away an item after I buy something new," he says.
Walk around the home, and you find that, while the home isn't cold or minimalist, it is not cluttered either. Items are there, because they serve a purpose - be it functional or for aesthetic reasons.
The result is a house that, while it retains that hotel/resort feel, nevertheless feels very much like home.
Mr Baker bought over the 2,800 square foot house from a "dear aunty" two years ago. Renovation was done in 2015, working together with Envelope Architects on redesigning the spaces, and the project was completed earlier this year.
"I like that it is a long house, very linear," he says. The original home had extra rooms added to the front and back of it over the years. Other plus points included its location and the potential to be turned into a beautiful home without the need for demolition. But most importantly: "I like the energy of the house," says Mr Barker.
At the front of the house is a pavilion - a chill-out and reading area of sorts. A pond runs around this pavilion, keeping the area cool. "Plus, it is nice that when you enter the house, you need to cross this body of water," says Mr Baker.
Meanwhile, the presence of a small lap pool and an outdoor shower near the pavilion add to the resort feel of the home.
Mr Baker does away with a main door for the home. Instead, there are glass doors on the side and front which all lead to the interior. "I didn't want a single entrance to the house, but rather, have many ways in and out." The result is a seamless flow of energy and a blurring of lines between the indoors and outdoors.
No room for extraneous detail
As he entertains frequently, Mr Baker wanted to have two kitchens. He is especially proud of his dry kitchen, which he fondly calls, a "nice piece of furniture". There is the island with its marble top, that's ideal for baking and this is where guests can gather around and help themselves to food. The dry kitchen is fitted with two ovens, a cooker top, and a bar, which can all be hidden away behind the vertical striped wooden panelling. "The stripes make the ceiling look much higher," says Mr Baker.
Nearby is the wet kitchen that has two doors. It seems odd, but Mr Baker explains that, again, this eases the flow of entering and exiting the space. In keeping with his life philosophy of living cleanly, the kitchen is fitted out with only the necessities and not more. "I fit out the kitchen only with things that I need. There's the stove in the centre, the fridge, cupboards for dried foods and crockery on one side and the sink on the opposite side."
Those who are lucky enough to be able to spend a night in the guest room may just wake up thinking that they are in a chic hotel. After all, Mr Baker did design the room this way, by having the sleeping area and the bathroom seamlessly connected, much like how it is in a hotel room.
For his bedroom, Mr Baker opted for the resort look for obvious reasons. Design elements such as the pitched ceiling, the four-poster bed, the black fan all give it that resort feel.
In Singapore, there is no escaping the neighbours and this house is no exception. There are curtains, but what gets Mr Baker more excited are the metal shutters with pneumatic arms that have been installed in his bedroom and the bathroom.
They don't swing open like regular shutters, but fold in half. "I didn't want anything that was too conforming. I wanted to have fun with the shutters," he says.
The entire house has a neutral palette - brown, grey, black and white. "I believe in starting with a neutral canvas, because it is calming, and then slowly adding colour when I've grown into the home."
It also helps with creating the timeless look for the home, which is what he desires. Same goes for his choice of furniture, picking pieces such as a sofa from Minotti, or the Warren Platner dining chair and the Emu outdoor chair. "Invest in key pieces, so that you can bring them along with you when you move," he suggests.
His favourite art pieces adorn the walls, making the space feel more personal. One of his favourite is a pastel painting of Liza Minelli, and another of a ship by Rob Tucker. A precious piece that he fondly shares the story of is a photograph by Vivian Maier, a nanny who took up street photography on the side. Her photos only garnered attention after her death. "I love her story, and really wanted to buy one of her pieces," says Mr Baker excitedly.
Despite the attention he paid to furnishing the interiors, down to buying the little items, such as faucets and door knobs himself, Mr Baker's favourite place at home is outdoors.
He enjoys spending time by the pond, watching his koi. "I love the garden and the plants especially when they move in the wind," he says. "They make me feel so calm."

This article was first published on June 4, 2016.
Get The Business Times for more stories.