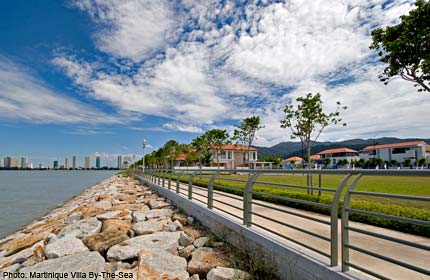 KUALA LUMPUR - Four out of 10 purchasers at Eastern & Oriental's (E&O) Seri Tanjung Pinang (STP) are Singaporeans or residents of Singapore, drawn perhaps by the many "similarities" between Singapore and Penang - a large Chinese population, food, the sea breeze and improved connectivity.
Of STP's 1,300-odd buyers, the owners of the 73 villas-by-the-sea occupy the choicest location. Ironic then that there were few takers when the first phase of 40 units was launched in 2007, after which came the global financial crisis.
"The take-up was not so strong and we had to put in more money to complete," E&O deputy managing director Eric Chan said at a function in Penang last week to mark the completion of the joint venture between the luxury developer and CIMB-Mapletree and Bahrain's Al-Salam Bank.
Some RM260 million (S$106 million) was invested in the villas-by-the-sea, with E&O taking 50 per cent equity, and the balance by CIMB-Mapletree's Real Estate Fund 1 (CMREF1) in partnership with Al-Salam.
CIMB-Mapletree Management Sdn Bhd chief executive Raja Noorma Raja Othman was happy that returns from the investment had exceeded the fund's internal rate of return of 12-15 per cent. For Al-Salam chief executive Yousif Taqi, it would "remain special because it was the first project I made for the bank".
The villas are one of 13 projects that the RM1.5 billion closed-end fund invested in; others include CP Tower, a commercial development in KL Sentral and the Jaya Shopping Centre.
The fund is fully utilised and a second one, with a Syariah portion, will soon be launched.
Work commenced on the 97-hectare STP, located on the north-east of Penang island, in 2005 and there is only a tenth left of land to be reclaimed for the second phase of high-end apartments.
The average selling price is RM1,300 psf. Landed properties occupy 60 per cent of STP, and the high-rise and commercial segments, 20 per cent each.
All the villas have been sold to eager purchasers as Lee Yuit Eow, who is a repeat buyer.
The wife of Tan Kok Ping - businessman and executive adviser to the Penang Chinese Chamber of Commerce - Ms Lee purchased a RM1.6 million semi-detached unit for her daughter four years ago.
"She insisted we look at STP, although we had heard a lot of negative statements and were worried about the reclamation taking place so quickly. By then a few phases were already completed."
In any event, Ms Lee never looked back. "The whole concept - scenery, landscaping, security and retail outlets nearby" floored her, and in 2011 she shelled out another RM3 million for a three-storey super semi-detached unit. With a built-up area of about 5,000 sq ft, the unit comes with a lift and pool.
But the piece de resistance of the Caribbean-inspired homes is the two-storey 9,000 sq ft Martinique villas, sold at RM9.3 million.
An owner recently turned down an offer to buy for RM13 million. There are 20-odd nationalities resident at STP. (Singaporean buyers make up about 30 per cent of its 400 landed purchasers, and 40 per cent of its 900 condo buyers.)
Water limousine services are expected to run between the STP marina and the E&O Hotel in Georgetown in the second half of the year, giving its residents more options to get around.
Later in the year, the company is also expected to showcase its masterplan for a development on 85 hectares in Medini, Iskandar Malaysia.
Although details are still sketchy, E&O has indicated that its maiden foray into Johor - in partnership with Temasek Holdings and Khazanah Nasional - will be along the lines of a "wellness- based township", a concept initiated and championed by Khazanah.

Get the full story from The Business Times.