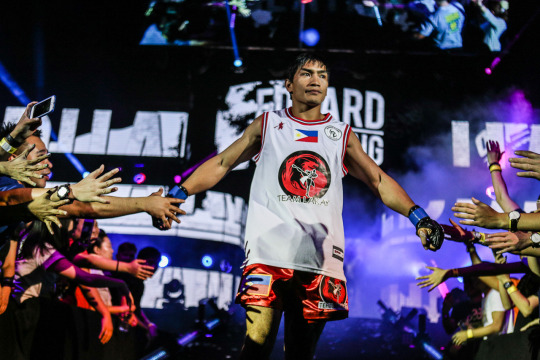 This Friday, 11 November, Eduard "Landslide" Folayang (16-5) will challenge Japanese mixed martial arts (MMA) legend Shinya "Tobikan Judan" Aoki (39-6, 1NC) for Aoki's ONE Lightweight World Championship at ONE: DEFENDING HONOR. It is a title shot that has been a long time coming for the Filipino fighter.
Folayang, 32, was part of the very first ONE Championship live event five years ago, and has proven to be an integral part of the promotion's success. Since joining ONE, Folayang has beaten top Asian fighters Felipe Enomoto, Vincent Latoel, Kotetsu Boku, Tetsuya Yamada, and Adrian Pang.
His last two performances — against Yamada and Pang — earned him a shot at ONE Championship gold. In those bouts, Folayang showcased tremendous improvement with his wrestling and grappling while employing intelligent game plans.
If Folayang can defeat Aoki in Singapore, it will send Filipino fight fans all around the world into a frenzy. Here are five reasons why Eduard Folayang would make a great champion.
#1 He is ever the humble warrior
Humility makes a great champion, and if Eduard Folayang beats Shinya Aoki, he will be sure to champion humility just as much.
A former high school teacher, Folayang has the makings of a real people's champion. His humble background is a compelling story of a boy growing up in tragically impoverished circumstances in rural Philippines who had a dream to become a world champion in MMA.
The soft-spoken warrior from the north regularly quotes Bible verses and wishes his opponents well inside the cage before taking them apart with his impeccable striking. There is not a bone of brashness inside Folayang's body, and it shows with the level of respect he gives his foes.
Against Aoki, Folayang refers to his Japanese counterpart as a "living legend" and has often revered Aoki's accomplishments in MMA. Make no mistake about it, however, whether or not Folayang holds his opponent in high regard is irrelevant to his performance on fight night.
Folayang will fight the only way he knows how, and that's behind intelligent use of his striking and wrestling.
#2 He is the face of Filipino MMA
Eduard Folayang has long been the face of Filipino MMA. Before joining ONE Championship in 2011, Folayang had plied his craft in various Asian MMA promotions, taking on some of the best fighters in the region and even claimed a Filipino championship.
His name became synonymous with MMA in the country, and he later popularized Baguio City's famous Team Lakay, a talented group of individuals well-versed in the art of wushu.
The Philippines' MMA scene is young and still in its relative infancy although it is certainly on the rise. Much of its success has stemmed from veterans like Folayang who have been in the fight game for a long time.
All of Folayang's hard work will culminate in his bout for Aoki's world title belt. For one, Folayang relishes the opportunity to be considered the flag-bearer for Filipino MMA. Folayang refers to the title as a privilege, being able to represent the country on the international stage of mixed martial arts.
Of course, having a massive fan base comes with the territory. Filipinos are known to rally behind their sports stars, no matter the sport. Folayang could do for MMA what eight-division boxing world champion Manny Pacquiao did for boxing in the Philippines.
If Folayang becomes champion, expect fans to answer his call for unity as well.
#3 He showcases the ancient art of wushu
The 32-year-old Folayang was always into combat sports and martial arts as a youth growing up in the high altitudes of Baguio City. Before becoming a mixed martial arts star, Folayang was once a champion wushu practitioner.
If Folayang becomes ONE Lightweight World Champion, he will have showcased the ancient striking art front and center. Folayang has won several international wushu tournaments over the course of his career, which includes three gold medals at the SEA Games. In one of the Games' finals, Folayang even won via a spectacular spinning back kick knockout which will be remembered for years.
Folayang as the ONE Lightweight World Champion would bring all of these accomplishments to light and introduce the MMA world to wushu.
#4 He is full of action and excitement
Say what you will about his skills. You can criticize his team's lack of Brazilian jiu-jitsu accolades. You can even question his ability to finish opponents in MMA. But what you cannot knock is the way Folayang brings action and excitement to the cage.
Every time Folayang goes to battle, he aims to bring the crowd up to their feet. His fan-friendly style surely helps, as wushu is a striking art which makes use of flashy punches and kicks. But even more importantly, Folayang has that Filipino warrior mindset — that you-will-have-to-drag-me-out-of-here approach to fighting that produces absolute classics.
The thrill factor is never lacking in any of Folayang's fights. Given the chance to stand and trade, Folayang will definitely oblige. Even in losses, Folayang has performed to the delight of fans.
A champion who leaves it all in the cage is exactly what this sport needs. Asian MMA fans are looking for action and excitement above all. If Asia can have an MMA world champion that brings these two elements night in and night out, the sport will be in great hands.