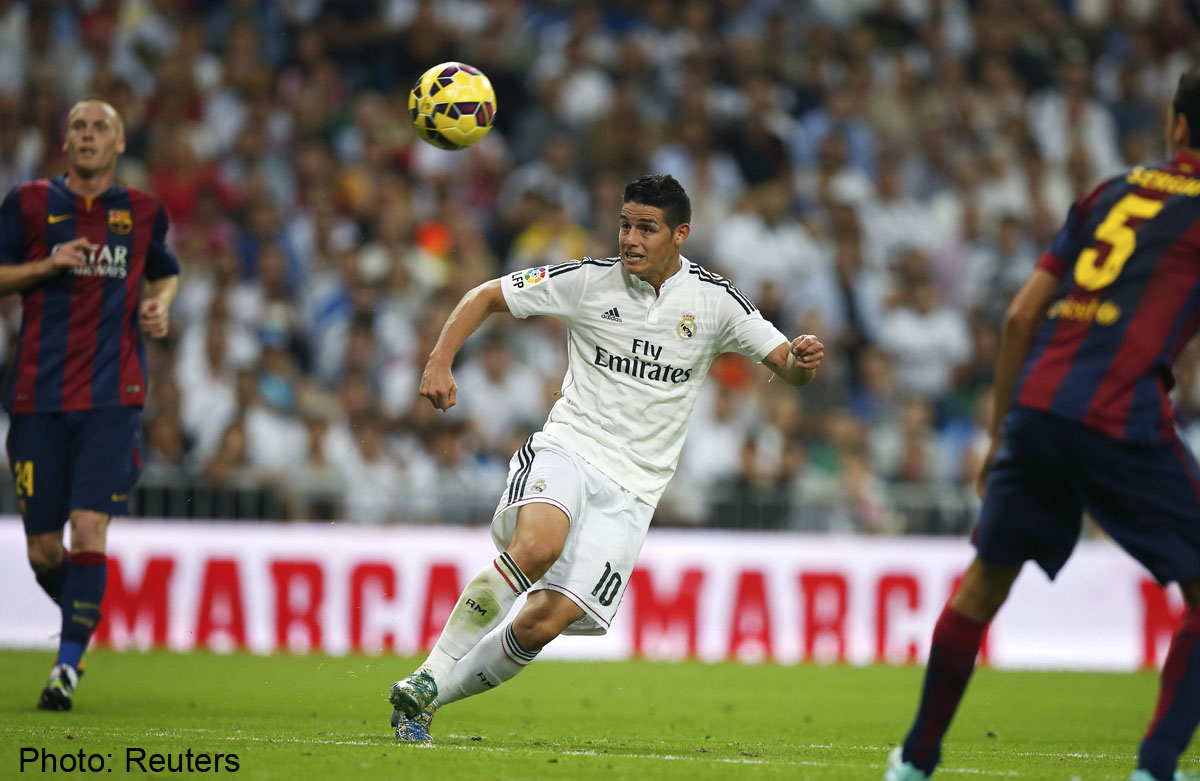 These things move in cycles, they say. Well, then Barcelona, Bayern Munich and Chelsea had better step aside. It's Real Madrid's time now. Here are four reasons why:
CRISTIANO RONALDO
Eleven consecutive La Liga wins. A Spanish record-equalling 18 straight wins in all competitions.
In the meantime, Cristiano Ronaldo helped himself to 23 La Liga goals, four in the Champions League and another two in the Uefa Super Cup.
And coach Carlo Ancelotti said having Ronaldo in his team is a "great advantage"? This must be the understatement of the year.
He may be an egomaniac, a narcissist and a show-off rolled into one. He readily rips off his top and flexes his muscles in front of the cameras, even though all he scores is an inconsequential goal after his teammates have already sealed the win.
But there's no denying Ronaldo is unofficially the best player on the planet. Well, it's unofficial until he collects the real thing - the Fifa Ballon d'Or - in about a month's time.
When the 29-year-old Portuguese is on song, the team sing with him. And he delivers with such amazing consistency.
He scored all the goals in Real's 3-0 win over Celta Vigo yesterday morning (Singapore time) to break La Liga's long-standing hat-trick record, with his 23rd hat-trick for Real. His last goal took his La Liga goal tally to 200 from 178 outings - the quickest in history.
Then again, he has everything in his repertoire. Pace, venom in his shot, and moves his feet in circles quicker than you can say "what?".
In a team sardine-packed with stars, Ronaldo is his own galaxy. He is at the peak of his prowess, so why should it be a surprise that Real are at theirs too?
CARLO ANCELOTTI
Even the Special One failed to deliver La Decima.
But Ancelotti pulled off what Jose Mourinho couldn't - the 10th European title. And he did it in his first season at the Bernabeu to boot.
Ancelotti is one of the best in the business. He is tactically astute and enjoys an attacking game at the same time.
Under him, Chelsea won the Premiership title with a Premier League record 103 goals.
Real are now threatening to knock down Spanish records like bowling pins.
From 14 league matches, Los Blancos have already notched 51 goals, 20 more than the second-highest scorers Barcelona (before this morning's match).
His biggest weapon, however, is his warm personality.
Everywhere he goes, the players love him. The same can't be said of Mourinho towards the end of his Real stint.
MONEY TALKS
Some suggest Real were silly to sell Mesut Oezil to Arsenal. And they were equally stumped by the decision to release Angel di Maria to Manchester United.
But what did they do?
Easy. They simply brought in Toni Kroos, James Rodriguez, Gareth Bale (below, centre) and their likes.
What about Uefa's Financial Fair Play regulations, you ask. To cut a long story short, they make lots of money.
Their huge revenue-generating potential means they can easily spend and make back the money.
For the 2013/14 year, they posted the highest recorded revenue in the history of professional sports teams - 603.9 million euros (S$981.2m).
The result is a monster squad oozing with talent from top to bottom, the envy of top players everywhere. They have the money and the pulling power. That's surely a winning combination.
AURA
Barcelona had it, then lost it.
Bayern Munich had barely warmed their seats on the throne, when Real thumped them 5-0 (on aggregate) in the semi-finals.
That aura of invincibility belongs to Real now.
It's every opponent's hidden enemy.
It strikes fear, casts doubts and weakens resolve.
Ancelotti's stellar cast, whether intentionally or unknowingly, are intimidating their rivals into believing that they cannot be beaten. Their results this season help fuel the notion.
On the field, they force the opposing players into mistakes they usually won't commit.
Off the pitch, they have already won half the battle - in the head.

This article was first published on December 8, 2014.
Get The New Paper for more stories.