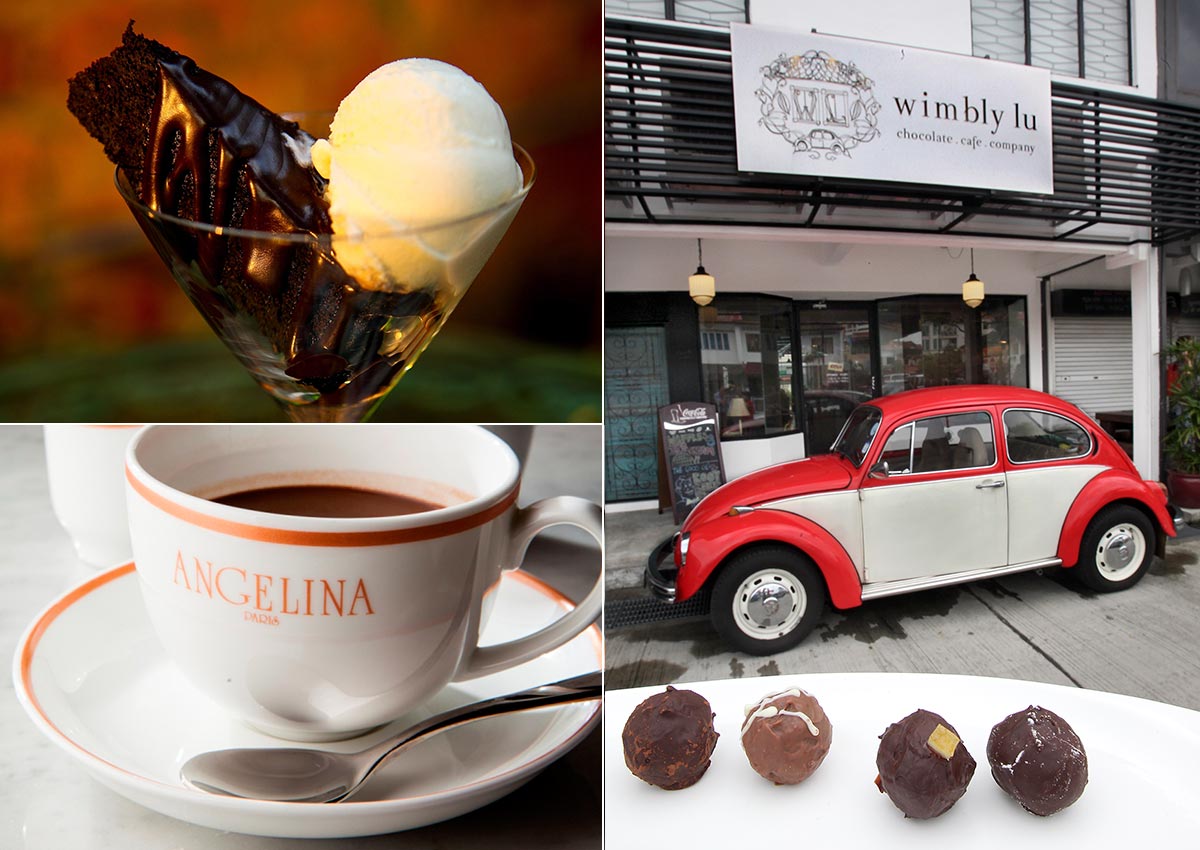 This article was originally published on the global travel search engine Skyscanner.
Chocoholics, you're in luck! Skyscanner has combed through Singapore to find the best places to get your chocolate fix. Whether you love cakes, pies, or ice cream, here are 5 must-try spots where cocoa is king.
1. Angelina Singapore
Dessert snobs, rejoice: one of Paris's most renowned tea salons has finally made it to Singapore. As you bask in Angelina's chic ambiance, do yourself a favour and order their world-famous hot chocolate. Made with three different types of African cocoa and served with a side of fresh whipped cream, this richly decadent concoction tastes like pure liquid chocolate. Make sure you leave some space for scrumptious pastries like the Negresco - a lip-smacking combination of chocolate mousse and meringue, adorned with dark chocolate shavings. Welcome to chocolate bliss.
2. Awfully Chocolate
For a slice of intense chocolatey goodness, head over to this perennially popular cake shop, which has 11 outlets across Singapore. If you're a chocolate purist, then the original dark chocolate cake with silky layers of fudge should hit the spot; or how about a creamy ganache cupcake for the perfect pick-me-up? You can also tuck into the Chocolate Rum & Cherry cake, or indulge in a sinfully smooth scoop of dark chocolate ice cream. You can't go wrong whatever you pick, so go forth and pig out!
3. ROYCE'
Boasting exquisite gourmet chocolates in an array of decadent flavours, ROYCE' is a chocoholic's paradise. Green tea fiends will swoon over the Duo Praline Maccha, while kids-at-heart will relish the chocolate-coated potato chips, which provide an irresistible blend of salty and sweet. But the undisputed champion here is the champagne-infused Nama Chocolate. The secret behind this treat is a touch of fresh Hokkaido cream, which gives that extra oomph. As you bite into a rich, velvety chocolate square dusted with dark cocoa powder, you just might shed tears of pure joy.
4. Laurent Bernard Chocolatier
Chocolate aficionados always flock to this elegant French patisserie, which offers an unrivalled range of tantalising desserts. The sumptuous chocolate souffle, accompanied by raspberry sherbet, is a must-try dish; the same goes for the divinely delicious Trianon, which consists of a velvety layer of chocolate mousse atop a crunchy biscuit base. Laurent Bernard's gourmet chocolate bars are also to die for - why not grab a strawberry chocolate or caramel bar for the ultimate post-work snack? Best of all, the Robertson Quay outlet is open till late, so you know where to go when those chocolate cravings strike!
5. Wimbly Lu
Tucked away on the quaint street of Jalan Riang, this whimsical cafe is a haven for all things chocolate. You'll definitely want to indulge in Wimbly Lu's handmade truffles, which come in luscious flavours like salted caramel, Milo, and champagne. But don't go overboard: you need to save room for the chocolate marshmallow pie, molten lava cake, and brownie ice cream! If you fancy a boozier treat, the iced chocolate with Baileys should do the trick. Between the cosy, cheerful atmosphere of the café and the mouthwatering desserts, you'll never want to leave.
Click here for the original article or visit the flight comparison site Skyscanner for more.