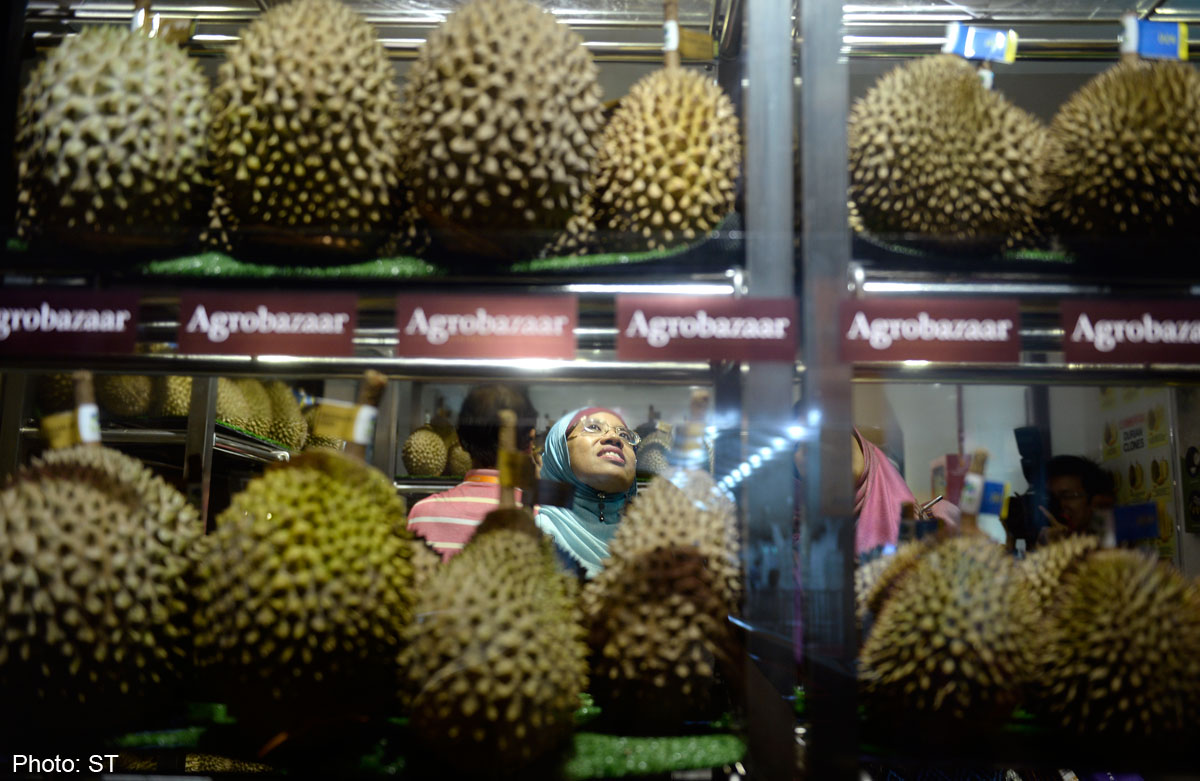 Officially opened on Aug 27 by Prime Minister Lee Hsien Loong and his Malaysian counterpart Najib Razak, the Agrobazaar Malaysia, located in Sultan Gate off Beach Road, is 5,100 sq ft of authentic Malaysian produce.
Wondering if it's worth a trip? We check out what's the buzz about the Agrobazaar:
1. Chill out in the durian cold room
Kept at a temperature of approximately 12 deg C, the durian cold room boasts wall-to-wall shelves of the thorny fruit. This is so that the durians can be kept for up to 10 days compared to six days on average at room temperature. As many as eight types of durians will be on display, including the well-loved D24 and Musang King (or Mao Shan Wang), depending on the season. Opt to savour the creamy flesh either in the room itself while it's still cold, or in the comfort of your home.
2. More than just fruits
Mingling with the pungent scent of the king of fruits is the equally intoxicating aroma of freshly brewed coffee. Sharing the space with the durian cold room and bustling marketplace full of people picking their fruits and dry goods is a small cafe which can sit about 15 people.
And if you're craving for more than just an afternoon pick-me-up, Agrobazaar's authentically Malaysian cuisine is served at the restaurant just upstairs.
3. Malaysian hawker fare on the rooftop
After what could be an exhausting grocery shopping experience, grab a Malaysian-style mee rebus and take a break at the restaurant on the second floor. Savour everything from a simple plate of Nasi Lemak ($9.90) topped with fried chicken instead of the local kuning fish, to Mee Bandung ($8.90), which interestingly enough, resembles the Singaporean mee rebus.
As an added bonus, diners have the option of sitting in air-conditioned comfort, or basking in the sun on the alfresco rooftop area.
4. Sample "fruit cuisine"
Fruit is no longer just a dessert. Not content with serving up just Malaysian cuisine, Agrobazaar also has an added twist to its menu: Fruit-based dishes.
Currently, the menu only has the Dragonfruit Fried Rice ($9.90) and the Red Chicken Curry on a Bed of Tropical Fruits ($8.90). But Agrobazaar's manager Mohamad Shukri Ahmad says that they intend to expand the menu to include other fruit-based dishes like fried noodles with jackfruit.
Wash the meal down with a Pinegon ($6.90), a mixture of pineapple and dragonfruit juice, or a refreshing Lemongrass and Pandan Cooler ($5.90).
5. Cut the Causeway queue
Get Malaysian fruits like langsat or pulasan delivered daily fresh from the source.The Agrobazaar also has more than 10 types of Malaysian honey available. The best part is not having to tolerate jams going to and from the Causeway.
Agrobazaar is open every Monday to Sunday, from 10am to 10pm.

This article was first published on Sep 1, 2014.
Get a copy of The Straits Times or go to straitstimes.com for more stories.