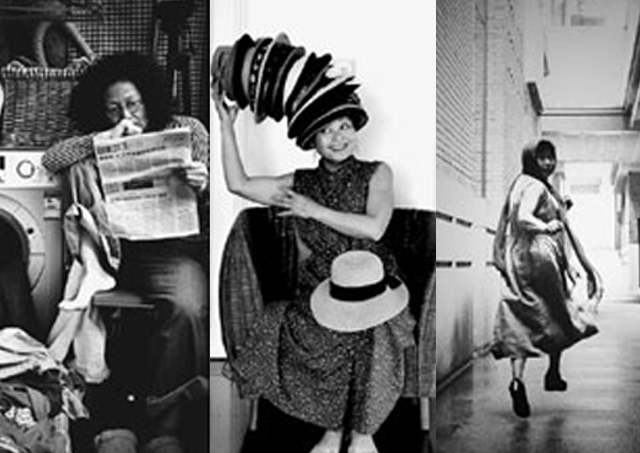 After retiring from a factory five years ago, Liu Yao bought a camera to take photos of herself, costumed and posing, and posted them online. Her dramatic selfies, which she snaps simply to amuse herself, have gone viral on the Internet.
The 55-year-old native of Nanjing in East China's Jiangsu province chooses the themes, arranges the scenes and takes all of the photographs. She even makes most of the clothing that appears in her photos, including the dresses, scarves and hats.
"I take these photos just because I like taking them," Liu said. "I never received professional training. I think that people are born with certain talents, which will reveal themselves naturally when the time comes."
From left: Four of Liu Yao's selfies. The retiree living in Nanjing, Jiangsu province, chooses the themes, arranges the scenes and takes all of the photos by herself.
Many netizens mistakenly believe that Liu's shots were taken overseas, when, in fact, the settings were Nanjing's parks or tourist sites in neighbouring Anhui province.
In the photos, Liu appears dressed as a housewife reading in the park, a grandmother in the forest or even a vendor in a shopping mall. In some she is laughing out loud, while in others she looks indifferent or even frightened.
She decided to follow her passion for art and photography after retiring from her job at a microscope-assembly factory.
"I chose photography over painting because I have a quick temper," Liu said with a smile. "I don't like other people taking my photo, because the feeling represented in their pictures is not what I want. Therefore, I bought a tripod and started to take photos myself."
"Photography shares similarities with writing poems and drawing paintings," Liu said. "I enjoy buying the objects I need to set the scene. I like being the director of my own photos."
Insisting that most photo-editing software takes too much time, Liu uses only the simplest programs, which are suitable for beginners.
She said that she always had strange ideas and dressed differently from others ever since her elementary school years. The other children would mock her, but she never wanted to be restrained by society's rules.
"I didn't care what they said about me. Sometimes I took their jokes as compliments," she said.
Despite Liu's flamboyant public profile, Xiao Xiao, her 27-year-old daughter, said her mother is as ordinary as most people. "She enjoys bartering with vegetable vendors, cooking for the family and making strange clothes for me," Xiao said. "I have to admit that I didn't like some of the clothes she used to make me wear."
With her daughter's support, Liu held her first photographic exhibition at her apartment in October. She chose more than 100 photos, framed them and invited friends to visit.
"Many visitors said that they wanted to decorate their homes with the photos, and that they wanted to lead as free a life as my mother does," Xiao said. "The older I become, the more I appreciate my mother. She knows that there's something in her that distinguishes her from other people."