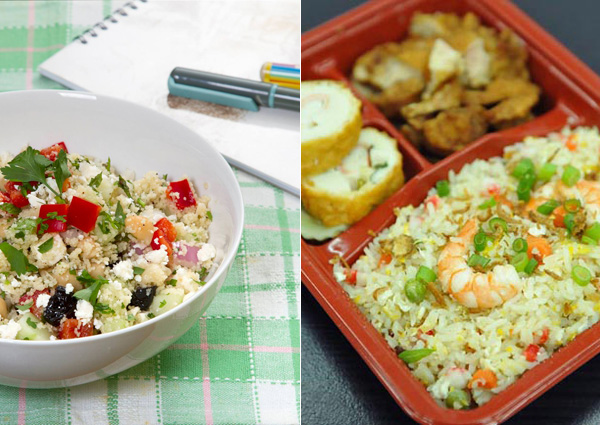 Busy office workers only have so much time each day to eat, and when work piles up, trudging downstairs, trying to chope seats with tissue packets and then joining interminable queues does not seem to be the best use of lunch hour.
Meal subscription services have popped up to fill the stomachs of hungry office workers in the central business district, and they're proving a hit with those who don't want to ingest MSG-filled plates of economy rice every day. Here are a couple of meal subscription services to try.
1. Food Matters
Food Matters offers a menu filled with healthy spins on local favourites. On the menu are Hainanese chicken rice made with baked chicken and brown rice, and chicken curry noodles made with bee hoon and fresh vegetables.
Cost: The cheapest plan costs $40 a month and includes 4 meals, the most expensive is $140 a month and includes 20 meals. All meals will be delivered directly to you.
Value: $7 to $10 a meal
2. FitThree
Designed to be consumed right after your workout at the gym, FitThree serves up protein-packed meals such as confit of salmon and seafood paella. Choose between delivery to your gym or yoga studio, and free pickup.
Cost: $38.70 a week for 3 meals or $64.50 a week for 5 meals
Value: $12.90 a meal
3. The Hungry Chef
If you're lucky enough to be able to nip home during lunchtime or work from home, The Hungry Chef enables you to whip up tasty meals in the kitchen without having to spend hours shopping for groceries. This meal service helps you plan your recipes each week and then delivers the ingredients in the right amounts right to your doorstep.
On the menu are pan seared fish with lemon and Mexican chilli con carne. To satisfy the minimum order requirement, it makes sense to buy multiple boxes for each week.
Cost: $15 to $24 per meal, minimum order of $40 for free delivery. Delivery charge of $8 on orders under $60.
Value: $15 to $24++ per meal
4. Ronnie Kitchen
Looking for home cooked food that actually looks like something you would make at home rather than organic paleo gluten-free new age stuff? Look no further than Ronnie Kitchen. Order Chinese zi char dishes to have with rice for lunch or dinner. You may choose between three dishes and a soup or four dishes.
Cost: If you're dining alone, you pay $160 for 20 meals. If you're in a party of 5, it's $460 for 20 meals.
Value: $4.60 to $8 per meal per person.
5. Kim's Kitchen
Kim's Kitchen, purveyors of classic Chinese tingkat meals complete with stackable containers, have been around for a while and they're not going anywhere. Unfortunately, lunch delivery orders will be packed in microwaveable containers rather than the retro looking stackable metal ones. Choose between three dishes plus one soup or four dishes.
Cost: Ranges from $171.20 for one person to $538 for 6 people.
Value: $4++ to $7++ per meal
6. Select
Forget those hipper-than-thou meal delivery apps. If you want a reliable lunch subscription service, look no further than Select, who have been in the business for years. The usual three dishes + soup or four dishes are delivered tingkat style.
Cost: $214 per month for 2 people to $513.60 for 5 people with rice.
Value: $4++ to $9++ per meal
7. Mom's Cooking
Hair falling out from all that MSG? At Mom's Cooking, no MSG is added to the food, and the only oil used is canola. The menu changes every week and you can expect to enjoy quite a bit of variety each day of the week as well. Classics on the menu include rice wine chicken and nonya assam fish.
Cost: From $385.20 for 16 meals for 2 people to $909.50 for 20 meals for 5 people.
Value: $9+ to $12+ per meal
MoneySmart.sg is Singapore's leading personal finance portal, and aims to help people maximise their money with powerful tools and engaging content.