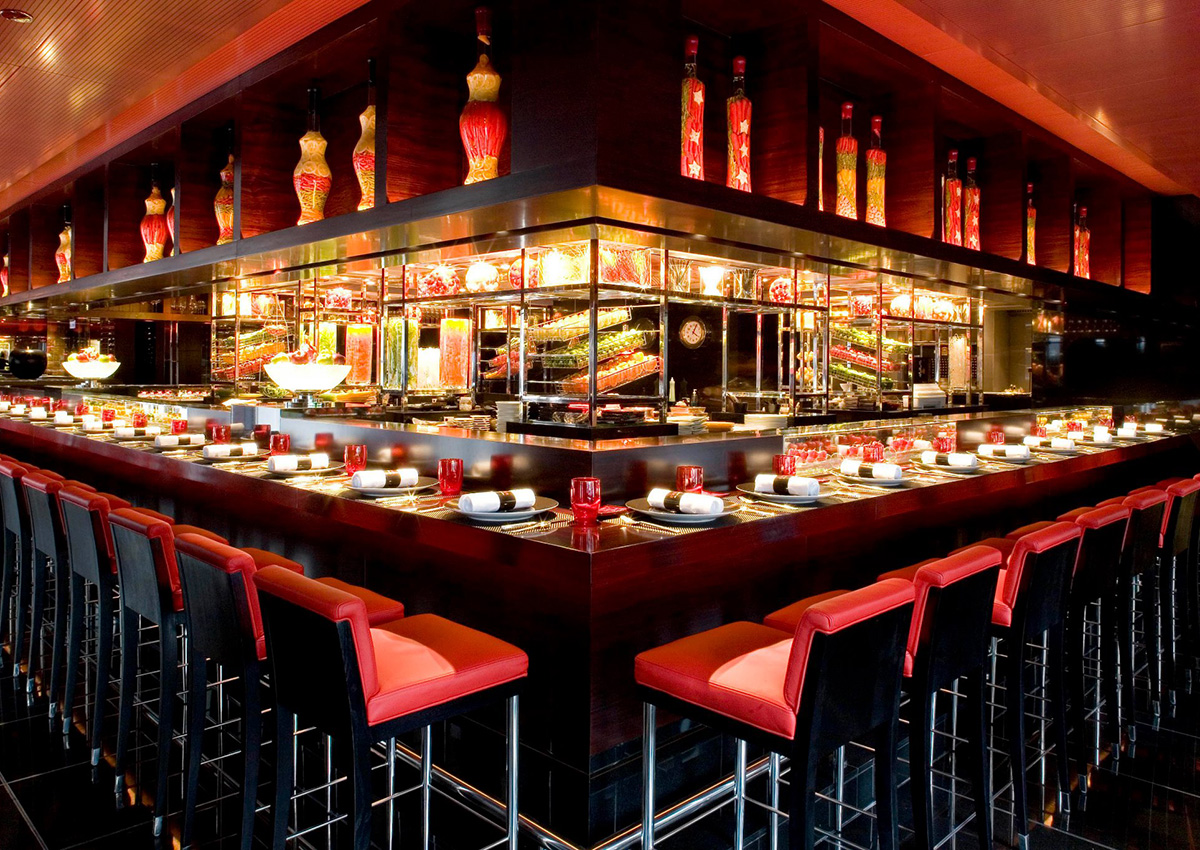 This article was originally published on the global travel search engine Skyscanner.
Hong Kong has about 64 restaurants approved by the authority in fine dining - the Michelin guide. From modern Gallic creations made by passionate chefs to traditional Cantonese dishes helmed by wok hei masters, the city of Hong Kong is never dull in its culinary representations. Skyscanner's selection of 7 restaurants won't disappoint you in terms of breadth of cuisines, usage of ingredients, and of course, the chefs' unbridled creativity in creating new dishes to please the eyes and seduce the palate.
1. Bo Innovation
If you're a foodie who digs Michelin-quality dishes, then a trip to Bo Innovation in Hong Kong should be a top priority. Helmed by the demanding Chef Alvin Leung, who takes utmost pride in his creations, you'll attest that even the lunch sets at HK$388 (S$70) will still deliver an experience you won't forget. The feisty tastemaker dabbles in molecular gastronomy to create molecular Xiao Long Bao - the soup is held in a thin membrane with a little red strip on top for vinegar. Pop it into your mouth to experience a burst of flavours. Another must-try is the foie gras with mui choy (preserved mustard greens), where the salty but slightly sweet vegetable becomes the perfect foil for the unctuous foie gras that melts in your mouth.
If you're primed to be pampered, expect to pay HK$2,380 per person for the chef's table menu featuring a stellar cast of Leung's creations, such as Longjiang chicken with saga beef and dim sum creations interpreted by molecular gastronomy techniques. The 60-seat, 3-Michelin-star restaurant provides sleek interiors, abstract artworks, white table cloths and contemporary furniture and lighting.
Where: Shop 13, 2/F, J Residence, 60 Johnston Road, Wan Chai, Hong Kong
When: Mon to Fri 12-3pm and 7pm-12am; Sat 6pm-12am
2. L'Atelier de Joel Robuchon
With 25 Michelin stars under his belt, Joel Robuchon's culinary fame is known worldwide. It comes as no surprise that his Gallic outpost in Hong Kong boasts three Michelin stars. A bigger surprise is that you don't need to inherit the earth to dine at this establishment. The L'Atelier-Show Kitchen Dinner is priced reasonably at HK$830, while the set lunch is at HK$448 before service charge. If you're a first-timer there, opt to sit at the counter so you can see the open-kitchen concept, where chefs brave the heat and stun the crowd with their culinary theatrics. The 75-seat restaurant decked in a red-and-black theme offers striking lighting and posh accoutrements.
Simple creations, like the Scottish smoked salmon, delight the palate with an interesting array of culinary textures and flavours such as the soft creamy white asparagus and crispy poached quail eggs. Your experience won't go awry with the Carnarolli risotto - a plump piece of caramalised chausey lobster that sits with sea urchin oozing with sweetness from the sea. The risotto is cooked perfectly with a sauce that coats every rice grain evenly. Other must-try dishes from this three-Michelin establishment include its Wagyu beef sirloin and caramelised cream custard with pistachio and cacao.
Where: Shop 401, 4/F The Landmark, Central, Hong Kong (Central Station)
When: 12-2.30pm and 6.30-10.30pm daily
3. Lung King Heen
Where do you go for unparalleled Cantonese cuisine with a Michelin flair in Hong Kong? Well, at Lung King Heen, the restaurant's interiors may look sophisticated and chic but its warm and friendly service has no pompous attitude. Dine in posh, modern interiors while you take in the views of the harbour and Hong Kong skyline. Helmed by chef Chan Yan Tak, the master tastemaker ensures even a simple set lunch at HK$800 will leave you with a lasting impression.
Fans come here for their truffle dumpling king, braised shark's fin soup, abalone noodles and even their barbecued pork with honey is hard to pass up. The baked barbecued pork buns with pine nuts is another gem that can be eaten in two mouthfuls. The bun's crusty exterior contrasts the gooey but crunchy centre filled with pine nuts, making it such a scrumptious combination. The modern, 128-seat restaurant boasts dark wood interiors with sleek furniture and inconspicuous lighting.
Where: Podium 4, Four Seasons Hotel Hong Kong, 8 Finance Street, Central, Hong Kong
When: Mon to Sat 12-2.30pm and 6-10.30pm; Sun and public holidays 11.30am-3pm and 6-10.30pm
4. Caprice
Don't let the striking crystal chandeliers, enviable view of the Victoria Harbour and posh interior of the Caprice distract you from its cuisine. Apart from its modern interpretation of classic Gallic dishes, you'll agree that the service here is attentive and impeccable. The 110-seat restaurant is helmed by chef de cuisine Fabrice Vulin, who has introduced Mediterranean and Moroccan influences into his French creations.
Delectable dishes such as warm duck foie gras pair well with the fruity quince confit and muscat grapes while seafood fregola sarda served in a shellfish bouillon is an interesting way to use this unique pasta from Sardinia. What really arrests the eyes is the rhum baba infused with passion fruit cream - a beautifully crafted dessert comprising exotic fruits, almond crumble, yuzu sorbet and coconut cream. Expect to pay around HK$540 per person for a 3-course lunch.
Where: Podium 6, Four Seasons Hotel Hong Kong, 8 Finance Street, Central, Hong Kong
When: 12-2.30pm and 6.30-10.30pm daily
5. Duddell's
If you're expecting traditional dim sum at Duddell's, you're in for a surprise. Here, Cantonese, Chinese and dim sum dishes flaunt a modern edge. Examples include mushroom dumpling with black truffle and pork dumpling with bird's nest and Yunan ham. A must-try is the baked crab tartlet - an imposing baked crab shell with onion and fresh crab meat with a crusty exterior that oozes a juicy melange of fresh crab meat and onions when you pierce it.
Another notable dish is the barbecued pork with honey, where sweet, succulent and fatty pork is tinged with the right amount of honey to tantalise the tongue. The 170-seat, 8,000-sq-ft restaurant designed by renowned designer Ilse Crawford, offers two floors to dine in, replete with prized artworks, designer furniture and a chic garden patio accommodating plenty of lounge chairs to laze and relax. Diners can expect to pay between HK$600 and HK$1,200 for dinner at this two-Michelin star establishment.
Where: Levels 3 & 4, Shanghai Tang Mansion, 1 Duddell Street, Central, Hong Kong
When: Mon to Sat 12-3pm and 6-11pm; Sun 12-3pm and 6-10pm
6. Shang Palace
This 144-seat restaurant is housed in Shangri-la Hotel, Kowloon. Its modern Chinese interior is finessed with ornate Oriental detailing without appearing too gaudy or antiquated. Make a beeline for Cantonese dishes such as braised spare ribs and cabbage with Chin Kiang vinegar or the delectable oven baked cod fillet with egg white and conpoy.
Other scrumptious offerings include the crispy lobster with oatmeal and lotus cake you shouldn't leave the restaurant without - a veritable pie dish consisting of pork and bits of water chestnut fried to the right consistency. Captain of the kitchen is none other than chef Mok Kit Keung who has more than 20 years of culinary experience. Aside from his numerous awards, he has also prepared meals for King Mohammed VI of Morocco. At this two-Michelin star restaurant, expect to pay HK$200 for lunch and HK$600 for dinner.
Where: G/F, Kowloon Shangri-La Hotel, 64 Mody Road, Tsim Sha Tsui, Hong Kong
When: Mon to Fri 12-3pm and 6.30pm-11pm; Weekends and public holidays 10.30am-3pm and 6.30-11pm
7. Kazuo Okada
Chef Hirofumi Imamura may not be a household name when it comes to dining out in Hong Kong, but this is one name to watch. His baby is Kazuo Okada - a Japanese restaurant which snagged its first Michelin star and got itself into the tome of the Michelin Guide Hong Kong/Macau 2015 edition. The restaurant's black flooring and monochrome-themed interior is sleek and sophisticated. Part of the fun in dining at Kazuo Okada is sitting at the open kitchen where guests can ogle at the chef performing his culinary show. Specialising in kaiseki and teppanyaki, Chef Hirofumi Imamuraensures you leave his restaurant smiling whether you delve into the HK$480 lunch set, HK$1,680 or HK$1,880 dinner set.
One of the tastemaker's prized creations is his smoked salmon and beef roll with foie gras, where every bite is unctuous and tasty. A kaiseki lunch set starts with sesame tofu and softshell turtle jelly with tomato followed by some salad with vinaigrette, silky Japanese chawanmushi, fresh sashimi, grilled meats, six types of homemade "dashi-maki" egg and a dessert. As with most Japanese restaurants, the menu changes with the seasons to keep it up to date.
Where: 5/F, Harbourfront Landmark, 11 Wan Hoi Street, Hung Hom, Hong Kong
When: Tue to Fri 6-11pm; Weekends 12-3pm and 6-11pm
Click here for the original article or visit the flight comparison site Skyscanner for more.