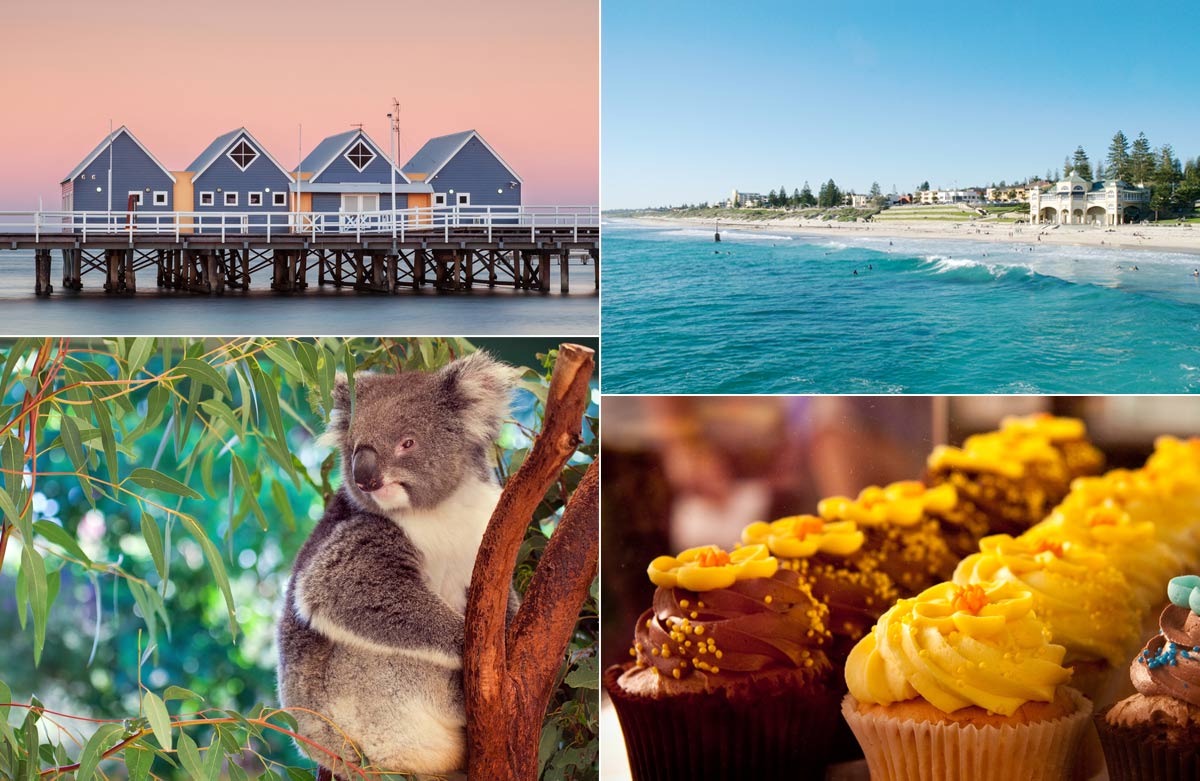 As one of the most isolated cities in the world, Perth is closer to the Southeast Asia region than Australia's own capital city. As a result, fuel costs are lower, so local air carriers are able to offer cheaper tickets to this particular city, making it an awfully attractive holiday destination.
But take the cheaper tickets out of the equation, and I'd still second a trip to the birthplace of former movie star and Joker, Heath Ledger.
With a population less than half of Singapore's, and a land size almost nine times ours, Perth doesn't quite possess that hustle and bustle we are used to. Life is a little more laid-back and people are unassumingly generous with their smiles, manners and well wishes. Fast walkers are few and far between, but fast workers are a dime a dozen. The air is fresh, atmosphere addictive, and sights breathtaking.
But just like how Singapore is a tiny dot on the world map, Perth is merely the tip of the iceberg in an Aussie adventure.
Venturing out to neighbouring cities and suburbs of Western Australia is common to travellers. But with more than two and a half square kilometres to explore, a limited number of leave days and a modest budget, there has got to be some game plan in place prior to your trip.
While I can't draw out the perfect itinerary for wander-lusters, I can give my two cents worth of the Perth-fect spots and activities that might enrich your experience down under.
Spend some money
Australia is generally an expensive place, but that doesn't make it un-shoppable. Find the right places to patronise, and you will be un-stoppable. I suggest heading down to Watertown Outlet Mall in Perth, for the fix.
I admit, reading about Watertown's failure as an outlet mall on Tripadvisor almost put my visit off. Luckily, I trusted the shopper instinct in me.
Ladies' apparel can be insanely cheap - think AU$5 to AU$20. Sporting goods are worth a look, but not particularly outstanding in price - though shoes can be a rather good bargain. Luggage and travel items fall well within the affordable range. To put it simply, there's definitely something for everyone and everyone's wallet at Watertown.
For shoe junkies, you might want to check out Hype DC located in Perth's Central Business District area. It's got a good range of brand names on female and male footwear - Onitsuka Tiger, New Balance, Nike, Adidas, Vans, Toms, Birkenstocks amongst others - at good prices.
Last I spotted, there were a good number of Nike Knits and Adidas Originals on sale. I got a kickass pair of Nike Roshes on sale for AU$80, and that wasn't even the cheapest of the range! (A disclaimer: I'm guessing the range of shoes on sale probably change from time to time, so I suggest checking out their website first to get a gauge of their sale stock before heading down.)
Another wallet woe - food. Eating out can be a taxing task; a decent lunch can easily set you back by AU$10. If you can't be satisfied with a sandwich and drink, then be prepared to spend at least 16 AUD per meal.
I'm not much of an eater, so I'm good with supermarket food. But when you are forced to walk past one too many tantalizing menus, you cave in.
While in the CBD of Margaret River, my partner and I chanced upon a gem of a eatery called Sidekick Cafe. With organic coffee, organic cakes, and a range of organic savoury goods to boot, this cafe wouldn't have seemed any different then the next one…except, it was cheap (or cheaper at least) and crazy yummy.
I'm not about to go into the specifics of what we ordered, but there was a huge wrap with scrambled eggs and a (healthy) carrot cake involved. The meal for 2 added up to less than 16 AUD, which is nearly impossible anywhere else.
Go on a road trip
When in Australia, do like the Australians do - Road Trip. Renting a car is pretty much the only way to catch the best of Western Australia.
Some hire a driver to bring them around, but I personally prefer being at the wheel since that affords more freedom to stopover wherever, and whenever.
Along our road trip, we noticed several small roads worth a trek through. One particular stop led us to a backyard nursery of sorts. It wasn't particularly beautiful - in fact, it was rather unkempt - but the thrill of stepping into unknown territory made it quite an experience, and not to mention, a superb photo opportunity!
According to my savvy travel partner, Bayswater Car Rental offers the best rates in terms of having the lowest deductible (or damage excess), which is basically the fee you have to pay if your hire car is damaged. Bayswater's GPS rental is also one of the cheapest around.
As for fuel, petrol is generally cheaper than in Singapore. A litre here would cost about S$2.20 and more. In Perth, it costs about S$2.05 after conversion.
There are many different kiosks to top up your fuel at, and the cheapest we found was Gull. But having said that, fuel prices fluctuate on a day-to-day basis.
A trick to combat that would be top up before you head out of the city area. Because the further you are from civilisation, the more expensive fuel tends to get.
Or…take a tour
I am no fan of tours. The idea of adhering to a structured schedule packed with activities out to suck my money or being megaphoned by a tour guide who doesn't seem the least bit interested in what she's talking about, simply doesn't appeal. But this tour I took a risk on couldn't be more far off from my fears.
TourswithaTwist is one of the cheapest tour groups around and conducts several different tours across the Western Australia region.
My partner and I each paid AU$119 for a full-day tour to 5 spots (that I would have otherwise expended a good amount of energy and money finding my way to), with expenses all-included (food, travel, tickets, activity fee, snacks, tour guide fee, etc.).
TourswithaTwist planned a comfortable number of spots with just the right amount of time at each location to take good pictures and soak up the atmosphere. The tour group was small (12 heads) and the tour guide, by far the friendliest I've seen.
I want Moore River
Western Australia is dotted with countless pristine beaches that count as one of the most beautiful in the world. Perth alone houses more than 15 beaches stretching along 20,781 km of coastline.
As first-timers to the country, it can be an overwhelming task to pick one to visit. So my partner and I decided to go rogue and play on our instincts for this leg of the trip - and we weren't disappointed.
Some way along a one-day tour we signed up for (more on this later), we stopped at Moore River. Now this wasn't a highlight of the tour, but merely a 'take-a-break' kind of pit stop close by to the popular Lancelin sand dunes.
Yet I found myself enjoying this part the most.
Though named Moore River, there is both the view of a river and the ocean, meeting. The dual water bodies are complemented with an extensive beach that, at the time of visit, was completely empty except for two ladies perched on the shore of the endless Indian Ocean - a major plus point for photo-buffs, since no one will be around to photo-bomb.
According to our tour guide, Moore River is one of the lesser-known spots to tourists, but is popular amongst locals and their kids because of the swim-safe waters.
Visit a Farmers' Market
While Singaporean hippies and foodies are upping the ang moh experience by holding their occasional version of the Farmers' Market here, they somehow end up feeling like blonde hair on an Asian.
It isn't just the produce or exotic knick-knacks that maketh the Farmer's Market experience; it is the unique atmosphere, the vibrant culture, and its characteristic vibe that makes it worth a visit.
For the absolute authentic marketing experience, you have got to schedule a morning or two for a visit to one. A tip would be to go for the less commercialised markets.
While in Perth, my partner and I visited two markets - the famous Fremantle market and another near our accommodation.
Fremantle's Farmers' Market had an eclectic mix and awesome food, but the atmosphere was subpar compared to their offerings. The stallholders weren't exactly exuberating energy or passion for their products either.
Don't get me wrong; the place was alive, but not lively. Perhaps being oversold as the best market in Western Australia has taken its toll on the sellers.
The second market we visited was in the vicinity of our accommodation. Unlike Fremantle, it didn't boast any awards nor throngs of tourists. In fact, it seemed like we were the only tourists there, and I loved that. Granted, the selection of stalls was way smaller, but the food tasted as good as Fremantle's, and the people jollier.
You could give the Australian Farmers' Markets Directory a check for a list of markets around the country, but a word of advice would be to Google your way to the less popular ones, since the directory isn't exactly complete.
Or…just farms
When in Perth, you have got to visit a farm. No Aussie experience is complete without watching a kangaroo hop across your path or fearing an emu spitting at you.
While the Perth Zoo has a good number of species in containment, many prefer the homeliness and the more local experience that a farm visit offers.
Popular choices for farms include Caversham Wildlife Park at Ellenbrook, Western Australia and Landsdale Farm at Darch, Western Australia.
I wasn't a fan of the AU$26 entry fee to Caversham, or the limited range of animals at Landsdale (despite their way cheaper AU$7 entry fee). So Wonky Windmill Farm & Eco Park was my next best bet, at AU$12 for entry, inclusive of a bag of food for feeding. The Farm & Eco Park also extends to cover an orchard, where you may enjoy some fruit-picking!
And if you dare, there are plenty of cows and sheep grazing green pastures around Western Australia for you to interact with free of charge, but of course at your own risk.
Learn your Please and Thank You's
A mighty fine habit I picked up in Perth was thanking the bus driver just before alighting. Local commuters would brazenly shout their 'Thank You' or 'Cheers Mate' across the bus, even at peak period. Even the most hooligan-like or stingy stuck-up spared a cheerful utter.
On the contrary, in prim and proper Singapore, such a greeting never came into fashion. Yet, it is one that I feel necessary if we desire to evolve from an egocentric country to a gracious society.
I especially find that a simple gesture, when done unexpectedly, is the best way of showing appreciation. So I have unabashedly decided to bring the courteous me on holiday, to the me in every day.
This is perhaps the best tip I've picked up on my trip to Perth.
Of course, there's much more to Perth and Western Australia than described here. And as one living in Singapore, it will be tough to get into every nook and cranny of the world's second largest country sub-division.
But perhaps, that's the beauty of holiday to a huge country - you never leave without learning something new.
Vulcan Post is all about living life with a digital edge, up and coming startups, and people who inspire conversations.
Visit Vulcan Post for more stories.