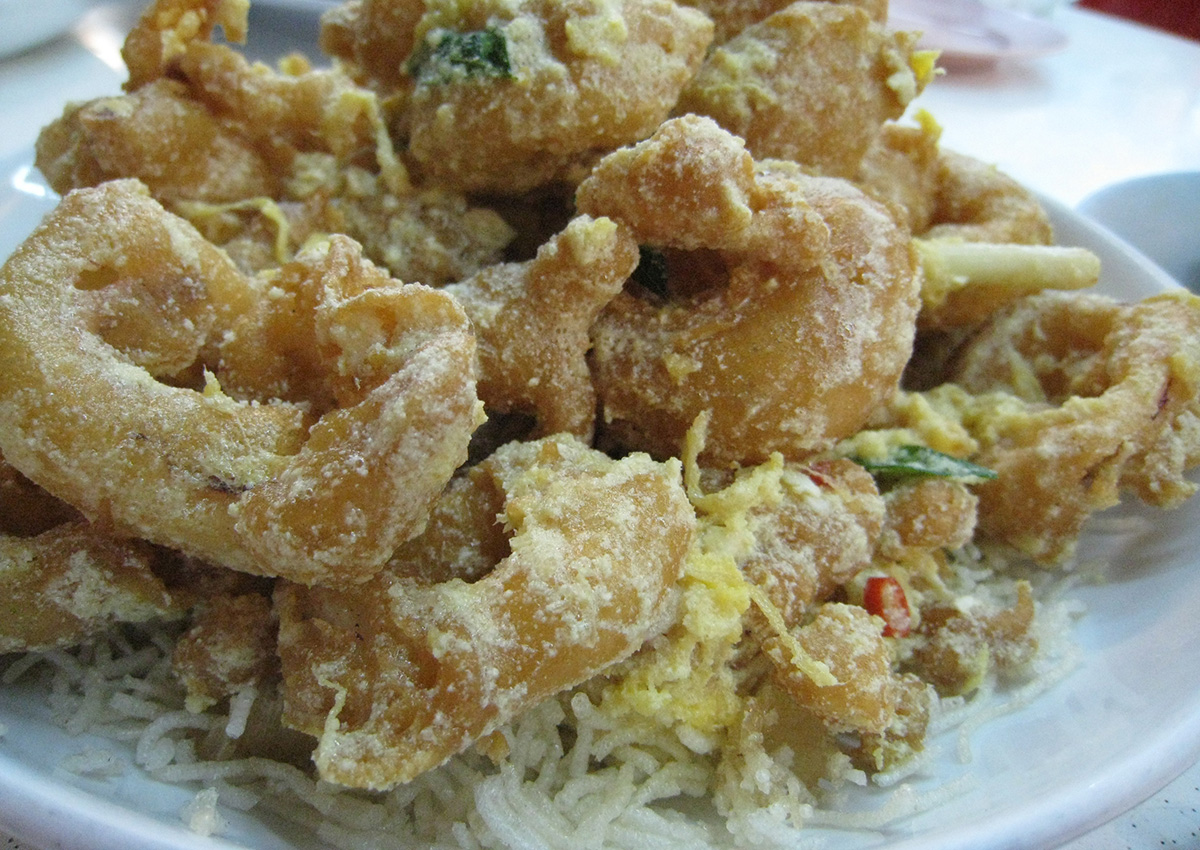 Have your fill of your favourite zi char dishes at these old-school restaurants.
Mak's Place The Hawkerant 401 Changi Road, tel: 6844-7656
"There aren't many halal zi char-style restaurants around, which makes Mak's Place really popular. I love going there for its deep-fried butter squid. It's crispy and has the right balance of sweet and salty. I also like the authentic flavour of the tom yam goong - I make sure to always finish the soup. Don't be tempted to order too many dishes though - the portions here are huge." - Simone Wu, 34, beauty editor
Big Eater Seafood Restaurant 34 Jalan Pari Burong, tel: 6245-7268
"Aside from regular favourites like salted egg yolk crab and black pepper crab, its black Kuala Lumpur-style Hokkien mee is fantastic. It's as good as the ones in KL and comes with plenty of crunchy bits of lard. I'm salivating!" - Yung Shin, 33, writer
Long Ji Da Pai Dang #01-72, 57 Eng Hoon Street, tel: 9790-5682
"This place is run by Mac Kong, who's the chef and owner, and he opens the restaurant based on his mood. If you want to eat there, you should always call first. What's great here is the crab bee hoon. Chef Mac really works the bee hoon on the wok, so it always has that very smoky and delicious wok hei. The other dishes are great too but you must always order the crab bee hoon." - Winnie Seah, 36, insurance agent
Yi Jia South Village Seafood Restaurant 550-552 Macpherson Road, tel: 6747-8263
"This is one of my favourite zi char places. It's very casual and parking space can be quite difficult to find but the food is really good. You have to try the salted egg yolk crab and dragon pork ribs. The dragon pork ribs come sprinkled with dried cuttlefish - it's extremely addictive. To get a seat in the air-conditioned section, be sure to make a reservation." - Serina Perira, 43, senior editor
Tian Wai Tian Fish Head Steamboat 1382 Serangoon Road, tel: 9172-2833
"There's zi char here too but it's most famous for its fish head steamboat, cooked in those old-style chimney steamboats. Tian Wai Tian is always packed at night. The tables line the corridor outside and even spill over into the back alley on weekends. When I have dinner there, I usually order the har cheong kai (prawn paste chicken) and of course, the fish head steamboat - they'll top up the soup for you too!" - Adeline Wong, 33, sub-editor
Ban Leong Wah Hoe Seafood 122 Casuarina Road, tel: 6452-2824
"I like coming here because the service is exceptionally quick. I think it's because of the number of staff they have during the weekends and peak periods. That's really important because the place isn't air-conditioned. We always have the prawn paste chicken, hot plate ginger and spring onion deer meat, and the hot plate beancurd." - Carissa Ooi, 26, accountant
Chef's Kitchen #01-08, 261 Waterloo Street, tel: 6837-2997
"It's not the most famous of zi char places, and is tucked under an indistinct block of HDB flats along Waterloo Street, but it serves really great salted egg pork ribs - perfect for when I crave something hearty, as I live just upstairs. The dish is a little rich though, so I always pair it with a light vegetable soup." - Jaclyn Tan, 35, makeup artist
Simply Her, published by SPH Magazines is available at all newsstands now.

Check out more stories at herworldPLUS, www.herworldplus.com/solutions.