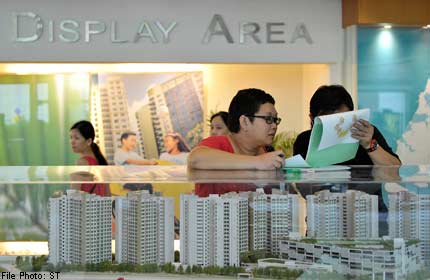 SINGAPORE - The final count was 58. That was the number of singles who applied for each two-room flat available to them in the Housing Board's latest Build-To-Order launch, which closed at midnight on Monday.
That means more than 8,500 singles have jumped on the up to about 155 flats in Sengkang and Yishun reserved for them.
The most heavily subscribed flats were the ones in Sengkang, with just over 81 singles going for each of the estimated 69 units available.
In Yishun, the application rate was about 39 singles for every unit, still far higher than the overall subscription for the entire launch.
Including both singles and families, there were about 20,000 applications for all 4,079 flats. This means that there were close to five applicants for each flat. Successful applicants will be invited to select a flat from next month.
The high take-up rate from singles was due to "strong pent-up demand and the cheaper-than-expected pricing with grants for eligible buyers", said property consultancy OrangeTee's head of research and consultancy Christine Li.
The exercise was the first time that singles aged 35 and over, and who earn up to $5,000 a month, could apply for new two-room flats in non-mature estates. Up to 30 per cent of the 519 two-room flats in Sengkang and Yishun were reserved for them.
On Monday, National Development Minister Khaw Boon Wan said the high level of interest showed the HDB's policy tweak was "appropriate".

Get a copy of The Straits Times or go to straitstimes.com for more stories.