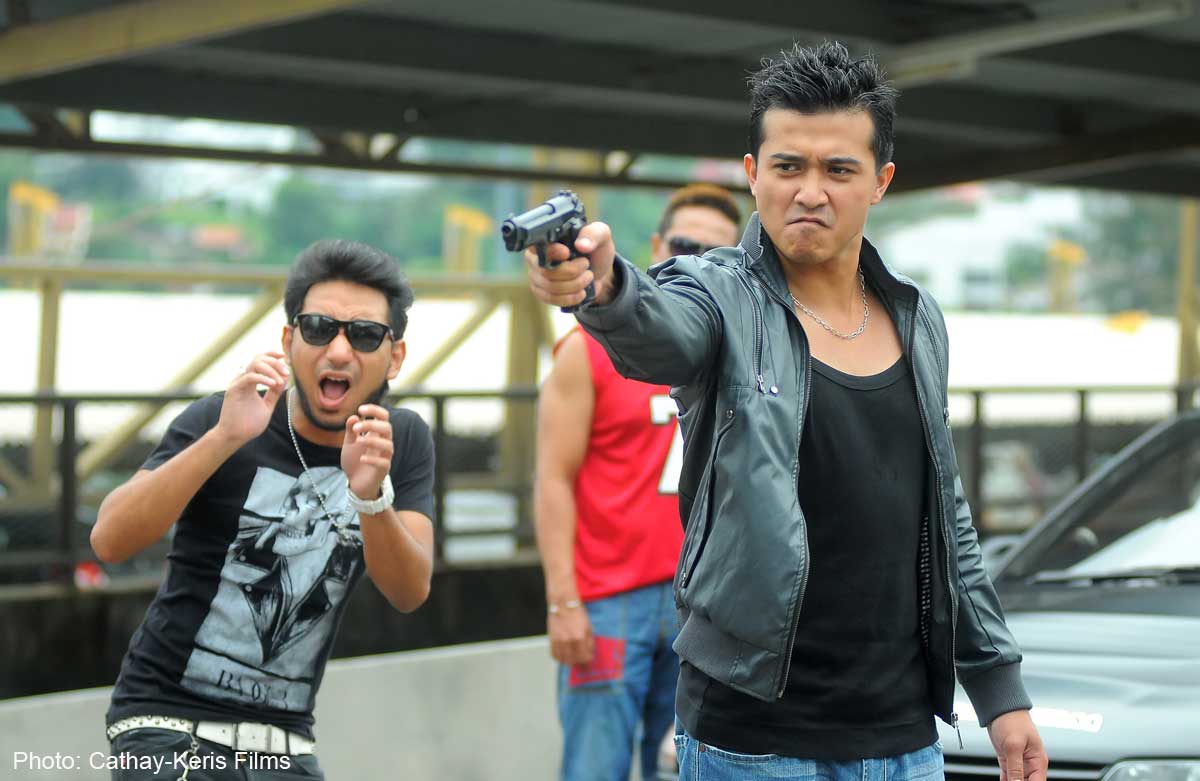 Aaron Aziz in an apron?
It is hardly the typical look for the local actor, most known for his macho roles in action flicks like Evolusi KL Drift, KL Gangster and their sequels.
But on some days, the 38-year-old trades on-screen punches for cakes and food, doing so as co-owner of new concept cafe Kidz & Creme.
It opened earlier this month in Setia Alam, near his home in Kuala Lumpur, and is a collaboration between his wife Diyana Halik, 32, and a family friend.
The cafe targets families with young children.
It provides not only a dining experiencebut also a space to keep the young ones occupied with hands-on activities such as simple baking.
The idea came from Aaron's own experience as a father. He has three children, Danish Anaqi, 10, Dwi Ariana, eight, and Dahlia Arissa, four.
"I know how hard it can be for a family with children to have a peaceful meal on weekends. Yet, if you don't bring the kids, it's no fun. Sometimes, my own children can get quite antsy, especially when their iPad or mobile phone batteries die.
"A cafe like this, it's for the entire family," Aaron told The New Paper in a phone interview.
The actor, who manages the cafe on his days off, said it is a side business that has always been at the back of his mind.
"I've always wanted a cafe and Diyana has always wanted a place to hold activities for children so I thought it would be best to merge the two," he said.
The food menu, which includes steak sandwich, pastas and baked salmon, involved input from Miss Malaque Mahdaly.
Miss Malaque is one of the cafe's consultants and the fiancee of Syarif from local hip-hop duo Sleeq, which is managed by Aaron's production and management company, Aaron Aziz Productions.
Kids chip in
True to the child-friendly concept of Kidz & Creme, Aaron's children are also exploring ideas that can add to the business.
While Danish hopes to have his own spaghetti creations, Dwi wants to craft her own weekly Saturday specials. She "supervises" fellow young diners whenever she is at the cafe, Aaron said.
Aaron, who pumped in the biggest share of about RM200,000 (S$77,830) into the business, said he hopes to expand to at least two more outlets before considering one in Singapore.
The food and beverage industry is not something Aaron is unfamiliar with. Before his big showbiz break in 2002, he had worked at the likes of Pasta Fresca Da Salvatore and Haagen-Dazs as a waiter.
For now, Aaron has no plans to move away from the entertainment industry.
"But perhaps (the cafe) is something to leave behind for my children," he said.

This article was first published on June 30, 2014.
Get The New Paper for more stories.