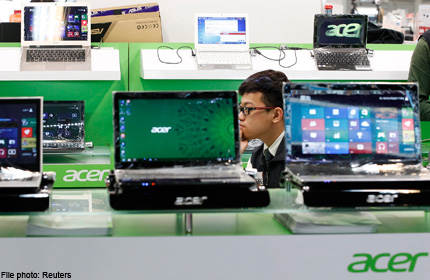 VIENNA - Taiwan's Acer, the world's fourth-biggest PC maker, will return to profit this year after writedowns and poor demand pushed it into the red in 2012, its president was quoted as saying in an Austrian magazine.
Jim Wong told Austria's Format that Acer had underestimated the potential of tablet computers, which have led many consumers to ditch their laptops since the launch of the Apple iPad and its followers.
"In the last two years, we have put very much energy into the development of new tablets, notebooks and smartphones. We are recovering," Wong said in an interview published on Friday. "This year we will first of all make a profit again."
Analysts have forecast that Acer will swing to a net profit of T$1.706 billion (S$72 million) in 2013 from a loss of T$2.910 billion in 2012, according to a Thomson Reuters I/B/E/S poll.
Acer was the world's second-biggest computer maker after Hewlett Packard in 2009 but has been overtaken by Lenovo, now the biggest, and Dell.