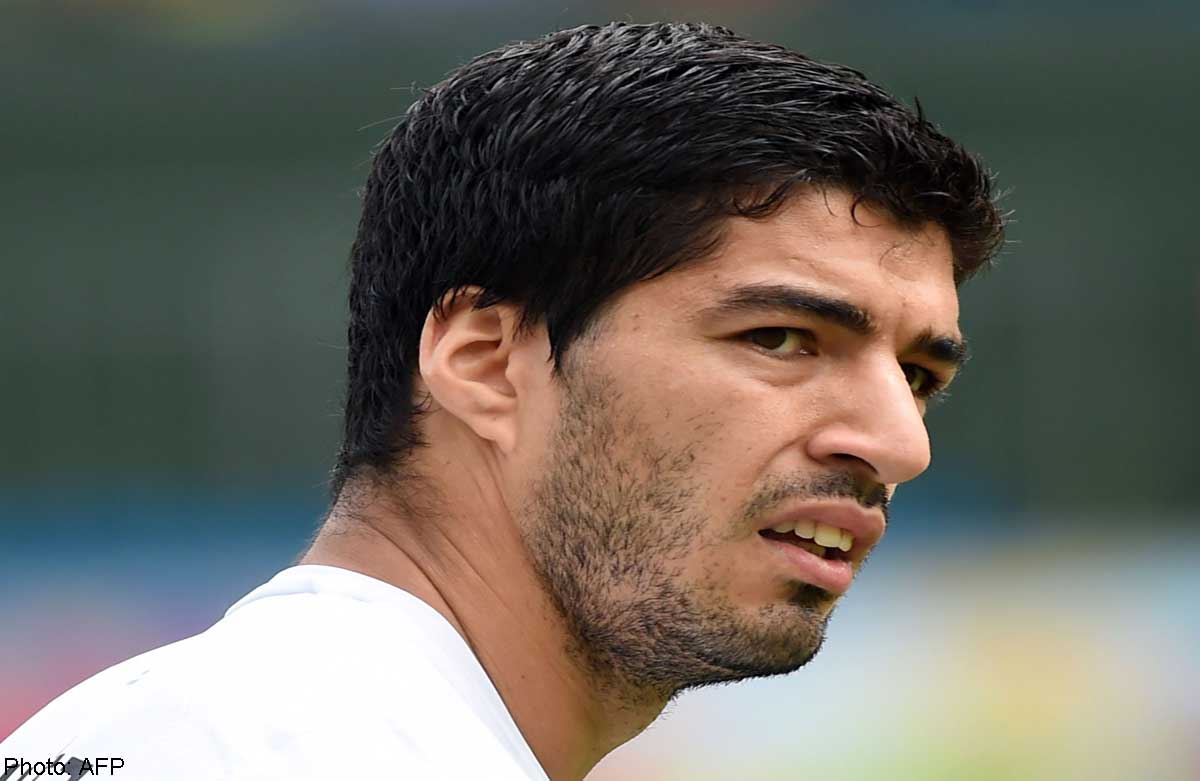 World Cup bad-boy Luis Suarez is about to take his first step towards his dream of playing for Barcelona.
Later today, Liverpool's managing director Ian Ayre will meet with representatives of the Spanish giants to thrash out terms on what is expected to be an £70m ($150) transfer for the man who has been slapped with a four-month ban for biting an Italian player.
Suarez has been attempting to leave Anfield for over a year and was blocked last summer by an extraordinarily bold piece of brinkmanship from owner John W Henry.
When Arsenal made a bid of £40,000,001 ($85.4m) for the Uruguayan's services, they activated a release clause in his contract.
Henry claims that he simply ignored it, Suarez was made to train away from the first team and the transfer window closed as manager Brendan Rodgers, Suarez's agent Per Guardiola and Henry all agreed to one more season. A new contract with a clearer release clause was signed later that campaign.
TOP GOALSCORER
Suarez went on to finish as top goalscorer, Players Football Association Footballer of the Year and Liverpool came as close to the title as they have been since their last triumph in 1990.
But this summer is different. While Liverpool have indicated that they have no inclination to sell, the word is that they are open to negotiations at the right price.
It is not so much Suarez's behaviour in Brazil that has caused this shift, it's more his behaviour before and afterwards that offends.
When Liverpool took the brunt of his punishment, a four month ban from all football, there were no apologies for blackening the name of a club who have repeatedly defended him.
There were no apologies at all. That only came later.
Many Liverpool fans refuse to believe that Suarez would ever leave the club that defended him so passionately throughout his many controversies, but this is not a new decision.
Suarez wants out, he has wanted out for some time. He knows that he is one of the best forwards in the world and he wants to play for one of the best clubs in the world.
His motives were made quite clear this week when he made a sudden U-turn and released an apology for the bite on Italian defender Giorgio Chiellini.
Shortly afterwards, Barcelona officials congratulated Suarez on his honesty and integrity. Suddenly, the machinations that sources close to Liverpool say have been underway for months, were all too obvious.
But Liverpool will not be rushed and Henry has already proven his mettle in negotiations. Suarez is under contract for another four years and you wouldn't bet against the American proving a point and holding him at the club even if he doesn't play.
DRAW OUT NEGOTIATIONS
A more likely outcome is that he will draw out negotiations for as long it pleases him, knowing full well that Barcelona's officials, having ended last season without a trophy, cannot afford to start the new campaign without a big budget signing.
There is also the chance of securing Alexis Sanchez, the talented Chilean forward who appears to be surplus to requirements at the Camp Nou.
This is not an affair that will be resolved swiftly, but the wheels are already turning.
If Ian Ayre can return to Anfield with either £70m in spending money or £40m and Sanchez, Henry will see that as good business.
Suarez has let Liverpool Football Club down too many times.
And while the fans will mourn the departure of a player who lifted their hearts, the owners are likely to take a sigh of relief that the troublesome Uruguayan will soon be someone else's problem.

This article was first published on July 4, 2014.
Get The New Paper for more stories.