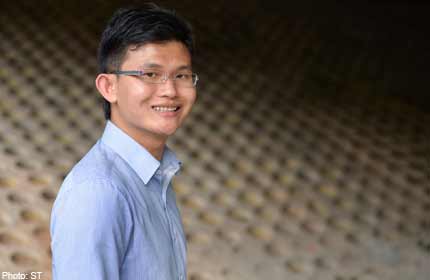 Nanyang Technological University student Goh Chye Seng has already experienced the thrill of selling a profitable business and he is just 24.
Mr Goh, who set his sights on becoming a millionaire as far back as primary school, set up Amery Tuition Centre with his friend Gordon Li, right after serving national service.
They built up the client base and sold the company for a low five-figure sum around a year later after Mr Li left to study in Britain.
Sounds easy and in a sense it was - at least at first.
Mr Goh was reading an online story about parents being up in arms over how difficult the Primary School Leaving Examination maths questions were.
"I thought that would be a good opportunity to do a workshop for Primary 6 pupils," says Mr Goh, now in his second year studying accountancy, with a minor in entrepreneurship.
"We went to MRT stations to distribute fliers and got my partner's former tutor, who was a primary school teacher, to run the workshop. I was the salesman."
They offered an early bird special of $88 for one full-day session and signed up 100 pupils, with classes held at the four-room flat where Mr Goh and his family live.
Their success spurred the duo to open a tuition centre on the second floor of an HDB shophouse in Hougang.
They started with $5,000 - Mr Goh's share came from his tuition jobs - to rent and renovate the space, hire tutors and print brochures.
The initial months were tough - "I worked around 12 to 16 hours a day to get it running," says Mr Goh.
"My parents were telling me there was a high chance Amery was going to die.
"So we put in more effort, threw in more discounts, thought of creative ways to promote it, such as providing after-school homework care. We distributed fliers overnight for a period of time to ensure parents saw them first thing in the morning."
Fortunately, during the shaky initial days of the tuition centre, Mr Goh had another business that provided a small but steady stream of passive income.
He also runs Jellybean Party, which organises children's parties, with Mr Li, who was freelancing as a magician.
Their hard work eventually paid off. The tuition centre business broke even after three months and they made a profit of about $10,000 each, before it was sold for another sum in late 2010.
They even got the Singapore Indian Development Association to appoint them as a workshop provider.
They provided 15 workshops and threw in free exam papers and phone support with just Mr Goh helming the line.
Mr Goh's next venture was share trading but a poor performing stock convinced Mr Goh that he would be better off investing in his own business rather than in equities.
He had ploughed his $10,000 into the initial public offer of Hutchison Port Holdings Trust without much thought, believing it would help increase his wealth.
"When the stock price plunged, my interest plunged," he says.
"I realised investing takes a lot of skill and you have to spend a lot of time analysing stocks. It's not so easy."
HPH Trust still trades below its IPO price of US$1.01 a share.
"I feel that when we are in a business, we have more control over it. There are alternatives to consider if things go wrong.
"But when you invest in stock and shares, you are putting money into other people's hands and there are external factors that are beyond your control."
For now, investment banking is where Mr Goh clearly wants to be. To gain exposure to the industry, he took a gap year to do two internships - at Citibank and boutique corporate finance firm Gereje, where he has secured an advance job offer.
He says: "I've wanted to be a millionaire since I was in primary school."
Mr Goh, whose father is a factory supervisor, was also inspired by his uncles, who run a trading business in Indonesia.
During his NS days, the platoon sergeant would read books on investing and business. "I am a frugal person and don't really spend unnecessarily, like on high-end dining and clubbing," he says.
"I believe I can become relatively rich if I manage my finances well. I've always been a saver and I believe in delayed gratification."

Get a copy of The Straits Times or go to straitstimes.com for more stories.