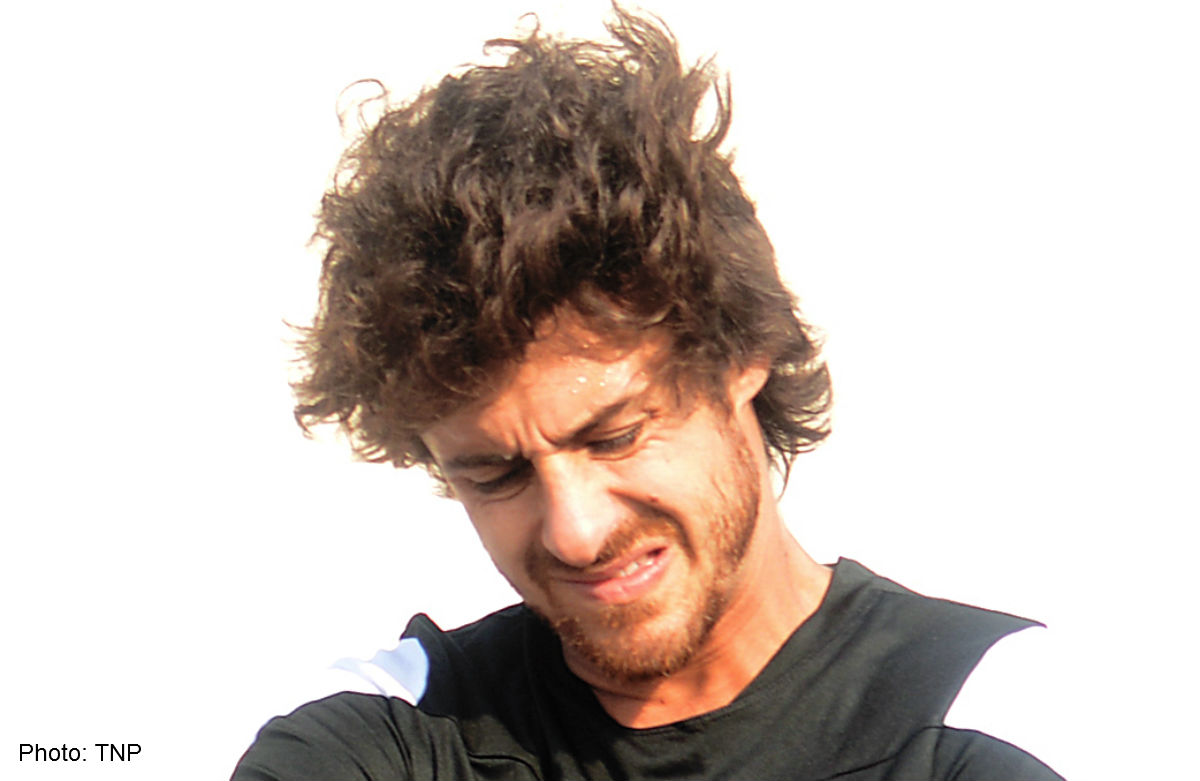 SOMETHING is not quite right with Pablo Aimar, the highest- paid footballer in the Malaysian Super League (MSL). The Spanish playmaker sat on his own, with his back facing the rest of his Johor Darul Takzim (JDT) team-mates, before training on Monday.
During training, he jogged alone as he was nursing a knock to his right ankle from last Saturday's 0-1 league loss to T-Team.
Then, after training, he dropped the biggest hint that he was not totally at ease with his new career with JDT.
When asked if he is enjoying life at the MSL outfit, the Argentinian gave a cryptic reply: "Yes... sometimes."
Without another word, he hopped into a waiting car and made a hasty exit from the club's Padang Sri Gelam ground.
The awkward encounter cast a shadow on the condition and frame of mind of the 34-year-old former River Plate, Valencia, Real Zaragoza and Benfica star, on the eve of his side's biggest match of the new season.
On Tuesday evening, JDT host defending champions LionsXII at the Larkin Stadium in a match that could cement their status as early- season favourites or leave holes in that tag.
Aimar faces a late fitness test on his ankle injury but JDT coach Cesar Ferrando Jimenez said: "We'll decide in the morning but I think he can play."
Even so, the diminutive attacking midfielder may not be the one who holds the key to success over Fandi Ahmad's side on Tuesday evening.
Instead, it could well be two players who were the cornerstones of the LionsXII's success over the past two seasons - Baihakki Khaizan and Hariss Harun.
Having made the move across the Causeway, the duo are being counted upon to make the most of the familiarity factor and plot the Singapore side's downfall.
Said Jimenez: "At the moment, it's JDT that pay their wages so they have to help the team win. In their hearts, they can want the LionsXII to win every match - except this one."
It came as no surprise then when Hariss confirmed that both he and Baihakki have had discussions with their new team-mates about Tuesday evening's clash.
"But we don't even have to tell them," the 23-year-old central midfielder added. "Everyone knows that the LionsXII are strong at set pieces."
Indeed, it was a pair of corner kicks that led to Shakir Hamzah and Khairul Amri's goals in Saturday's last-gasp 2-1 win over Selangor at Jalan Besar Stadium.
There is also a less tangible but equally potent weapon in the LionsXII arsenal - their spirit.
"Whenever we played the big teams away from home last year, we always rose to the occasion," Hariss recalled. "We should expect the same from this side."
For all his insider knowledge of Tuesday evening's opponents, though, it remains to be seen how much playing time he will get.
With Malaysian clubs allowed to field only three of their four registered foreign players at any one time, the former LionsXII vice-captain has so far played second fiddle to Baihakki, Aimar and striker Luciano Figueroa.
But even with just 20 minutes of action under his belt, Hariss is ready for action and determined not to back out of any challenges against his former colleagues.
"I'm sure Isa (Halim) won't," he said of the LionsXII's tenacious midfielder and captain. "So there's no way I will either."
fabiusc@sph.com.sg

Get a copy of The Straits Times or go to straitstimes.com for more stories.