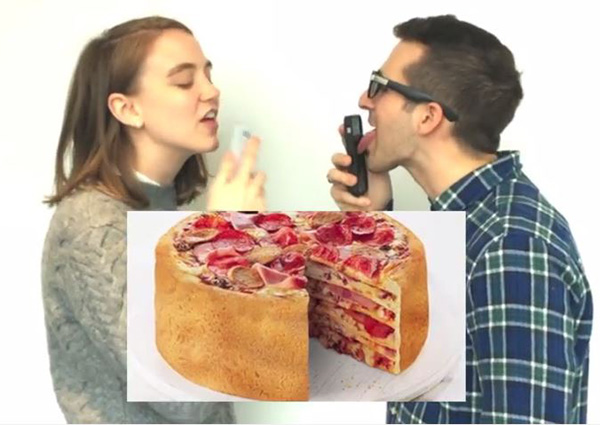 A funky new mobile application is taking the Internet by storm and has gotten foodies from all over the world hyped up.
Produced by Chope, the app lets you taste a certain dish at your favourite dining spot even before you order or pay for it. Simply pull up a photo of whatever food item you are interested in and give it a lick through your phone screen. Like it? Then go ahead and place an order.
Restaurants, eateries and cafes have all jumped on the Lick bandwagon by making their menus available for tasting on the app.
Inspiration for Lick came from a Chope employees who had eaten a lousy burger during lunch one day. "If only I knew it was gonna taste this bad..." he had thought to himself. And as they say, the rest is history.
Lick will not only forever change your dining experiences, but also ensure that food establishments maintain high standards when it comes to serving grub to the masses.
Famous gourmet and food blogger Mr So Han Gwee, 57, said: "Lick is simply incredible! I never have to worry about ordering something that might end up tasting horrible ever again."
On Lick, diners are also given the flexibility to customise their own profiles, leave food and restaurant reviews, as well as send messages to fellow users.
One thing that sets this snazzy new app apart from others, however, is its rewards system. For every one lick, users will get $0.10 credited into their accounts. This credit can be accumulated and then exchanged for real cash.
"Loyalty should be recognised and properly rewarded," said a spokersperson for Lick, adding that this is Asia's first virtual food tasting technology and application.
"So anyone who loves food and money should really use Lick. And that's pretty much everyone."
Damn right we should!
Available on the App Store and Google Play, Lick is so successful that it garnered 50,000 downloads worldwide within 24 hours of its launch.
Your life will never be the same again with Lick.
* Now take the very first letter of each paragraph and spell them out ;) *
Available on both web and mobile, Chope helps busy diners make instant reservations at Singapore, Hong Kong, Shanghai, Beijing and Bangkok's best restaurants: 24 hours a day, 7 days a week (this is real!)
Wishing all our readers a Happy April Fool's Day!

Visit STOMP for more stories.