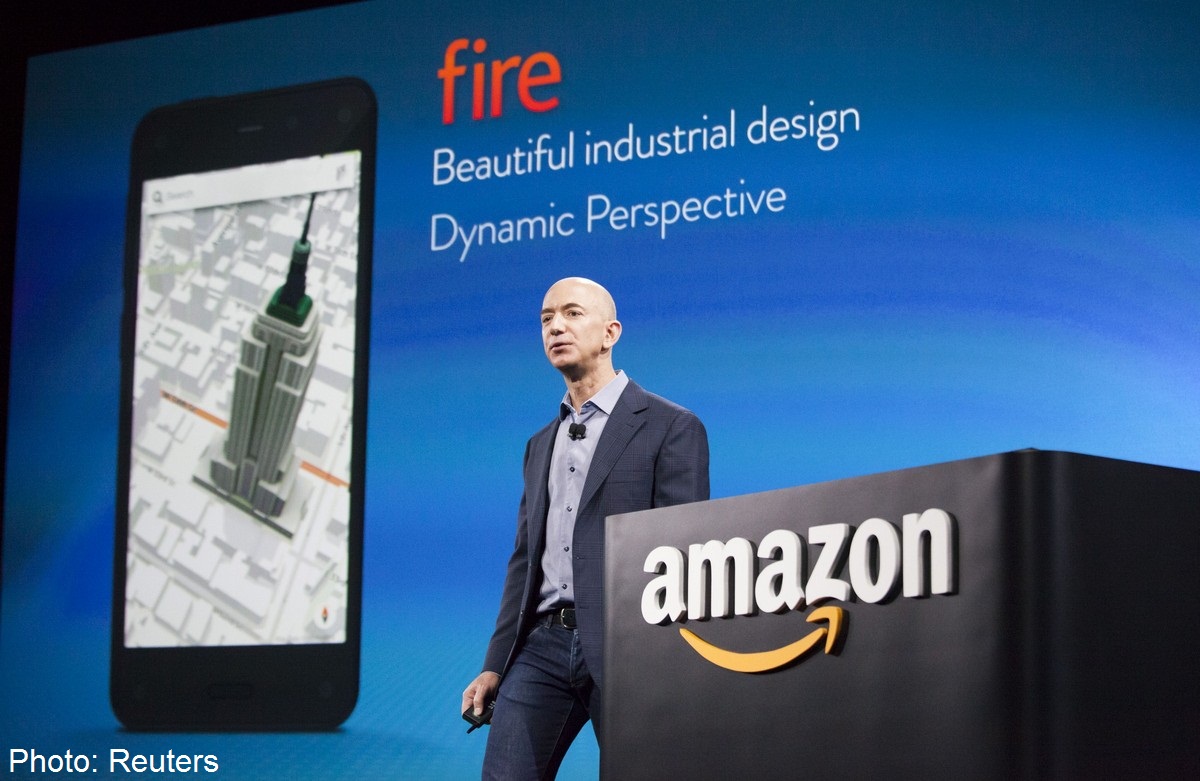 SEATTLE - Amazon.com Inc's new cellphone seeks to offer shoppers instant gratification by recognising thousands of products, television shows and songs and allowing users to immediately buy them - on the e-commerce giant's own site, of course.
The smartphone, which joins Amazon's "Fire" lineup of tablets and streaming devices, aims to stand out in a crowded field dominated by Apple Inc and Samsung Electronics . It represents an attempt to extend the company's dominance of online commerce into mobile phones, which are increasingly being used to buy items and view video.
But it's unclear how the phone's "Firefly" image- and audio-recognition feature or its much-touted 3D-perspectives will work in the real world, or how fickle consumers may respond to Amazon's latest bid to eliminate barriers to its core online retail business.
Users can press a button and point the phone at an object such as a can of soup or work of art, or direct it to listen to a song. If the device recognises it, the user can buy it on Amazon, if it's sold there.
The technology, which works by matching images of items or songs to Amazon's database of over 100 million items, will be opened to app-developers for use, an approach that rivals Apple and Google have taken with their own mobile software.
Amazon Chief Executive Jeff Bezos, in a rare media appearance in Seattle, demonstrated three-dimensional display features on the 4.7-inch phone, such as greater depth perception in maps and pictures.
Four front-facing cameras track head movements and shift perspectives depending on a user's activity. Users can scroll through screens by tilting or swiveling the phone. "One of the things that Amazon tried to do with this phone is reduce the amount of activity and input that users have to do to get results," said Dave Cotter, chief executive of SquareHub, an app that helps families share photos and other information. "Instead of clicking a whole bunch of stuff, you hold the phone and it does things for you," said the former Amazon executive, who got his first peek at the phone more than two months ago.
Shares of Amazon climbed 2.7 per cent to US$334.38 (S$417.83) on Wednesday.
Still, the smartphone represents unfamiliar territory for Amazon. Apple and Samsung now dominate the market, having pushed names like Motorola and Nokia to the sidelines.
Some may balk at the price. Industry insiders had expected the Fire phone to be far cheaper than iPhones or Galaxy devices, given Amazon sold its Fire tablets at cost.
Amazon is selling the Fire phone for US$649 contract-free. From July 25, a 32-GB version will go for US$199.99 with a contract on AT&T Inc. Those prices are comparable to the iPhone 5C's, though it has superior displays and other features.
To sweeten the deal, Amazon offered 12 months of membership to Prime, its two-day delivery and streaming service.