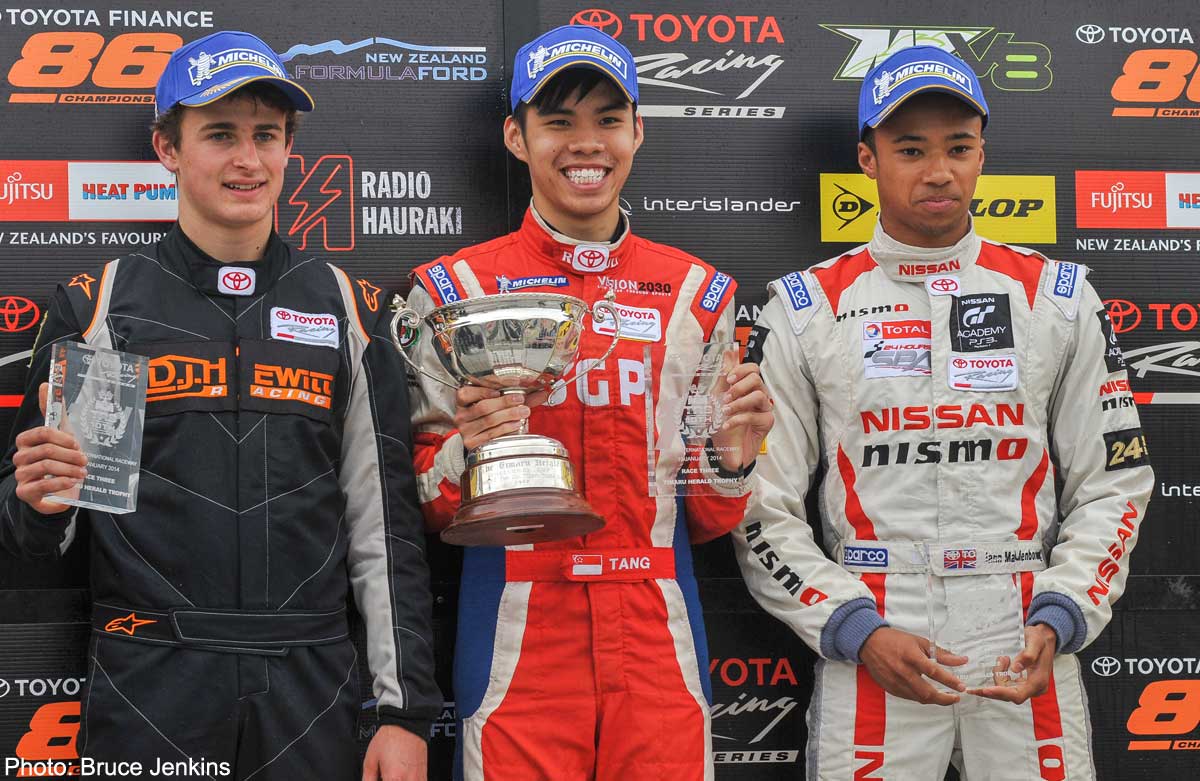 NO REAR-VIEW mirror? No problem. Andrew Tang just made sure others did not catch up with him yesterday.
For the Singaporean racing driver, it was full speed ahead at Manfeild Park in Feilding, New Zealand, where a third-spot finish was enough to bag the Toyota Racing Series (TRS) crown.
Tang had gone into the final leg of the five-stop series leading Jann Mardenborough by seven points and, aided by a win in Race One, ultimately came out tops in a 23-strong field with an 11-point margin over the Briton.
It marked the first time in the 10-year history of the New Zealand-based open-wheel series that a non-Kiwi has come away with the championship.
"Winning this title is all I've thought about for the past few days," the 19-year-old gushed.
"It was the first thing to pop into my head when I woke up and the last thing on my mind before I went to sleep."
Singapore Motor Sports Association president Tan Teng Lip said: "This victory has proven that Andrew has the ability to compete against - and beat - an international field of drivers."
The feat did not come easy. "That we had to deal with so much uncertainty makes his victory ever sweeter," said the driver's father Tang Siu Kan.
The businessman spoke to The Straits Times after a nervy end to the third and final race of the weekend, during which Andrew lost his right rear-view mirror.
It resulted in him ceding second place to Mardenborough after a safety car period. "I couldn't see him," the former St Joseph's Institution International student said.
"By the time I knew where he was, he was too far alongside for me to safely defend."
The third-place finish behind Mardenborough and winner Nick Cassidy was, however, enough for Andrew to clinch the Chris Amon Trophy at his second bite at the TRS cherry.
He finished 15th out of 22 drivers last year when he made his debut in single-seater cars.
Having originally been scheduled to enlist for national service on Feb 4, the Neale Motorsport driver had looked set to miss out on the final round of the series.
With 225 points on offer at each stop, it would have seen him finish outside the top five.
The Ministry of Defence granted a short-term deferment that allowed him to complete his championship push.
"It took a while to get that distraction out of the way," admitted Andrew, whose previous biggest success was an Asian Karting Open Championship title in 2011.
"But I'm glad that I've been able to do my team, family and country proud," said the teen who began go-karting at age nine but took a hiatus between 2006 and 2009.
His five-week stint in New Zealand now over, he will return to Singapore this evening and begin discussions about a new enlistment date.
Beyond national service, he hopes to realise his dream of racing in Formula One.
"I want to keep this momentum going," Andrew said. "Especially after showing everyone - and myself - what I can do."

Get a copy of The Straits Times or go to straitstimes.com for more stories.