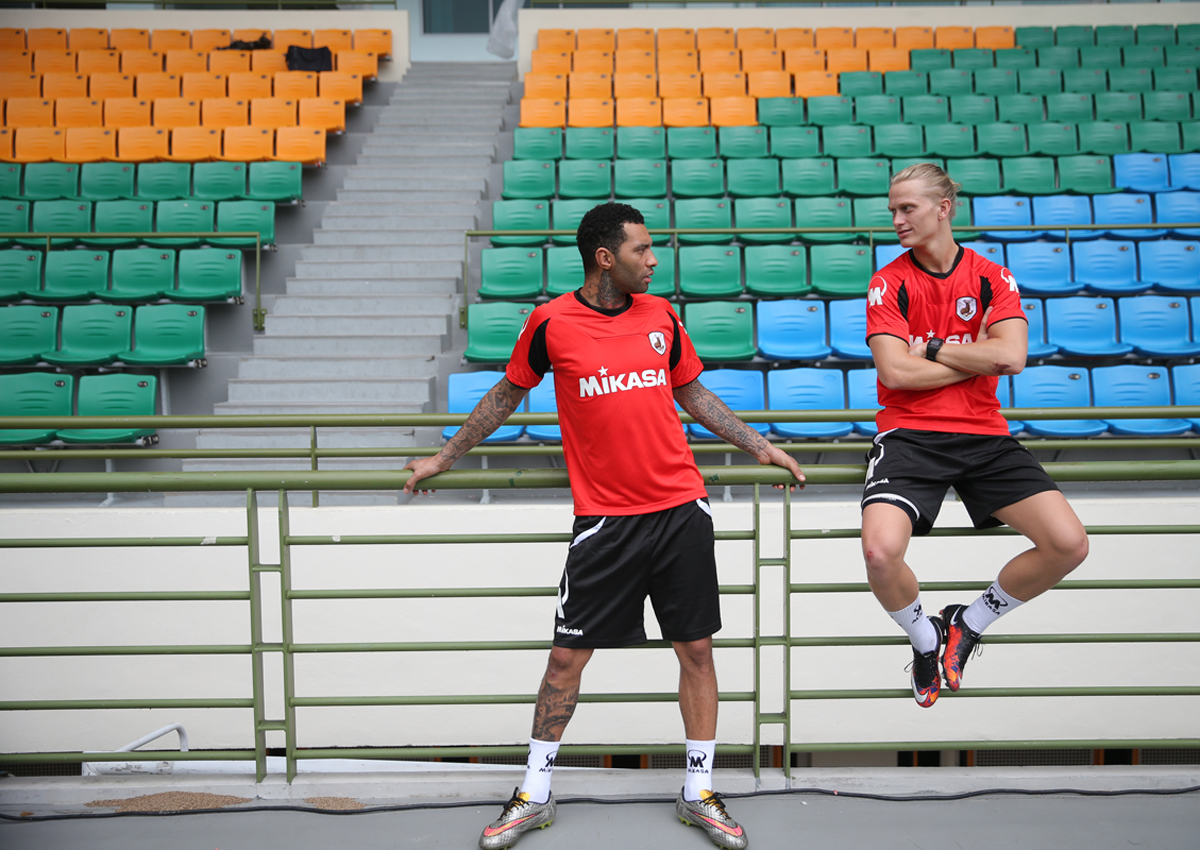 Tampines Rovers have boldly gone where no S-League club have gone before, but their counterparts are unlikely to follow suit any time soon.
While many agree that the signing of former Arsenal and Liverpool winger Jermaine Pennant could prove a game changer for the Stags and the S-League, few believe that it is worth breaking the bank for.
The Englishman, who turns 33 today, will sign a one-year deal with Tampines next Tuesday.
He will not only become the biggest name to grace the 20-year-old competition, but also earn the biggest pay packet ever - $40,000 a month. That figure is double that of the previous highest-paid player, Warriors FC's Japanese midfielder Kazuyuki Toda.
Tampines can afford his $480,000 annual salary (which could still rise due to other factors like bonuses) thanks to the support of their sponsor Komoco Motors, which will fund part of his wages.
When asked if Balestier Khalsa would also look for a big-name signing, chairman S. Thavaneson said: "We will not do it.
"We do not want to spend that amount of money, and we don't have that amount of money."
He said he is satisfied with the performance of the club's existing foreign players such as their Croatian strike duo of Miroslav Kristic, who scored 16 goals last season, and Robert Pericic (nine goals), and there is no need to replace them.
"We have to be wise in our spending," he said. "We've got to ensure that the money is well-spent on not just one player, but on the total development of football on a whole."
Prudence is also a guiding principle for Hougang United.
Their chairman Bill Ng reasoned: "We can dream big, but we have to spend our money carefully and responsibly. It makes no sense to splash it out, be very excited for one season, and then declare bankrupt after that."
Money aside, even if clubs are willing to pay a premium for a big name, another key consideration is whether such a player is the right fit for the club.
Home United's chairman Anselm Lopez said: "The S-League clubs all know that it is possible, at the right price, to take up a foreign player.
"It's whether they need a Jermaine Pennant-type of player in their teams. This depends very much on whether the player is the best fit."
Despite their reservations, both Ng and Thavaneson expressed admiration for Tampines.
Ng said: "Tampines have set a new benchmark for other clubs to follow, showing that we can work hard to get the players too while staying financially responsible."
Thavaneson added: "Tampines have brought a new dimension to football by taking a brave step. Perhaps after seeing what Tampines have done, other clubs might want to do the same thing too.
"We can look at other foreign players of the same quality from other countries too, those who (fetch) a lower (amount of) money."
Some members of the local fraternity hope Pennant's arrival will herald a new era for the S-League, which has struggled to attract fans in recent years.
Riduan Ali, 24, a motion designer, said: "It's surprising to see him come to Singapore and sign for a local club.
"He's played in the EPL before so I would expect the matches to be more exciting."
However, Kevin Sia, 35, a manager at an asset management firm, who stopped attending S-League matches in 2004, warned: "One signing doesn't mean anything.
"There needs to be an overall level of improvement among the clubs, not just Tampines, to get people to start watching again."
chiazya@sph.com.sg

This article was first published on January 15, 2016.
Get a copy of The Straits Times or go to straitstimes.com for more stories.