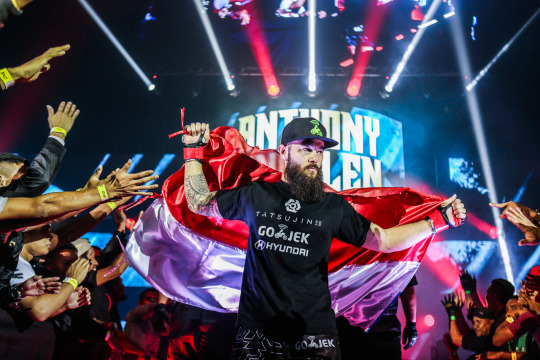 Some mixed martial artists are content with getting a victory by any means necessary, even if it is in boring fashion. But Anthony Engelen has a thirst for more. He wants to excite the crowd and give them a show they will never forget.
"The Archangel" will return to the cage on Saturday Night, 14 January, when he meets A.J. "Pyro" Lias Mansor in a featherweight tilt at ONE: QUEST FOR POWER, live from the Jakarta Convention Center in Indonesia.
Engelen, a former IFC Lightweight Champion who splits his time between Holland's Tatsujin Dojo and Jakarta's Alliance Indonesia, knows he is in for a war, and wants to represent for his adopted hometown.
"A.J. Mansor seems like a cool guy. He has been around for a bit. He seems pretty strong, and he is quite bulky. We will see how that affects his endurance," the 31-year-old says. "It is going to be a good fight. A tough fight, but it is going to be a lot of fun, for sure."
Engelen, who is half-Indonesian, has had one of the least likely routes to a career as a professional fighter. The Holland-born athlete is now one of the most recognized figures in Indonesian mixed martial arts, but he first moved to the country to study and work, plying his trade as a tea tester with one of the biggest manufacturers in the world.
Although that might be somebody's idea of a dream job, Engelen was thirsty for more from life. Just not for more tea. That desire had been quenched. As the mundaneness of an office job began to grind him down, he reignited his passion for martial arts, and has not looked back.
"Seeing kickboxing and ground fighting being combined [in MMA] made me think it was one of the best combat sports around. I was really intrigued by it and decided to give it a try. I signed up at a gym nearby, and that is pretty much how it all started," Engelen recalls.
"Growing up, it was never a dream of mine to be a professional fighter. That being said, playing sports was always my passion and what I loved to do. I had a dream to earn money doing that, but living in Holland, I just did not see it being possible. 
"So that is why I decided to pursue a career in business. I moved to Indonesia and that did not really work out, so I am pretty glad I got the opportunity to do what I am doing right now, which is fighting for ONE Championship and living my dream."
It was a bold move at a time, when the Jakarta native was no doubt comfortable with the day-to-day workload, and a regular paycheck. However, to paraphrase from Sam Sheridan's A Fighter's Heart, safety and comfort can be mortal dangers for the soul. 
Engelen was being consumed by his growing love for MMA outside of the workplace, with the office requiring too much of him to fully commit to it.
He ditched the day job and started teaching and training. If it all went wrong, there was always his education and experience to fall back on, but now he is thriving and a great example of the risk paying off. 
The call from ONE came after a few years of success in regional MMA and BJJ competitions, and validated his quest for success through combat. Engelen was slated to make his promotional debut against two-time BJJ No-Gi World Champion Bruno Pucci at ONE: SPIRIT OF CHAMPIONS, but lacked a proper training camp to get him as best prepared as possible.
With no access to proper MMA training in Jakarta at the time, "the Archangel" admitted that he was having to wing it in a lot of aspects.
"It was not easy," he reveals. "I was fairly good in jiujitsu, I had good training in that. My striking was okay, I guess, but the combining part, I was lacking in that department. I never had proper training or coaching. Pretty much, up until my first fight with ONE, it was all my own doing."
To achieve his potential, he needed to focus on himself, and enlisted the help of somebody who knew the game inside and out. Engelen gave up most of his coaching commitments and sought one of the best in the business to help him with his MMA development.
Enter Martijn de Jong, a true pioneer in Dutch and European MMA, and one of the most experienced coaches in the game. De Jong made his start in the sport before MMA was even called that. 
"Just before the fight [with Pucci], I got in touch with Martin de Jong, whom I knew from back in Holland where I trained with him a few times. He started to come to Indonesia a lot, so we began training together, and he became my full-time coach and trainer ever since. It has been a huge step forward. A world of difference," Engelen explains.
The Archangel had the desire, determination, and natural attributes to compete at the elite level of mixed martial arts, but now he has the right team to aid his development. 
In the past year with the promotion he competed four times, and although he lost the Pucci bout, pushed his overall record to 5-2 fresh off a win over Sami Amin at August's ONE: TITLES & TITANS.
Now that his improvement is accelerating, he is looking towards the future. That starts with A.J. "Pyro" Lias Mansor at ONE: QUEST FOR POWER in his adopted hometown of Jakarta, and will continue with the launch of several gyms all across Indonesia.
"For the near future," he begins, "I am opening the first Tatsujin gym here in Jakarta with Martijn. The first of many, and within ONE Championship, I want to keep winning my fights, continue to improve myself, and eventually get that title shot."