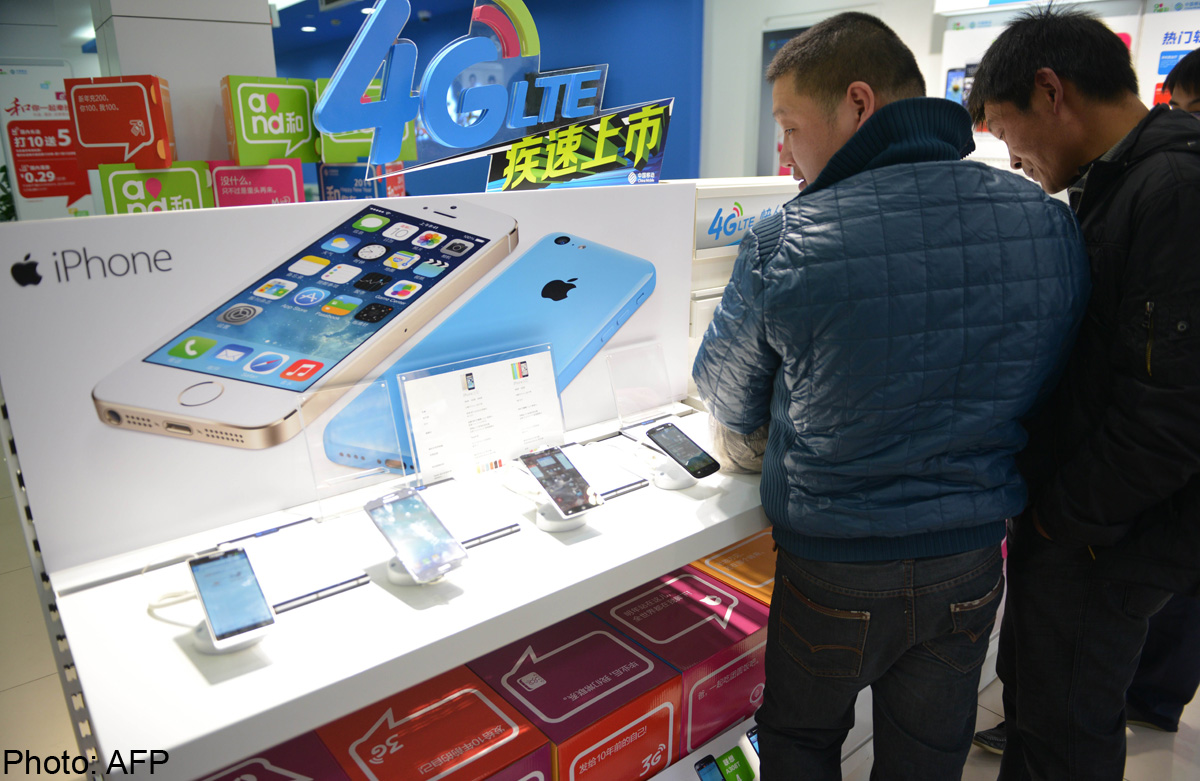 BEIJING - Apple Inc is finally launching its iPhone on China Mobile Ltd's vast network on Friday, opening the door to the world's largest carrier's 763 million subscribers and giving its China sales a short-term jolt.
The deal could trigger a limited turnaround for Apple, whose fortunes have wavered in China in the face of stiff competition from market-leader Samsung Electronics Co Ltd and up-and-coming local rival Xiaomi Tech.
Samsung had a 21 per cent share of China's smartphone market in the third quarter of 2013, with Apple trailing in fifth place with just 6 per cent, according to research firm Canalys.
But the arrival of the iPhone could be a double-edged sword for China Mobile, with some analysts predicting a costly subsidy war as rival carriers compete to lure customers.
"I don't see a price war coming where Apple is engaged in the war, but I do think you're going to see a subsidy war coming," said Michael Clendenin, managing director of Shanghai-based RedTech Advisors.
"China Mobile, if they're not making their targets on sales for these phones, they're going to increase the subsidies... It's like airlines: the other guys will fall like dominoes, so China Unicom will do it and China Telecom will do it."
China Mobile's iPhone sales are expected to reach 12 million in its 2014 fiscal year, but its subsidies will leap 57 per cent to 42.4 billion yuan (S$8.9 billion), up from 27 billion yuan in its fiscal year 2013, wrote Cynthia Meng, a Jefferies analyst, in a December note.
Sales cannibalisation
After taking years to hammer out a deal with China Mobile, Apple's sales in China should get a short, sharp boost as subscribers make the most of the double-whammy of the iPhone's arrival and the rollout of high-speed 4G mobile networks.
Reservations for iPhones had already hit 1.3 million on Wednesday, according to a China Mobile spokeswoman, although Reuters checks showed that there were multiple registrations using fake ID numbers.
But the rewards are expected to be short-lived for the Cupertino, California-based company, which faces a deeper problem in China of having fallen out of favour with consumers who are increasingly opting for domestic offerings.
Another issue is the thriving grey market for iPhones, where users can buy handsets typically smuggled from Hong Kong and then sign up for a China Mobile contract. China Mobile already has 45 million iPhone users in China, according to a company spokeswoman.
"You need to consider the cannibalisation for sales to China Unicom, China Telecom and the grey market, so even though there's an addition from China Mobile it will also impact sales from other channels as well," said CK Lu, a Taiwan-based analyst with Gartner.
"If we really want to see the expansion of sales we'll have to wait for the next version of the iPhone. If China Mobile gets first launch and their subsidies are attractive people will probably rush to the iPhone that China Mobile can provide."