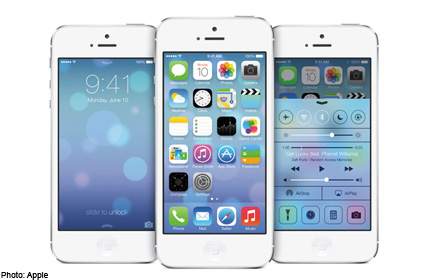 Design
One of the major criticisms of previous iOS versions is the heavy use of skeuomorphic or real-life elements, such as the torn pages in the Notes app or the leather trim in the Calendar app.
The new flat design takes away all that clutter and adds a more colourful palette.
I like the fact that there is a greater use of white space with translucent layers in iOS 7's interface. The typeface used is thinner but it blends in perfectly with the new design scheme. Overall, I think iOS 7 is the most elegant iOS so far.
While there are no widgets in iOS 7, you can see the second-hand of the default Clock app icon moving with the hour and second hands corresponding to the actual time.
For the first time, you can use dynamic wallpapers in an iOS device. Only seven dynamic wallpapers are included and they are essentially different colours of the same bubble design.
For those resistant to change, fret not. The basic structure of iOS 7 remains unchanged, so veterans will have no problems changing settings.
The Control Centre
One major gripe I have with the previous iOS is that I have to tap through two menus to turn on Bluetooth or Wi-Fi. But with iOS 7, I just need to swipe up from the bottom of any screen to bring up a dashboard known as the Control Centre.
The Control Centre is full of short cuts to the most commonly used controls and apps, such as Bluetooth, Wi-Fi, Do Not Disturb, Airplane Mode, Camera and even Calculator.
There is also an option to turn on the rear LED flashlight to help you get to your seat in a cinema or bring up the timer when you want to, say, cook your instant noodles in exactly three minutes.
Unfortunately, there is no way you can customise the Control Centre. Perhaps, in iOS 8?
Notification Centre
Swipe down from the top of any screen and you will bring down the Notification Centre.
Unlike its predecessor, the Notification Centre is now available even from the Lock screen. It has a totally new view that gives you an overview of your current day, including the weather, calendar, stocks and reminders.
In addition, you no longer need to keep swiping to the left to go to Spotlight search function to search your iPhone for e-mail or text messages. Now, you just need to use a one- or two-finger swipe down while on the Home screen to access it.
Multitasking
You still have to press the Home button twice to get into the multitasking panel. However, you will be greeted with preview screens of the apps arranged in columns which are open with the app icon below the preview.
This is quite similar to Jelly Bean's multitasking panel, with the only difference in the presentation. For Jelly Bean, there is no app icon and you swipe right to quit an app.
With iOS 7, you swipe up to quit an app. While you cannot swipe multiple apps in Jelly Bean, I found I could swipe and quit up to three apps at one go in iOS 7.
Camera and Photo
The Camera app in iOS 7 now lets you choose your shooting modes, from still image and videos to panorama, and square, by swiping.
Now, there are eight real-time photo filters, such as Noir, Process and Fade, to add to your pictures. You can also add a filter to a picture after you have taken it.
The new Photo app now automatically groups your photos and videos according to the time and location taken - Years, Collections and Moments.
Initially, you might be a bit unsure of how to navigate through the three categories. You always start with Moments, before tapping a marker on the top-left screen to go into Collections and Years. But once you are in Years, you have to tap on the photos to get back to Collections and Moments. Surely, using a back icon would have been easier.
Nonetheless, the presentation looks gorgeous, especially when you have plenty of photos on display.
Siri
The new personal assistant in iOS 7 allows you to do more things by just asking. It uses results from Wikipedia, Twitter and search engine Bing.
For example, if you ask Siri about Justin Bieber's tweets, his tweets will be displayed. If you ask what Android is, you get a Wikipedia article on the Linux-based mobile operating system.
You can also choose the gender of Siri's voice. But this gender option is available only when you choose Siri in United States English.
Perhaps the most important Siri upgrade is that you can ask it to change the settings of your iPhone. For example, you can ask Siri to turn off Bluetooth or Wi-Fi and it will do it.
I tried asking Siri to turn on Airplane mode. Siri replied that it will stop working if it turns the Airplane mode on and asked if I was sure. When I said "No", it replied that it was glad that we could still talk.
And if Siri is unable to decipher your Singaporean accent, there is now an option to edit what Siri hears.
Conclusion
I would not say upgrading to iOS 7 is like getting an all-new device, but it is pretty close as there are just so many new features. You need to use it to slowly uncover its many gems. With its new clean looks, many improvements and new functionalities, iOS 7 is a must download for any iOS device user as long as his device supports it.
trevtan@sph.com.sg

Get a copy of Digital Life, The Straits Times or go to straitstimes.com for more stories.