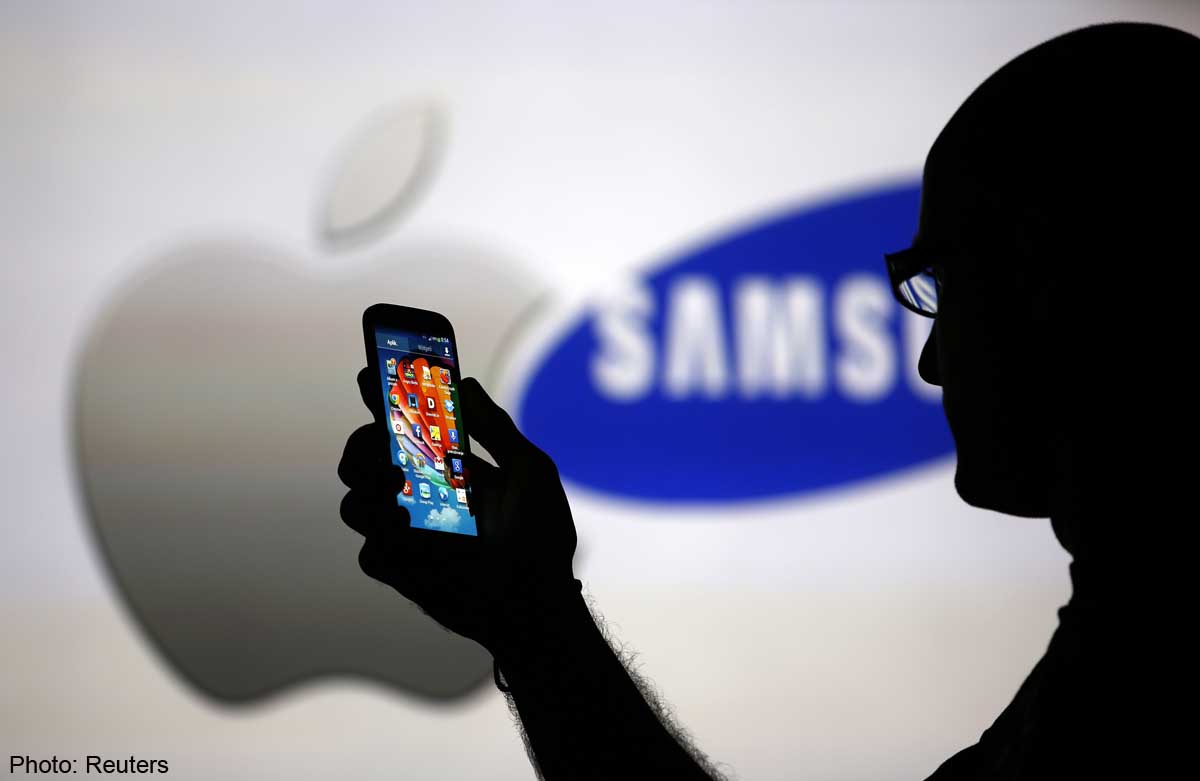 SAN FRANCISCO - A US judge on Thursday rejected Apple's request for a permanent sales ban in the United States against some older Samsung smartphones, a key setback for the iPhone maker in its global patent battle.
US District Judge Lucy Koh in San Jose, California, ruled that Apple Inc had not presented enough evidence to show that its patented features were a significant enough driver of consumer demand to warrant an injunction.
Apple and Samsung Electronics Co Ltd have been litigating for nearly three years over various smartphone features patented by Apple, such as the use of fingers to pinch and zoom on the screen, as well as design elements such as the phone's flat, black glass screen.
Apple was awarded more than US$900 million (S$1.1 billion) by US juries but the iPhone maker has failed to sustain a permanent sales ban against its rival, a far more serious threat to Samsung, which earned US$7.7 billion last quarter.
The ruling on Thursday comes ahead of another patent trial set to begin later this month involving newer Samsung phones, and could frustrate any further attempt by Apple to bar the sales of those models as well.
An Apple spokeswoman declined to comment on the order.
In a statement, Samsung said it was pleased with the ruling."We ... agree with its observation that a few software features alone don't drive consumer demand for Samsung products - rather consumers value a multitude of features," the company said.
Even though Samsung no longer sells the older-model phones targeted by the injunction request, Apple has argued in court documents that such an order is important to prevent Samsung from future copying with new products "not more colorably different" than the defunct models.
Samsung, meanwhile, argued that Apple was trying to target new Samsung phones in order to instill fear and uncertainty among carriers and retailers.
Samsung's phones use the Android operating system, developed by Google Inc.
A Northern California jury found that Samsung infringed several Apple patents after a widely watched 2012 trial. Following the trial, Koh rejected Apple's request for a sales ban, but in November, the US Court of Appeals for the Federal Circuit ordered her to reconsider Apple's evidence of market demand.
In her ruling on Thursday, Koh wrote that a consumer survey by Apple likely inflated the value that customers place on the patented smartphone features in dispute. "A multitude of other survey evidence not prepared for the purpose of litigation," Koh wrote, "indicates that numerous features that were not tested - such as battery life, MP3 player functionality, operating system, text messaging options, GPS, and processor speed - are highly important to consumers."
Apple must demonstrate more than an insignificant amount of lost sales due to Samsung's copying, Koh wrote, and Apple's survey is "unpersuasive" evidence on that point.
In a separate order, Koh entered final judgment against Samsung for about US$930 million in damages stemming the 2012 jury finding of patent infringement. Samsung said it would appeal that decision.