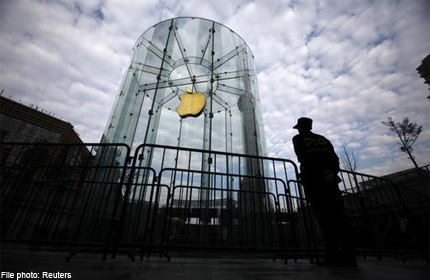 Lower-than-expected holiday iPhone sales and a weak revenue forecast by Apple Inc renewed fears about Chinese demand and a tepid global market, wiping 8 per cent off company stock.
This year was to have been Apple Inc's watershed moment in China, when a long-awaited deal with the nation's largest carrier was to have propelled it back toward the top ranks of its most crucial market, clawing back ground from rival Samsung Electronics.
Instead, the forecast for the March quarter - when Apple is expected to have reaped the fruits of that long-awaited deal - raises questions of whether investors had over-estimated that arrangement, and broader concerns about flagging demand for smartphones and tablets in general.
"There's no doubt that shipments (to China Mobile) are lower than almost anybody expected," said Pacific Crest Securities' Andy Hargreaves. Globally, "the high-end smartphone and tablet markets are saturated, and that's not going to grow."
The world's most valuable technology company sold a record 51 million iPhones in the quarter, but that was still shy of the 55 million or so that analysts had expected.
The company forecast sales of US$42 billion (S$53.6 billion) to US$44 billion this quarter, brisker than usual because of Apple's new deal to sell iPhones through China Mobile Ltd, the country's No. 1 carrier. But Wall Street had expected even more - US$46 billion, on average.
The company on Monday recorded sales of US$57.6 billion in its December or fiscal first quarter, versus expectations for about US$57.5 billion. Net profit was flat from a year earlier at US$13.1 billion, or US$14.50 a share, compared to Thomson Reuters I/B/E/S estimate of US$14.07.
"After showing modest signs of improvement, we're back to a no-growth outlook," said JMP Securities' Alex Gauna. "It's something Apple needs to find an answer to... If it can't prove that it's going to be a growth story again, the valuation is too high."
Chief Financial Officer Peter Oppenheimer told analysts on a conference call the March-quarter revenue outlook reflected the effects of a strong US dollar, and more balanced levels of demand and supply for iPhones at the start of 2014 than a year earlier, when demand outstripped available inventory.
EMERGING STRENGTH
In the December quarter, Apple recorded gross profit margins of 37.9 per cent, roughly in line with expectations.
But it was the iPhone sales and revenue outlook shortfall that drew attention.
The iPhone maker has been ceding ground to Samsung and other rivals in China, its No. 2 market, but investors hope its tie-up with the country's dominant mobile carrier will help reverse its fortunes in the world's largest cellular arena.
In the closely watched greater China region, which includes Hong Kong and Taiwan, revenue jumped 29 per cent from a year earlier to US$8.84 billion, bolstered by strong iPad sales and the iPhone's global launch in September, when China was included among launch countries for the first time.
Company executives did not talk about iPhone unit sales in the world's No. 2 economy. But intense competition not just from Samsung but also lower-cost, local rivals like Huawei and Xiaomi is impeding its progress.
The latest figures show Samsung increasing its lead in global smartphone sales.
In the less competitive tablet arena, Apple sold a record 26 million iPads globally in the quarter, in line with Wall Street estimates. Oppenheimer told Reuters the company more than doubled sales of the tablet in mainland China during the December quarter, helping drive that milestone.
The iPod, which sparked the revival of Apple last decade, is now a waning product, selling just over 6 million in the quarter, less than half the year-ago tally.
"IPod sales declined by 52 per cent year-over-year in the December quarter and we would expect them to continue to decline year-over-year in the March quarter," said Oppenheimer.
Longer term, investors continue to hope that Apple, which last came out with a revolutionary new device - the iPad - in 2010, has something up its sleeve for 2014. Speculation currently revolves around a smartwatch or even a long-rumored TV product. Others say Apple can use its huge iPhone and iTunes base to get into mobile payments or advertising.
"What we need to see from them is some sort of new product development and it would be likely in the area of software, mobile payments and advertisements that would get us thinking that there is an opportunity for accretion," Gauna said.
"Hardware can only go in one direction and that's flat or down. It has to be something in the innovation space and they have a lot of things they can do."