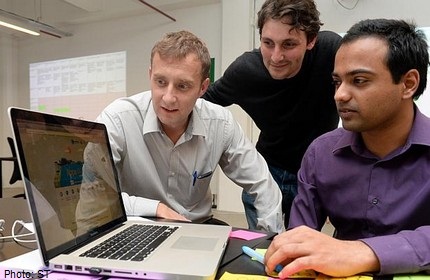 Bus passengers can pinpoint and explore Singapore's heritage and landmarks on their routes, if an app created by a group of research scientists takes off.
The brains behind the app is MrSteve Robinson, 38, a British citizen, who found it difficult to make sense of bus routes in Singapore.
"The information presented at bus stops is just a sequence of road names," he said.
"There needs to be a better way to present information about places along bus routes for tourists and newcomers in Singapore."
Drawing from his past work experience at London bus operator London Buses in Britain, he decided to rally his colleagues at a local research institute to build what he calls "Spider Maps" into an app.
Spider Maps are essentially route maps that pinpoint the bus stops along a bus route. This is similar to how train routes are currently presented on a map of Singapore.
"It's simply taking an idea from London that would work well in Singapore," he said.
Last month, Mr Robinson, together with four colleagues, built the first prototype of the app, dubbed Busotted, as part of the Data In The City hackathon organised by the Infocomm Development Authority of Singapore (IDA).
To create the prototype app, the team relied on transport, heritage and other government data that is hosted on the data.gov.sg online repository.
Besides outlining bus routes on maps, Busotted also lets commuters identify locations of amenities and places of interest along a given bus route.
"The information you display can be changed easily - it could be locations of supermarkets and hawker centres," said MrRobinson.
At the 48-hour hackathon, more than 150participants, including urban planners, architects, sustainability experts, technologists, researchers, developers and designers, took part.
They formed teams to create smart city projects that make use of infocomm technology and publicly available data to, say, inform commuters about road closures and train breakdowns.
"There's quite a lot of hoopla about smart cities at the moment," said Busotted team member Rudi Ball, 30.
The South African specialises in the use of mobile technologies to build smart cities.
"For instance, you can build ad hoc traffic information systems by getting people to share information about the state of the bus system," he said.
At the end of the gruelling hackathon, which required participants to present their ideas within minutes, the Busotted team emerged as one of the five winners.
Each team received $500 in cash and will be fast-tracked to the finals of the Apps4SG competition, which closes next month.
Launched in April this year, the Apps4SG contest, also organised by the IDA, aims to boost the development of innovative apps that use government data.
The top team stands to win a cash prize of $10,000.
Inspired by SimCity
SingCity was another winning idea that emerged from the Data In The City hackathon.
It was conceived by a team of three friends, led by Ms Jeannette James, 31, who wanted to build an app to help residents figure out the places around them and to identify the needs in their communities.
People will be able to see from the SingCity app what amenities they have or which ones are lacking, said Ms James, who is currently unemployed.
"If they think they need another childcare centre, they'll be able to look at data such as demographics in their area to decide if the suggestion is feasible," she added.
She said the app is built on a concept known as crowd-sourced urban planning, which lets residents contribute ideas in city planning.
For example, Moscow, the capital city of Russia, started a website called What Moscow Wants (moscowidea.ru) that lets Moscow residents air their views about the changes they want, why and where.
With SingCity, Ms James said residents will be able to ask for, say, a childcare centre to be built in their constituency, complete with data to support their case. Other residents can also vote on the suggestions.
Asked if people will go the extra mile of backing their suggestions with data, she said it is more likely that they would if the data is easily retrievable.
She noted that while population data, for instance, is available through OneMap, the map service by the Singapore Land Authority, it is "confusing and not easy to use".
Besides residents, SingCity can also be used by entrepreneurs to do market research before deciding on the location of a new eatery, for example.
"Our inspiration is SimCity," MsJames said. "If we spend so many hours building the perfect world in a virtual environment, why not translate that to real life?"
aarontan@sph.com.sg
Background story
Other winning ideas
Connecting People With Organisations
A centralised feedback system linking citizens to government agencies, leading to better communication.
Point A View
An app to help young Singaporeans connect with their heritage through pictures, personal stories and conversations.
Recycle It
A project that makes recycling easy by using smart recycling bins that allow users to track the amount of materials they have recycled. Recycling companies will also be alerted when the bins are full or damaged.

Get a copy of Digital Life, The Straits Times or go to straitstimes.com for more stories.