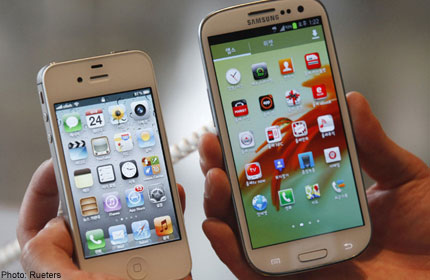 The first quarter of the year has already passed us by, and chances are most of us have strayed from our New Year resolutions.
Fortunately, getting back on track can be as easy as downloading an app to your smartphone.
Most of us are never more than a few metres away from our gadgets at any given time of the day, making apps a great tool for planning, executing and managing goals.
Check out these five apps, each of which is paired with a New Year resolution that is frequently broken.
1. Stop being a shopaholic
Toshl Finance Free (Android, iOS, Symbian and Windows Phone 7)
Restraining yourself from buying that new gadget or collectible toy may not be so hard if you know exactly how much (or how little) money you have left to spend.
Toshl Finance's clean user interface, easy-to-understand menus and straightforward functions mean you can get started right away. There are no complicated settings to configure or difficult financial concepts to understand.
All you need to do is set a budget and then record your spending. With each spending entry you make, the app automatically deducts the amount from your budget, so you can instantly see how much you have left.
The basic free version lets you create and manage one budget.
If you need to manage several at a time, such as separate shopping and dining budgets, the app offers an upgrade for US$19.99 (S$25).
2. Save money
Home Budget With Sync $7.62, Android $5.98, iOS
If you find it hard to save money because you cannot figure out where it all went, this app might make your New Year resolution a success.
Home Budget With Sync lets you record your income, expenses, savings and loans. The data is well-organised so you can see overall figures at a glance. Just tap the drop-down arrow to view details.
Information can be viewed as lists, charts or graphs. The app's complexity means you will need some time to figure out how to use all its features, but the menus are easy to navigate and make the learning process a breeze.
But I am not a fan of its bare bones design and would prefer it to pack a little more eye candy.
Those who intend to make saving money a group effort will like the app's Family Sync feature. Once set up, this nifty feature lets a group of devices share income and expense information so the household budget is always updated.
3. Lose weight
My Diet Diary Free (Android and iOS)
Shedding pounds is perhaps one of the most difficult goals to achieve, but this beautifully designed diet app might just get you there.
To start, enter details such as your current and target weight. The app then calculates how many calories you can eat a day. It even guards against unhealthy diet goals and warns you when your daily food intake allowance is too little.
The calorie counter works just like Toshl Finance, by deducting from your daily calorie budget every time you add a meal or exercise entry.
This app is so well made, it even comes with a searchable food and exercise database so you can easily estimate how many calories you have just eaten or burned.
I found database entries for local dishes including roti prata, laksa and mee goreng.
In case you are wondering, none of the three are low-calorie options.
4. Manage your time
Kurumaki Calendar $2.58, iOS
This could be heaven-sent for people who find it hard to keep tabs on everything that is going on in their lives. Kurumaki Calendar can help you see the big picture and better manage your time.
This simple calendar app is designed to look like rows of decorative masking tape running across a cork board calendar.
Besides looking aesthetically pleasing, this display style is great for keeping track of long-running events and lets you easily identify overlapping entries.
Calendar dates are also displayed in a continuous order so entries that spread across two months will not look broken.
Kurimaki Calendar syncs with your iPhone and Mac's calendars, so you can add new entries from your computer or another iOS device.
Managing concurrent projects at work may not be fun, but at least they will look cute on your smartphone calendar.
5. Achieve a long-term goal
Raise The Bar Free (Android)
Working towards a long-term goal in real life can be tricky.
Unlike video game characters, we lack a progress bar or meter to show us how far we have come, or how much farther there is to go before we hit paydirt.
With Raise The Bar, real life may just feel a little closer to Super Mario. This cool app lets you create goals that work like level-up meters, a feature gamers will find familiar.
Just like virtual skill building, you fill the meter whenever you complete part of a goal. Once you reach your entire goal and fill up the meter, you gain a level.
The level-up meters come in the form of a progress bar or a drop- down checklist, which can be easily applied to suit any goal.
Its only flaw is that customisation options, such as setting a target completion date and regular reminder, are too few.
Jasmine Osada is a freelance writer.
This article was published on April 30 in Digital Life, The Straits Times.


Get a copy of Digital Life, The Straits Times or go to straitstimes.com for more stories.