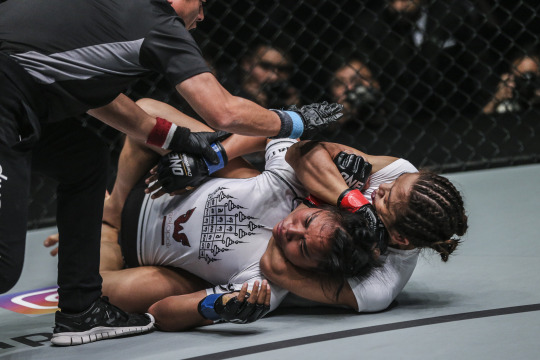 Former Olympic swimmer "Mighty" May Ooi continued her meteoric rise in the world of martial arts.
The Singaporean earned a first-round submission victory over Cambodia's "Pretty Punch" Vy Srey Khouch at ONE: IMMORTAL PURSUIT on Friday, 24 November, and then asked the ONE Championship matchmakers for an early Christmas present by booking her in a title bout next year.
Ooi looked fired up when she was introduced to the crowd at the event's opening ceremony in the Singapore Indoor Stadium. But by the time she touched gloves at the start of the contest, she was a picture of calm and composure, as she overwhelmed her opponent with a dominant display of grappling to secure her fourth win.
The bout started in cagey fashion, with both athletes feinting and circling, looking for an opportunity to strike. It was Ooi who made the first decisive move as she shot in, grabbed a single leg takedown, and dragged the Cambodian to the mat.
Ooi established her grappling dominance almost immediately, looking to work her way to a submission finish as Khouch went into survival mode from her back.
The Singaporean quickly worked to an arm-triangle choke, but was unable to finish the submission as Khouch gamely fought off the hold, forcing the Singaporean grappler to abandon the attempt.
"Mighty" May's relentless pressure persisted, as she switched to mount, scoring with some good ground and pound before transitioning to Khouch's back. From there, she locked up a body triangle, and then a rear-naked choke to force the tap in a dominant first-round submission win.