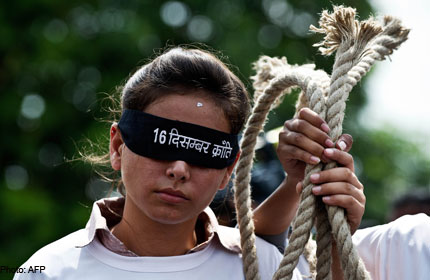 Rape in the Asia-Pacific is pervasive and most perpetrators get away with it, according to a new study by the United Nations.
A new survey of more than 10,000 men across six countries in the region finds that nearly a quarter report raping a woman or a girl, with the vast majority not facing any legal consequences.
The study, by a UN inter-agency team in collaboration with governmental, civil society and other groups, was done between 2010 and this year in Bangladesh, Cambodia, China, Indonesia, Papua New Guinea and Sri Lanka. It was launched on Tuesday in Bangkok.
Ten to 62 per cent of men in each of the nine locations in these countries reported having raped a girl or woman in their lifetime.
Most of the time, the men who admitted to rape did so as they believed they were entitled to sex regardless of consent. The second most common motivation was entertainment, followed by anger. Contrary to common perception, alcohol was the least common reason given.
Violence against women was linked to "dominant ideas of what it means to be a man - ideas that celebrate toughness, dominance over women and heterosexual performance", said one of the study's co-authors Emma Fulu, a research specialist for the UN's Partners for Prevention programme.
The findings, say the authors, show that violence against women was preventable, given that the factors associated with it can be changed, like negative models of masculinity.
The study is the largest such regional survey ever done "and reconfirms that impunity remains a major issue in the region, particularly for marital rape, which is the most common form of rape" but is not criminalised. All but one country in the survey - Papua New Guinea - do not do so.
The survey locations reflect the diversity of the region, with priority given to countries where such data was not available.
The men were asked specific questions such as if they had had sex with a woman or girl who was too drugged or drunk to give consent, or if they had sex with someone they knew did not want to, but believed she should agree as she was his wife or partner.
Four per cent of respondents said they were involved in gang rape. About half of the men who admitted to rape did it for the first time as teenagers.
The authors suggest having community programmes to promote non-violent ways "to be a man", good parenting programmes, as well as sensitising law enforcers to violence against women, including marital rape.
UN Women regional director Roberta Clarke said prevention programmes that target individuals alone may not be enough to address a problem of this scale.
"What are the institutions in our society that actually transmit beliefs, attitudes and practices - that's where we have to pay attention," she told The Straits Times.
tanhy@sph.com.sg

Get a copy of The Straits Times or go to straitstimes.com for more stories.