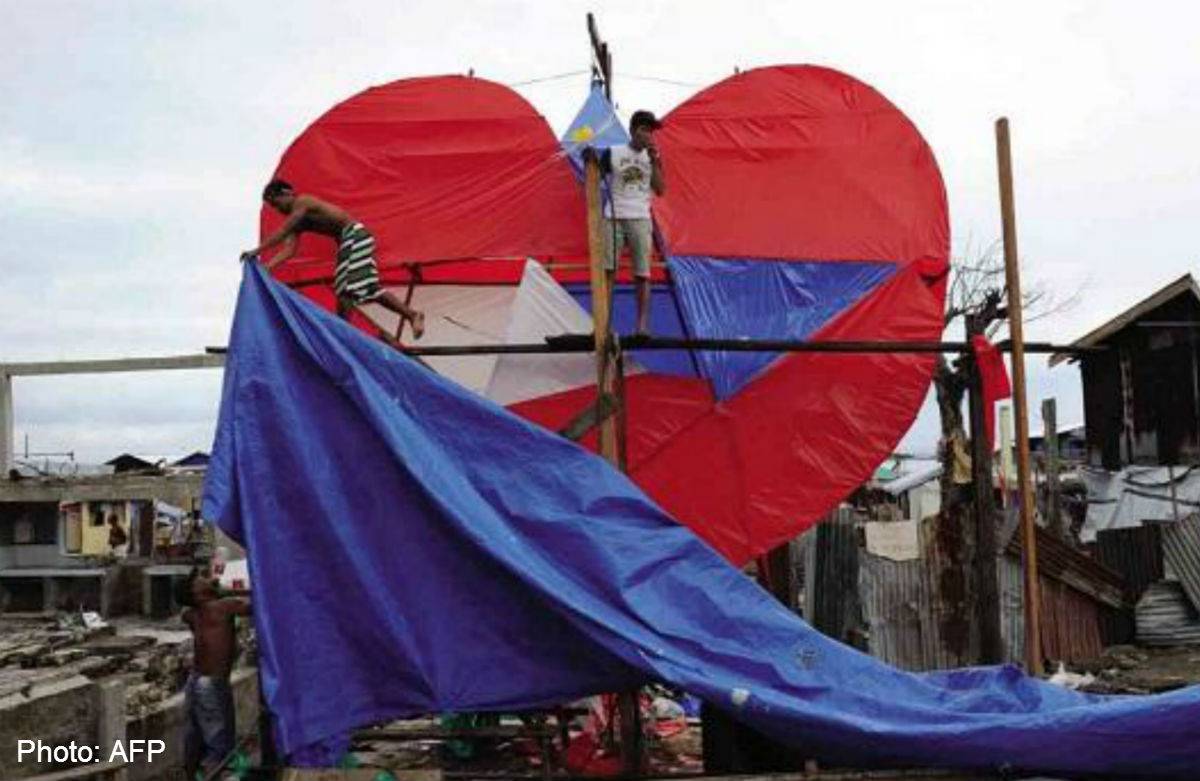 PHILIPPINES - Gone but not forgotten.
Survivors of Super Typhoon Yolanda spread out about 10,000 red and white balloons on a 12-kilometer stretch of the coastal area in Tacloban City to symbolize not only a day of love but also of remembrance of those who were killed by the strongest typhoon to hit land in recent history.
Tropino Esperas, a 41-year-old soldier, was one of the survivors who honoured the departed in Tacloban City. Esperas' elder brother, Salvador, was among the more than 6,000 people in Eastern Visayas who lost their lives when the disaster struck on Nov. 8, 2013.
"My brother may have died but he will always be remembered. This day is not only a day of remembering but also of showing how we miss and love him," he said.
Esperas said his brother died because he chose to stay in their house at Barangay 88 in San Jose district. The huge storm surge generated by the supertyphoon's strong winds destroyed their house and killed Salvador.
Salvador's family had evacuated to Tacloban Convention Center to seek temporary shelter. They have remained in the centre to this day.
'Keep the Love Alive'
The 10,000 red and white balloons, held on sticks in soft drink bottles, represented the number of people believed to have perished in the aftermath of Yolanda.
The occasion, called "Keep the Love Alive," was held despite intermittent rain showers.
Based on the report of the Regional Disaster Risk Reduction and Management Council, more than 6,000 people died during the storm, about 2,606 of them from Tacloban, considered ground zero of Yolanda.
Jeff Manibay, who is behind One Tacloban, organizer of the event, said the occasion was both a day to remember the survivors' departed loved ones as well as to express gratitude for the enormous help the city received, especially from international donors and foundations.
"We are all Christians and it is part of our tradition to remember them and to continue looking for missing loved ones so they could be given proper burial," said Manibay, a radio broadcaster who lost his parents in the supertyphoon.
Written on the balloons were the names of the people killed and the organisations that extended assistance as well as the words "Keep the Love Alive."
The balloons were placed at the roadside from San Jose to Anibong district.
San Jose and Anibong districts are considered to be the worst-hit areas by Yolanda due to sheer damage to properties and loss of lives.