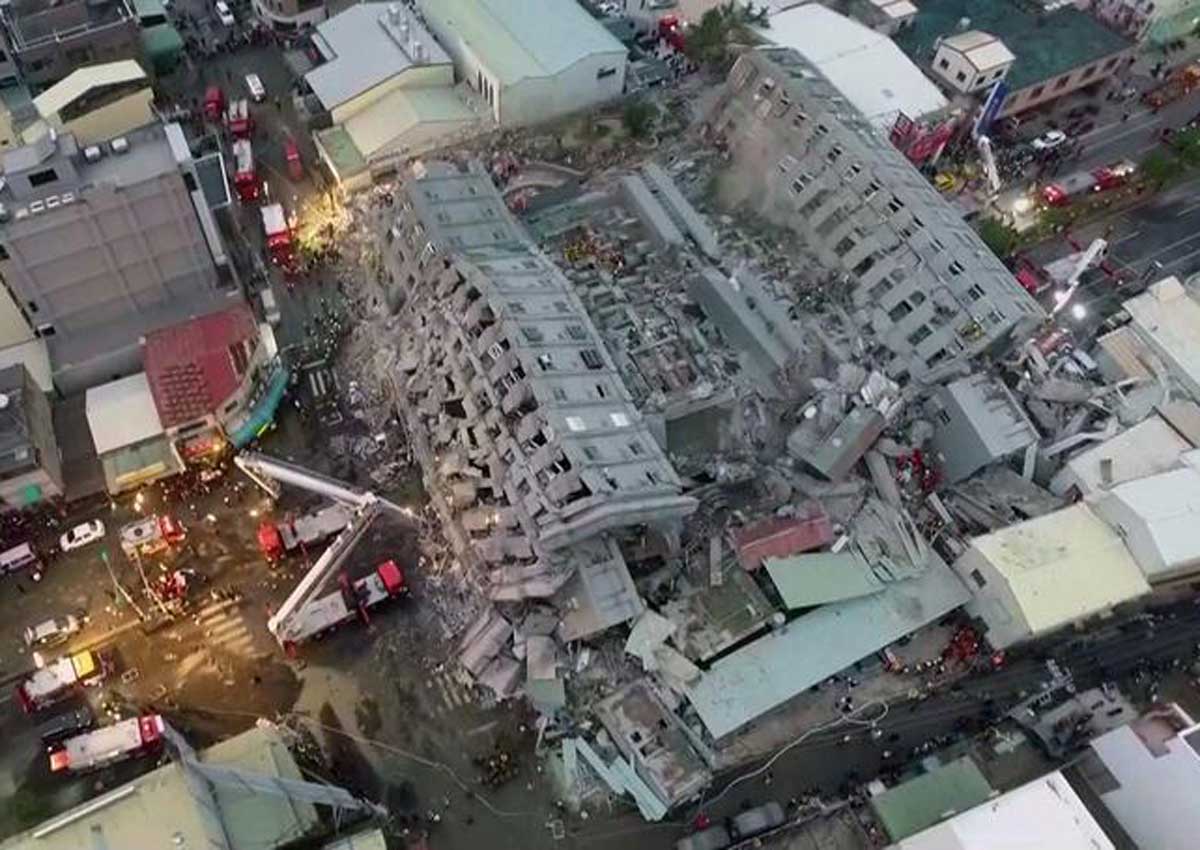 Tainan, Taiwan - Relatives of missing residents from a 16-storey apartment complex felled by a powerful earthquake in Taiwan that killed 13 people were praying for miracles Saturday as rescuers scoured the rubble for survivors.
The cluster of buildings in the historic southern city of Tainan were full of families who had gathered for Lunar New Year celebrations when it collapsed, with residents still trapped inside on Saturday night and the death toll rising.
Tainan bore the brunt of the 6.4 magnitude quake and the disaster zone centres around the residential complex containing almost 100 homes which were toppled.
The four blocks at the Wei-kuan complex were left lying on their sides with twisted metal girders exposed and clouds of dust rising from the jumbled concrete.
Among the 11 people killed when the apartment buildings collapsed were a 10-day-old baby girl and two other children, the National Fire Agency said.
The other two victims were killed in different parts of the city by falling debris, the agency said.
Around 800 troops have been mobilised to help the rescue effort with one elderly woman plucked from the rubble by a crane late Saturday night.
A senior army official at the scene said around 20 were still trapped in one of the buildings.
Liang Chuan-shun, deputy fire bureau chief for Tainan, told AFP the search was now "a race against time" and would continue through the night.
"Some rooms in the building were rented to students who would not register with the census authorities - we're not sure how many others might still be left within," he said.
Relatives huddled by the ruins late Saturday, hoping for news of their loved ones.
"I was woken up by the quake and called my brother's mobile - no-one answered and I feared something was wrong," said Huang Yu-liang who lives near the site and is waiting for news of his brother, sister-in-law and their two children.
"I rushed here and saw the collapsed building and I was in shock. Their building is at the bottom (of the wreckage). I am praying for miracles." Rescue workers told AFP that two of the toppled buildings fell against the other two blocks in the complex, crushing them.
Wang Chien-ming came from Yunlin county to the north of Tainan to find his sister and her family.
"My sister, her husband and their child live on the third floor and I haven't heard any news since I arrived here. I will keep waiting for as long as it takes. I won't give up hope." Officials said there were 256 people registered as living in the complex, which contained 96 apartments.
More than 250 have been rescued so far, with more than 40 hospitalised.
Interior minister Chen Wei-jen said he feared there may have been more people in the building than usual as family members would have returned to celebrate the Lunar New Year holidays next week.
Residents told of their horror as the quake hit, with survivors pulled bleeding and crying from the ruins, some just in their underwear.
"The quake was really powerful - it shook up and down, left and right and even in a circle. It was terrifying," one elderly woman at the scene who was waiting for news of a missing friend told AFP.
One survivor used a hammer to break out of her crushed home, while another tied clothes together to lower himself to safety, local media reported.
Cranes towered over the disaster zone with diggers trying to move slabs of concrete as rescuers painstakingly freed survivors young and old from the ruins.
Meanwhile groups of people chanted prayers at the site, accompanied by a Buddhist nun.
Eight shelters have been set up around the city, with over 100 people taking refuge there, while restaurants and hotels offered free food and rooms to residents.
Officials said several blocks had collapsed or half collapsed in other parts of the city, with some buildings left leaning at alarming angles.
Across Tainan, more than 400 people were injured, with over 60 hospitalised.
Around 250,000 were still without water, authorities said, and more than 2,000 homes without electricity.
The quake struck at a depth of 10 kilometres (six miles) at around 4:00 am (2000 GMT Friday), 39 kilometres northeast of Kaohsiung, Taiwan's second-largest city.
Taiwan lies near the junction of two tectonic plates and is regularly hit by earthquakes.
The island's worst quake in recent decades was 7.6 magnitude in September 1999, killing around 2,400 people.
See also: No reports of Singaporean casualties in Taiwan earthquake: Vivian Balakrishnan