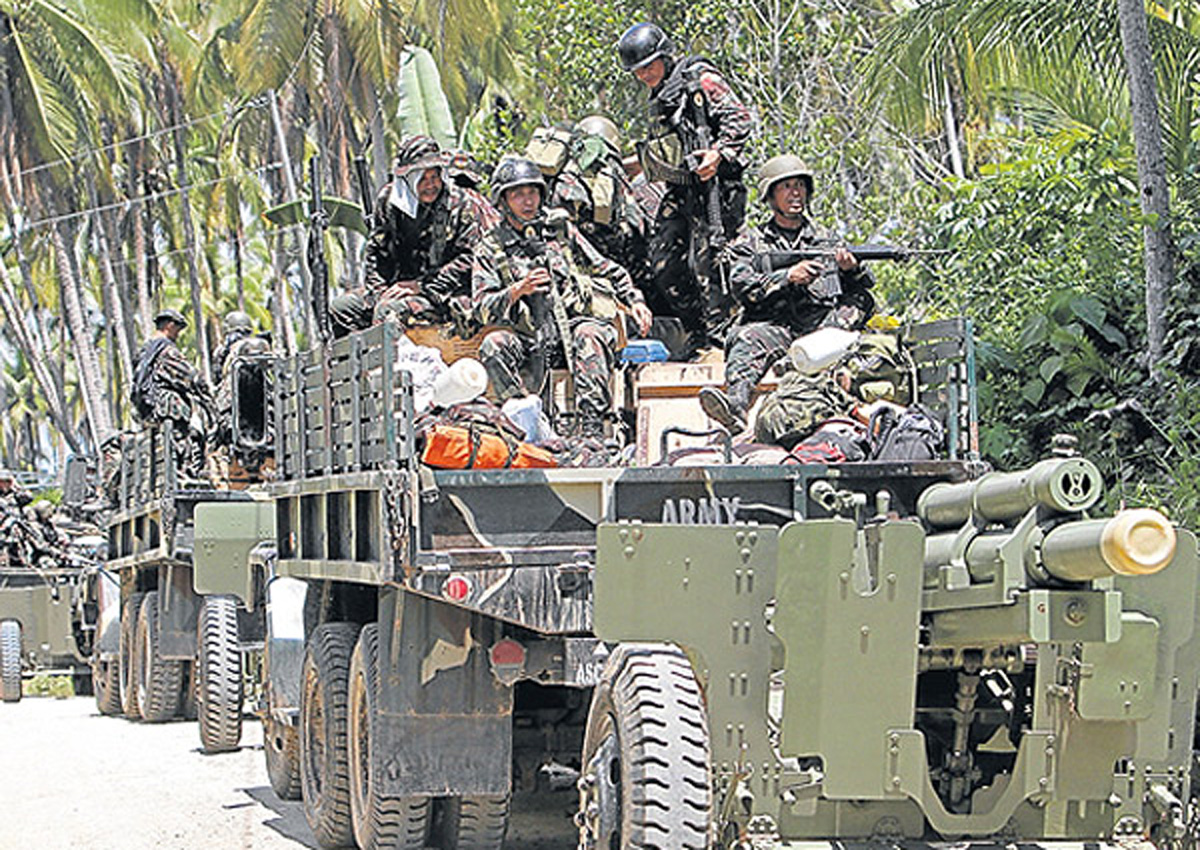 The two Coast Guard men kidnapped by the Abu Sayyaf in Dapitan City, Zamboanga del Norte, in May are free after they escaped from captivity in Sulu, the military said Thursday.
SN1 Rod Pagaling and SN2 Gringo Villaluz are safe, says Navy Commander Roy Vincent Trinidad.
Trinidad did not provide details but the announcement came after Wednesday's massive operation in Indanan, Sulu, that reportedly left 15 Abu Sayyaf bandits dead.
Earlier, Pagaling and Villaluz appealed to the government to help in their release.
They were abducted with Barangay Aliguay, Dapitan City, chair Rodolfo Boligao. Aliguay is an island village in Dapitan City, Zamboanga del Norte.
Boligao was beheaded by the Abu Sayyaf and his body was found in Maimbung, Sulu, on August 11.
Philippine troops attacked an Abu Sayyaf militant stronghold on Wednesday to rescue the two kidnapped coast guard personnel and other hostages, sparking a clash in which up to 15 gunmen may have died, military officials said.
Army Colonel Alan Arrojado said no one among the hundreds of military personnel was killed in the fierce two-hour gunbattle with more than 100 militants in a mountainous hinterland near Indanan town in Sulu province.
Government forces fired artillery rounds to prevent other Muslim rebels from reinforcing the Abu Sayyaf gunmen in Sitio Marang, Barangay Buanza, the military said.
Navy Commander Roy Vincent Trinidad said Thursday that 15 bandits identified with Yasser Igasan and Alhabshi Misaya were killed in clashes with elements of the 1st Scout Ranger Battalion under Lt. Col. Eugene Boquio.
"Reports from ground troops, intelligence units, civilians, and action agents" had it that at least 15 bandits had been killed," said Arrojado, commander of the Task Force Sulu.
However, Trinidad said soldiers initially recovered only four bodies as of Thursday morning.
"Hopefully we'll see more bodies," Arrojado agreed.
"We have orders to continuously assault them and not give them any area where they can roam free," Sulu military spokesman Capt. Anthony Bulao said.
A number of other hostages, including two Malaysians, are believed to be held by the militants in the jungles of Indanan.
A Dutch bird watcher kidnapped more than two years ago is believed to be held by another Abu Sayyaf faction in Sulu's Patikul town.
The Abu Sayyaf, with about 400 gunmen split into several factions, is on a US list of terrorist organisations for deadly bombings, kidnappings for ransom, and beheadings.
It is one of at least four small armed groups outside of a peace deal the government signed last year with the largest Muslim rebel group, the 11,000-strong Moro Islamic Liberation Front, in an attempt to settle a decades-long separatist insurrection by minority Muslims in the south of the largely Roman Catholic country.