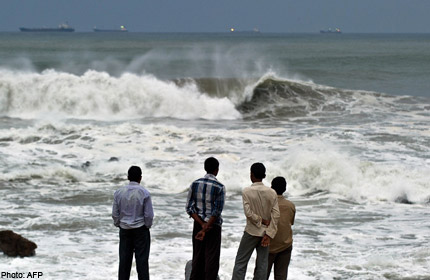 NEW DELHI - Nearly half a million people have been evacuated from India's impoverished east coast ahead of a massive cyclone expected to make landfall on Saturday evening, disaster officials said.
"The total is 4.4 lakh (440,000 evacuations) in all this," Marri Shashidhar Reddy, vice-chairman of the National Disaster Management Authority, told a news conference ahead of the arrival of Cyclone Phailin.
"We will be on a war footing" when the cyclone arrives, he told reporters in the capital New Delhi.
Disaster relief workers were rushing to move people from their flimsy shelters out of the way of the path of the cyclone due to hit the state of Orissa and neighbouring Andhra Pradesh.
Sometimes authorities were having to "use force" to get reluctant villagers to leave their homes despite the already lashing rains and strong winds, he added.
The evacuation was the third largest in India's history after 650,000 people were evacuated in Andhra Pradesh in 1990 out of the way of a powerful cyclone and 550,000 in 2009 in the same state due to flooding, Reddy said.
Streams of people were leaving their homes, carrying their possessions on their backs, as rains lashed the ground.
Reddy said that the power sector and agriculture would be worst affected by the storm.
"Crops will certainly be badly affected," he said.