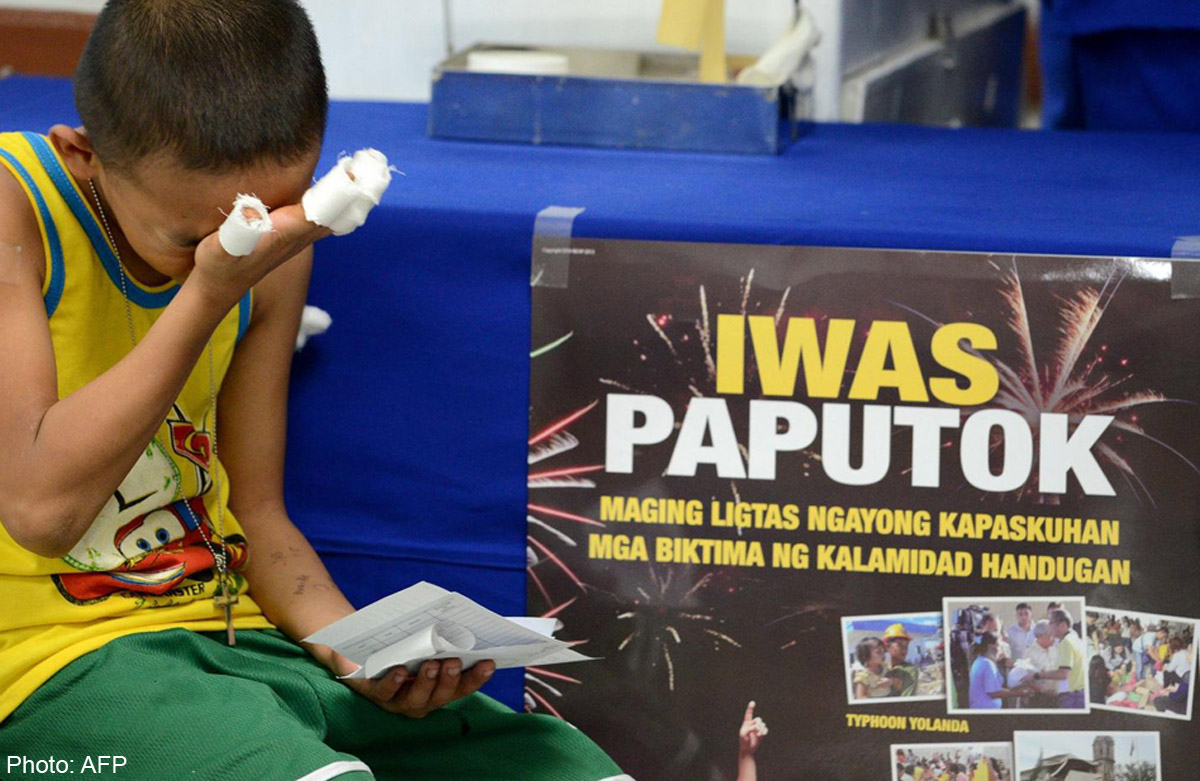 At least 46 people were hurt from various firecracker incidents in Mindanao and the Visayas during Christmas celebrations, according to police and the Department of Health (DOH).
Eight minors were injured in separate firecracker-related incidents in Digos City, as of Dec. 25 amid the firecracker ban that the city government has imposed.
Most of the injuries were caused by piccolo, said Davao del Sur police chief Senior Supt. Michael John Dubria.
Dubria said the eight minors suffered injuries and burns on their fingers after the piccolo they were lighting exploded prematurely.
In Cotabato City, the DOH in Central Mindanao said at least 30 cases of firecracker injuries had been reported during the Christmas celebrations.
Jenny Ventura, DOH spokesperson, said the figure was collated from hospital data in Gen. Santos City, Sultan Kudarat, North Cotabato and South Cotabato.
South Cotabato has the highest number of injuries with 16 as of date, she said.
In Central and Western Visayas, the DOH reported eight incidents of firecracker blast injuries.
The DOH-Central Visayas Health Emergency Management Staff (HEMS) received eight cases of firecracker injuries in Cebu.
Harvi Durangparang of HEMS said the reported cases involved the use of firecrackers such as Hotdog, Judas Belt, Whistle Bomb and Pop Up.
Only one firecracker injury was reported in Western Visayas, said Dr. May Ann Sta. Lucia, coordinator of the DOH-6's Violence and Injury Prevention Program.
A 39-year-old man from Murcia town in Negros Occidental was brought to the Corazon Locsin Montelibano Memorial Regional Hospital (CLMMRH) in Bacolod City due to burns on his right hand, she said.
The man, who was drunken, was injured from a blast of a 5-star firecracker.
Digos city Mayor Joseph Peñas earlier said the ban would be tightly implemented and that vendors had been told not to sell dangerous pyrotechnics.
He said he would summon the parents of the victims because it was their responsibility to monitor their children.
Peñas believed the firecrackers that caused injuries to the victims had been smuggled and sold discreetly.
On Dec. 3, a 7-year-old boy from Dumangas town in Iloilo was brought to the Western Visayas Medical Center (WVMC) in Iloilo City, for treatment of an eye injury due to a boga firecracker blast.
The DOH is monitoring cases of blast injuries from Dec. 21 to Jan. 5 in the two satellite hospitals, CLMMRH and WVMC.
Sta. Lucia said they have been actively campaigning for revelers to use alternative forms of celebrating Christmas and New Year to prevent injuries.