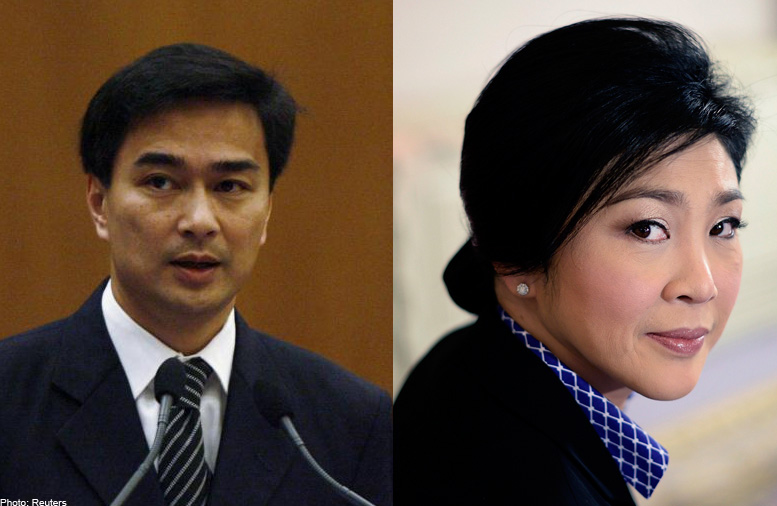 Democrat Party leader Abhisit Vejjajiva is ready to hold talks with both Prime Minister Yingluck Shinawatra and fugitive former premier Thaksin Shinawatra next week in a bid to end the prolonged political deadlock, as long as the meetings are broadcast live on television, party spokesperson Chavanond Intarakomalyasut said yesterday.
Chavanond stressed that Abhisit is not doing this in order to seek any political gains but for the good of the country. He said Abhisit would meet Supreme Commander of the Armed Forces General Thansak Patimaprakorn tomorrow to discuss security issues related to the crisis and with the Election Commission (EC) on Tuesday.
He said the reason Abhisit is seeking a live broadcast of the meetings is so that there would be no distortions about what transpired during the meeting. The broadcast of a Skype meeting with Thaksin would be acceptable to Abhisit, he said.
Chavanond denied that a remark on Friday by Suthep Thaugsuban, leader of the anti-government People's Democratic Reform Committee (PDRC), telling mediators not to poke their nose in the matter, was meant as a snub to Abhisit as interpreted by some. He clarified that Abhisit was not a mediator, but was only seeking an end to the crisis.
Abhisit tweeted from his Twitter account @Abhisit_DP yesterday, thanking both supporters and sarcastic detractors regarding his latest bid to help end the current political stalemate.
Abhisit reiterated that he was not a mediator and not above the conflict but wanted to help find a way out for Thailand, adding he prefers peace over bloodshed and military coup.
"I may not succeed, but I will definitely not cause damage to the country and the people who love this country," tweeted Abhisit.
Yingluck, meanwhile, spent the weekend with her family. She said she had not yet received any formal contact from Abhisit regarding a possible meeting. The premier also said it was not certain if she would meet the EC in person on Wednesday to discuss the new election date.
Thaksin's legal adviser Noppadon Pattama cautiously welcomed Abhisit's move, adding he hoped it was a sincere move by Abhisit and that he meant what he said. He said Thaksin was ready for such a talk and that he was currently in New York meeting economic experts to find ways to help Thailand deal with the adverse economic impact as a result of the prolonged protest.
Pheu Thai deputy spokesperson Anusorn Iamsaaed, meanwhile, said Abhisit should not pressure himself by giving himself only a 10-day deadline to accomplish the task, adding it would be more difficult for Abhisit to deal with PDRC leaders like Suthep.