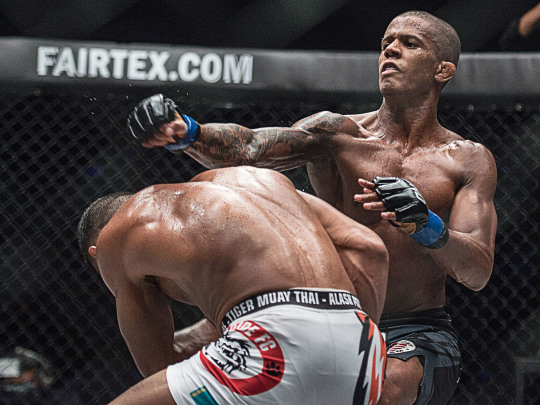 Newly-crowned ONE Flyweight World Champion Adriano Moraes says he's ready to kick off his second title reign with victory against challenger Danny Kingad.
Moraes will face the Team Lakay standout in the co-main event of ONE: LEGENDS OF THE WORLD, as he prepares to compete on unfamiliar territory on 10 November.
"It will be my first time in Manila," said the Brazilian, who trains out of the acclaimed American Top Team gym in Coconut Creek, Florida. "I am very excited to compete against Danny."
Moraes previously held the title after capturing the inaugural belt at ONE: RISE OF THE KINGDOM, when he defeated Geje Eustaquio via submission in 2014. However, his title reign only lasted two defences – after beating Riku Shibuya, he lost to Kazakhstan's Kairat Akhmetov at ONE: DYNASTY OF CHAMPIONS (Beijing) in November 2015.
That defeat may have deprived him of his world championship belt, but it helped spur Moraes to further develop his game, and become a more complete athlete.
"I learned much when I lost the first match (with Akhmetov)," he said. "I just went back to the gym, trained more and trained hard."
The preparation paid off. Moraes won his next few bouts in impressive fashion, and then captured the interim title with a submission win over Tilek Batyrov at ONE: HEROES OF THE WORLD, setting up a unification rematch with Akhmetov.
"I went into the second match very prepared," he explained. "I defended his takedowns, and it made me the champ again."
Now, Moraes faces his first test as a newly-crowned champion, as he prepares to face the unbeaten Kingad, a dangerous striker coming out of one of the top gyms in Asia. The FIlipino is undefeated at 8-0, with his last three wins coming under the ONE Championship banner.
His impressive form, defeating Muhamad Haidar, Eugene Toquero, and Muhammad Aiman, has propelled him into title contention, and Moraes knows he has to be wary of the Filipino challenger.
"He is a young martial artist, undefeated, and a wushu champion with good takedowns and good hands," he said. "He is talented, and he has had good matches with the organisation.
"In my professional career, I have competed against tough athletes and had title matches, so I have my experience on my side. I have competed against undefeated opponents in the past too, so this is nothing new."
After producing a near-perfect performance against Akhmetov to reclaim the flyweight title, he knows Kingad will be fired up to cause the upset win in Manila.
However, the experienced Brazilian says when it comes down to fight night, his preparation in the United States will stand him in good stead.
"I think he will come to this match to defend against my Brazilian jiu-jitsu, and put on more of a striking offensive attack," he said. "Being at ATT has made a big difference, and I feel great to defend my belt and hear those words, 'And still,' once again."