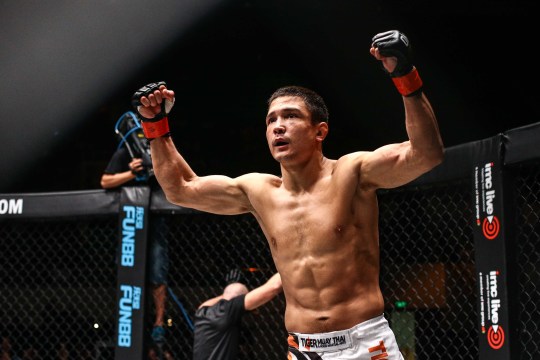 ONE Championship lightweight contender Timofey Nastyukhin (10-3) returns to the cage to face Japan's Koji "The Commander" Ando (12-5-2) at ONE: KINGS AND CONQUERORS in Macao on Saturday, 5 August.
This will be the Russian's first match after suffering a career-threatening injury nine months ago at ONE: DEFENDING HONOR in Singapore.
Nastyukhin returning to action so soon is no real surprise to anyone, considering the resilient athlete continued to fight for the entirety of the first round, despite sustaining a broken tibia in the second minute of the stanza. Fans gained even more respect when they learned of the severity of the break, but it did the Russian knockout artist no favours.
"Some people admire my perseverance in that fight and they cannot believe I finished the round, but from a medical point of view, my actions were not wise," Nastyukhin reveals.
After being carried out of the cage, he was stranded in a hospital in a foreign country, awaiting surgery and not able to communicate with anyone due to the language barrier. That led to a brief moment where he contemplated retirement.
The 27-year-old admitted having doubts as the pain and isolation took his thoughts down a darker path. But after receiving support and assurance from ONE championship, as well as a successful surgery the next day, the Russian regained his ambition, and targeted the ONE Lightweight World Championship.
"I made a plan in my head, and I am still following it. There is no turning back."
When Nastyukhin returned to Russia for rehabilitation, it was this plan that kept him focused through months of physical therapy, as well as a strict exercise regime that rebuilt his strength and prepared him for his comeback.
The Russian's determination paid off, and his mental fortitude meant progression moved along quickly. He worked with what he could, first training around the injury with upper body work and swimming. Four months later, martial arts training was back on the menu, starting with boxing, and slowly other aspects when his body allowed it.
Now reaching the final stages of a gruelling fight camp, his leg injury has healed, and he will be fully prepared when he takes on former title contender Koji Ando.
Already the proud owner of a flying knee knockout over reigning ONE Lightweight World Champion Eduard Folayang, Nastyukhin is hoping a win over former title challenger Ando will catapult him to the top contender spot. That would make the arduous nine months since his injury worth it.
If he has cut any corners and rushed back too soon, it will tell in the cage. The Russian is adamant he is back to his best, and a great performance at the Cotai Arena in Macao would prove it to the world.