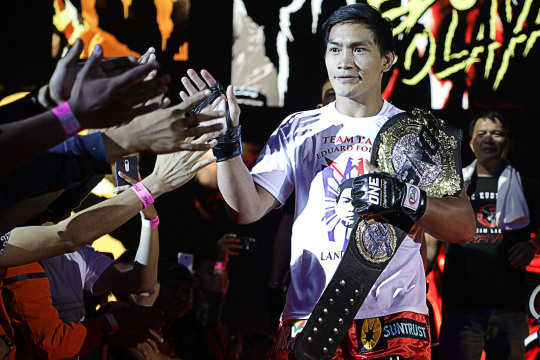 ONE Championship are closing out 2017 with a bang, with a host of its top stars set for action.
One such star is Eduard Folayang, who captured the ONE Lightweight World Title when he dethroned Japanese martial arts legend Shinya Aoki in November 2016, then cemented his championship status with victory over Ev Ting at ONE: KINGS OF DESTINY in April this year.
The Filipino star initially struggled to generate momentum in his ONE Championship career, with early defeats derailing his title runs when he thought things were on the rise.
Now, he stands atop the ONE lightweight division, and will put his title on the line against featherweight belt holder Martin Nguyen in a special world champion-versus-world champion matchup at ONE: LEGENDS OF THE WORLD in Manila on 10 November.
"My journey in ONE Championship ever since my first bout has been a roller coaster," he admitted. "There were moments in my career when I was already near to a title shot, but suddenly I lost momentum. And then I climbed the ladder again and fell again.
"This time I really pushed hard to be on the top, and finally after five years, I had the chance to compete for the title."
That chance saw him face Aoki, one of the most respected athletes in Asia. But, determined not to allow another setback to halt his charge towards the title, he stopped the Japanese star via third-round TKO to capture the lightweight world title.
It proved the conclusion of a long, hard road to the top.
"It feels good after a long journey," he said after the bout. "It is just like what I said, this is my time, and I proved it."
The victory not only gave Folayang personal pride in achieving a lifelong goal, it also helped show the people back home in the Philippines that it is possible to work hard and fight your way out of poverty.
"My parents sacrificed a lot to bring us to school," he explained. "Sometimes, they even borrowed money just for us to pay our tuition fees. In their daily lives they didn't focus on just one job, they found extra work that they could do so that it would compensate for the needs that we had."
Now a proud world champion for his nation, Folayang wants to use his position to help influence and inspire people to strive for greatness in their own lives.
"The reason I compete is because I have the passion for it, and because I know God has given me the ability to influence my countrymen," he said. "There are a lot of problems in the Philippines. We've seen the effect of drugs on the Filipino people.
"Being champion has given me the opportunity to touch the lives of so many. Even by just giving the fans a single evening, just one performance that can prove to them that anything is possible if you really want it means the world to me," said Folayang.
"As an athlete, I want to inspire the youth to not waste their lives on doing drugs, but to find the purpose of their existence; to find if they have the talent in sports or whatever areas they are talented in."
Folayang successfully defended his title against Malaysia's Ting in his last outing, and said that his first performance as a defending world champion posed new challenges that have forced him to raise his game to new levels.
"That match helped me to realise that every bout from here on will become increasingly difficult," he explained. "Ting was no easy opponent. When you are the champion, everyone wants to take the belt from you, everyone comes in with their A-game.
"I am working even harder now to keep this title because I know how much it means to the people who believe in me."
The next man in line to try to wrestle the title away from Folayang is Australian Nguyen, who stunned unbeaten world champion Marat Gafurov with a huge KO to capture the ONE Featherweight World Championship at ONE: QUEST FOR GREATNESS in August.
That stunning victory stands out as one of the very best performances in ONE Championship this year, and Folayang knows he'll need to be at his best to ensure Nguyen doesn't spring another shock when they met on 10 November.
"Facing a guy like Martin, it is not going to be easy.," he admitted. "He is a world champion, he has tremendous all-around skills, and he is incredibly intelligent.
"The challenge is so intense, so coming in with the right game plan is key. Winning this bout is my top priority, to keep this belt on my shoulder. It is going to be tough, but I have my people to support me.
"I want to make everyone proud. I want to show the fans that Filipino athletes are world-class."