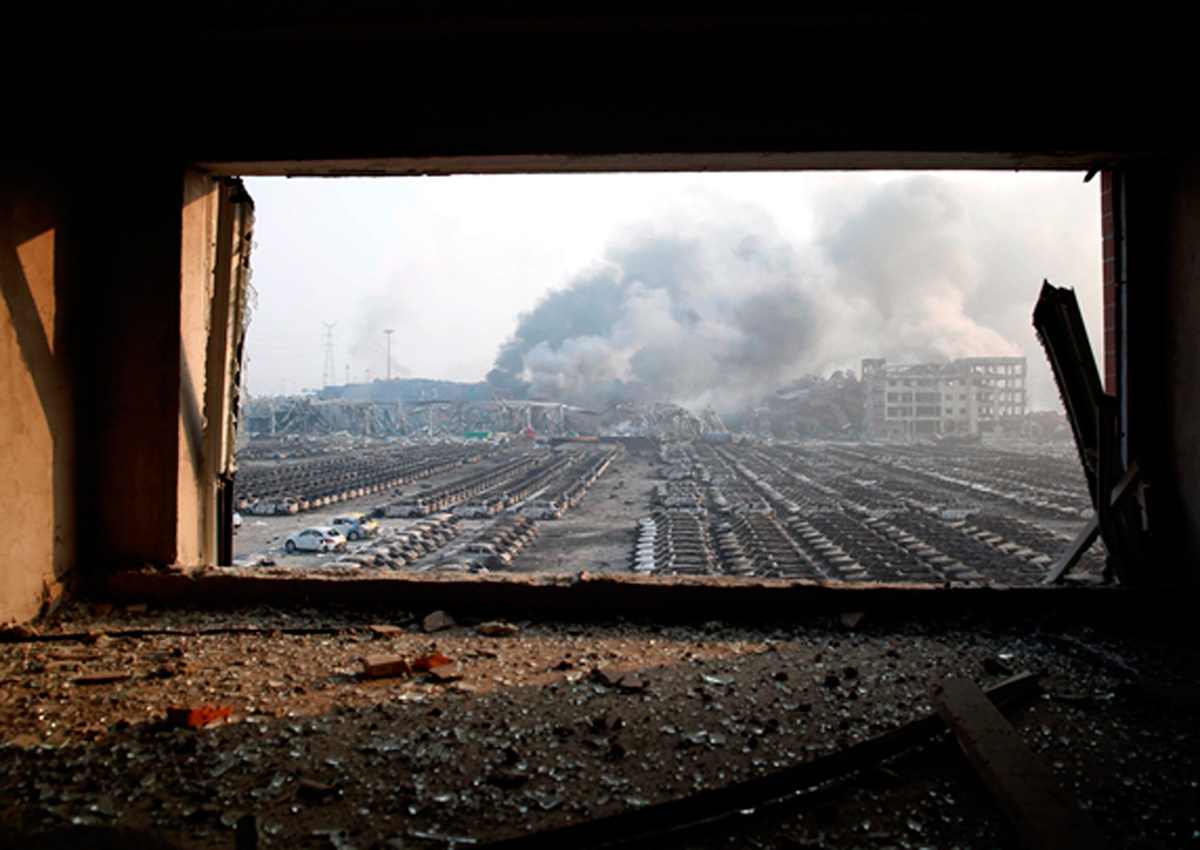 Casualties: At least 50 dead, including 17 firefighters. More than 700 injured, 70 of them severely, and 30 remain missing
What happened? Cause of the explosions at a warehouse in the Tianjin Binhai New Area has not yet been determined
Blasts near the world's fourth-largest port that killed at least 50 people and injured hundreds could strike a blow to the regional economy and dent the leadership's enthusiasm to turn the area into China's next economic front line, experts said.
Cargo deliveries have been affected, and logistics in all of northern China delayed after at least two explosions went off in a warehouse handling hazardous materials in Tianjin Binhai New Area, 160 kilometers southeast of Beijing.
The blasts on Wednesday night caused millions of dollars in damage, burning cargo, turning nearby buildings and automobiles into charred shells and shattering windows several kilometers away.
Wang Xiaolei, a press officer at the Tianjin Maritime Safety Administration, said some deliveries have been disrupted, although Tianjin Port said in an earlier statement the terminal was operating normally.
BHP Billiton, which ships iron ore through the port, said that Beijiang-part of the port near the blasts-had ceased operations. The company said that although iron ore discharging berths were not damaged, traffic could be constrained for a while as Tianjin Customs offices were damaged.
Media officers at Tianjin Binhai New Area did not respond to China Daily's inquiries by press time.
Tianjin Port has an annual capacity of more than 540 million metric tons of goods from iron ore and oil to automobiles.
As the most convenient sea access for North and Northwest China, Tianjin Port operates at least 25 dry ports in 11 landlocked provincial areas to handle cargo locally and speed up customs clearance.
Sun Jiuwen, a professor of regional economy at Renmin University of China, said some deliveries to inland areas will be delayed, but he dismissed speculation that the blasts will impact local commodities prices.
The disruption won't last long, as surrounding ports can pick up capacity that could not be handled in Tianjin, he said.
Tianjin is one of only four cities in China directly governed by the central government. In 2014, President Xi Jinping proposed developing Tianjin, Beijing and nearby Hebei province into a trilateral economic sphere in the Bohai Bay area-an economic hub that may one day parallel the metropolises around the Yangtze River Delta and Pearl River Delta.
Sun said that the vision for a trilateral economic zone could be more difficult to realise if Tianjin's status as a logistics centre is diminished.
"Even if we put aside the direct losses, including casualties, cargoes and infrastructure damage, the tragedy will severely strike the local economy, which heavily relies on the chemical, port and logistics industries," he said.
In a survey by People's Daily, Tianjin Binhai New Area ranked top among urban districts in China for attracting foreign investment in 2014.
Yang Hongshan, a professor of urban planning and management from Renmin University of China, however, argued that the damage to the local economy will be slight, and local economic competitiveness will still be strong, because "the local government will rebuild infra-structure facilities soon, and talent and favourable policies remain good".
Wang Guojun, an insurance professor at the University of International Business and Economics in Beijing, said insurance fees for trade and logistics companies are expected to surge, even in ports surrounding Bohai Bay.
"It's too early to say how much prices will go up, but transportation costs will definitely rise," he said.
"But the increase in insurance costs may not significantly affect Tianjin Port because its natural conditions, customs clearing and other services are still competitive."
He said automobile companies could face great losses as thousands of newly arrived automobiles parked at a logistics centre near the blast are not likely to be covered by international transportation cargo insurance.
"But if the cars were to be transferred to another destination and only planned to stay temporarily in Tianjin, international transportation cargo insurance would still be valid."
He said Ruihai Logistics Co, Ltd, a company handling dangerous goods where the explosion occurred, could face bank-ruptcy if it is found responsible for the tragedy.
Other developments
- President Xi Jinping ordered authorities in Tianjin to spare no effort to treat the injured, search for the missing and contain the fire. Premier Li Keqiang vowed a thorough investigation and ensured open and transparent disclosure to the public.
- Senior managers of the logistics company where the blasts occurred were being held by police.
- Healthcare workers specialising in blast injuries and burns arrived from Beijing and were treating the wounded. Doctors said most of the patients suffered burns, bruises, bone fractures and injuries related to shock waves.
- A team of 214 military personnel specialising in the handling of nuclear and biochemical materials arrived, and so far more than 1,000 firefighters, 151 fire engines and a drone have been sent to the scene.
- The Tianjin fire department said the fire was contained but will take a long time to fully extinguish because of the complex composition of the chemical elements. No more explosions were expected.