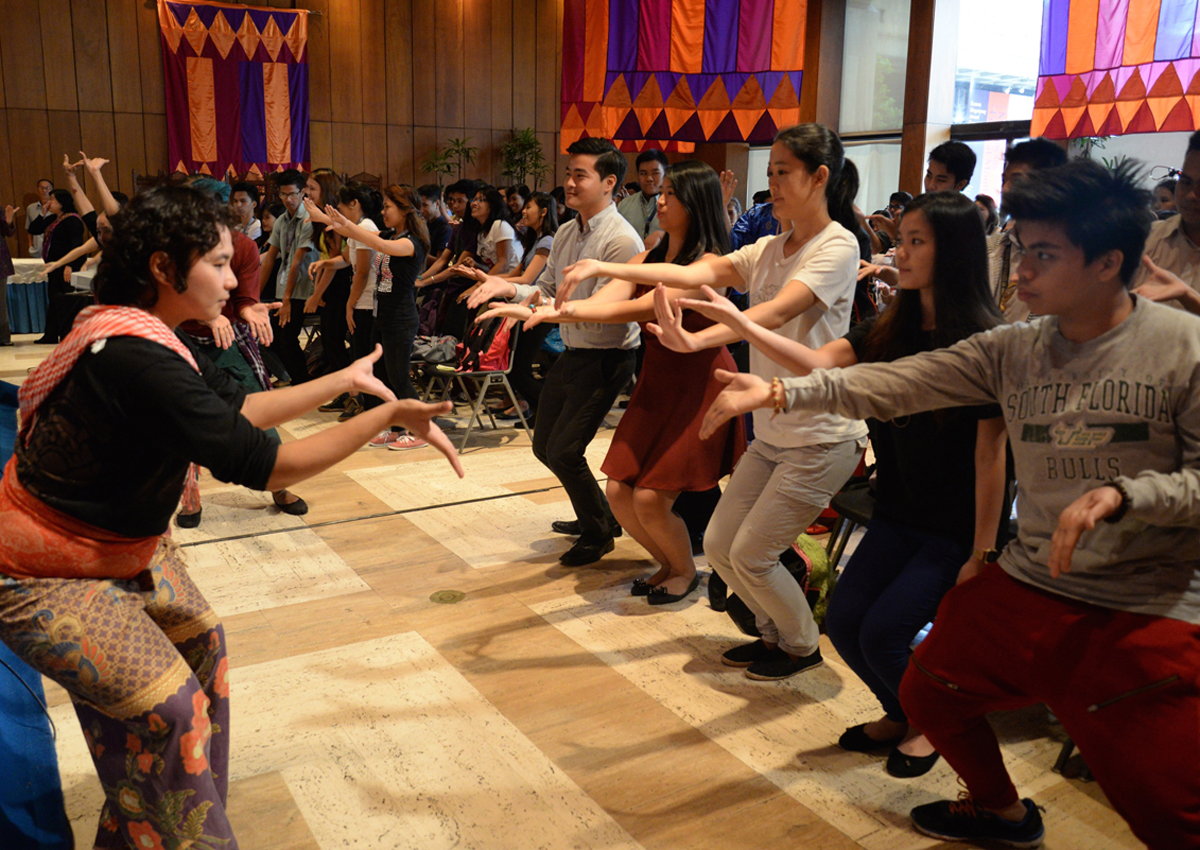 Ms Ligaya Amilbangsa is 72 years old, yet her movements are still quick, precise and elegant when she dances on stage.
Dancing seems to take off 20 years of inevitable decay, but it is not her body that she seeks to heal. It is her nation.
Ms Amilbangsa is one of this year's recipients of the Ramon Magsaysay Award, regarded as Asia's equivalent of the Nobel Prize. She was recognised for her efforts to save from extinction a centuries- old dance.
Known as the "pangalay", it is a slow dance that mimes the gentle, rhythmic and soothing flow of a calm sea as it ebbs and rises and laps against the rocks on the shore.
It eschews abrupt, acrobatic movements, taking its beat instead from the dancer's breathing. It does not need music to make it whole, but when it does, the accompanying tempo is usually fast. Yet, the dancer remains calm, unperturbed.
Pangalay is a cry for stillness in a world of violent shoving. It may well be the story of Ms Amilbangsa's life.
She comes from a prominent Catholic family with a long political tradition in Marikina city, next to the capital Manila.
Her brother Bayani Fernando was mayor of Marikina.
In 1962, she met a member of Muslim royalty, Datu Punjungan Amilbangsa, at a university forum. She asked for his autograph. He asked for her hand.
Two years later, they were married in a Catholic church in Manila and had a son and a daughter.
While Ms Amilbangsa was immersed in her late husband's faith, she did not embrace Islam as her religion. "I'm not hung up on religion," she told The Straits Times.
It was not difficult for her to tread two faiths.
"I am like a turtle. Throw me into the water, and I will swim. I kept myself busy. I wrote. I painted. I laughed," she said.
In 1969, the couple moved to Jolo, capital of Sulu, an ancient Muslim province 960km south of Manila. It was an inauspicious time.
A Muslim rebellion in southern Philippines had erupted, and Sulu - too far for the central government to exercise effective control - was at the heart of that conflagration.
It was a period in Ms Amilbangsa's life when the call to prayer at daybreak from a distant mosque and a ballad sung at sundown by a boy, were regular sounds along with the staccato beat of gunfire in the middle of the night and the booming, destructive bass of falling bombs at daybreak.
It was in Jolo that she first saw pangalay performed in all its rawness and purity.
She was smitten, and right there and then she found her life's purpose. She would dance to its mystical beat and ethereal hum, so that it would not be forgotten.
Like most dying traditions, pangalay did not come with a handbook or a style guide. Ms Amilbangsa had to learn it by observing and mimicking dancers who received their instructions the same way.
At night, she practised what she learnt earlier in the day against candlelight to see if her shadows had the correct posture and gesture. "The habit irritated my husband, and no one took me seriously."
In 1973, after she and her husband relocated to the nearby island of Tawi-Tawi as the situation in Sulu deteriorated, Ms Amilbangsa formed a pangalay dance group.
"I wanted to show the rest of the nation that there was more to Sulu than warmongering, that we were also Filipinos," she said.
But in 1974, Muslim rebels led by Nur Misuari seized Jolo, setting off a war between the rebels and government forces that would raze three-quarters of the city.
Ms Amilbangsa remembered being unceremoniously ushered to the airport for the last flight to Manila. "I didn't even have time to put on shoes. I was just wearing slippers when my husband woke me up and dragged me to the airport," she said.
When the dust settled, she returned to Tawi-Tawi that same year to finish what she started.
With a 2,000-peso (S$60) endowment from a university professor, she took 14 pangalay dancers on a rag-tag peace expedition in a country being torn apart by conflict.
Four decades later, she has not lost any of her zeal, even as war remains a way of life in Sulu.
The province figures in the news now mostly because it is where the brutal Abu Sayyaf Islamist group takes its hostages, plucked off Malaysia's Sabah state and the Philippines' Zamboanga peninsula.
Ms Amilbangsa harbours no illusion about Sulu.
"The Abu Sayyaf is there, and their business is flourishing. What can you do?" she said.
But the message she has been patiently trying to get out is that there is so much more about Sulu that the world seems to have forgotten: Treasures like pangalay that can blur barriers, erase prejudices, and heal a nation.
"It's a unifying force because of its antiquity," she said.
rdancel@sph.com.sg

This article was first published on September 14, 2015.
Get a copy of The Straits Times or go to straitstimes.com for more stories.