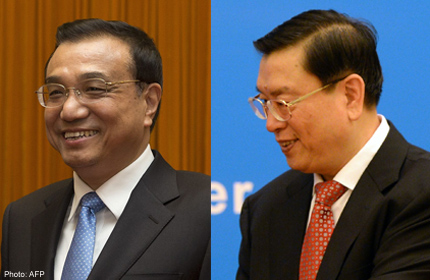 CHINA's new national security commission is the latest sign of President Xi Jinping's rapid consolidation of power.
Mr Xi will lead the new agency, with Premier Li Keqiang and legislature chief Zhang Dejiang as joint deputies.
Analysts say it will give Mr Xi greater direct control over domestic security and better streamline the civilian and military sides of the security apparatus.
State news agency Xinhua earlier reported that the new body will "plan and coordinate significant matters and important work relating to national security".
It will not be considered a government body and will report to the Politburo and its standing committee.
Xinhua gave no further details and there was no indication as to when the commission will hold its first meeting and whether the contents of the meetings will be made public.
Experts say the commission, among the most significant of a package of reforms unveiled by Mr Xi at a key policy summit last November, is modelled on the National Security Council of the United States.
It will increase coordination among the various arms of China's security bureaucracy - the police, military, intelligence and diplomatic services. It is also expected to have a much stronger focus on domestic security, they add.
The need for such a body has increased in recent years with China confronting urgent and complex security issues at home and abroad.
Possible international flashpoints for China are its territorial dispute with Japan - which established its own National Security Council last year - North Korea and overlapping territorial claims in the South China Sea.
China also faces threats at home with continued unrest in regions of ethnic minorities - Tibet and Xinjiang.
Attempts to establish a similar committee by previous Chinese leaders had failed, largely due to the military's resistance to civilian oversight.

Get a copy of The Straits Times or go to straitstimes.com for more stories.